This is a truly fascinating report by Michael Zhang of PetaPixel of what it was like to be a guest at an 'exclusive' Leica Launch Party at Photokina.
Some weeks ago, I received an invitation from Leica for a special launch party they were planning to hold the day before Photokina 2012 opened. The event was titled LEICA – DAS WESENTLICHE, which translates to "The Essentials". Aside from stating that there would be product premieres and "photographic and musical highlights", the invitation did not reveal much else about the event, which went down this past Monday. Here's a first-hand account of what it's like to attend one of these Leica parties.
It's an excellent piece of detached reporting which conveys very well the nauseating ambience of the event. But what really brought me up short was this picture: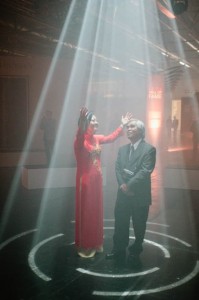 Mr Zhang didn't recognise the couple, and nor did I. But it turns out that the woman is Phan Thi Kim Phuc and the man is Nick Ut, the `Pulitzer-winning AP photographer who took the famous photograph of her as a terrified, naked young girl fleeing across a bridge in Vietnam after a napalm attack.
I'm not entirely sure why, but the discovery that Leica were using the pair of them in this way makes me feel decidedly queasy. But then I loathe these corporate events anyway.