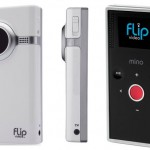 From today's NYTimes.com.
It was one of the great tech start-up success stories of the last decade.

The Flip video camera, conceived by a few entrepreneurs in an office above Gump's department store in San Francisco, went on sale in 2007, and quickly dominated the camcorder market.

The start-up sold two million of the pocket-size, easy-to-use cameras in the first two years. Then, in 2009, the founders cashed out and sold to Cisco Systems, the computer networking giant, for $590 million.

On Tuesday, Cisco announced it was shutting down its Flip video camera division.
Wow! I have a Flip. It's a lovely gadget, and it came with quite elegant software. But I haven't used it since I got an iPhone. Another illustration of the adage that the best camera is always the one you happen to have with you. It's also a salutary lesson in how quickly this ecosystem can change.
Bet the guys who sold out to Cisco are laughing all the way to the bank.