Fuchsia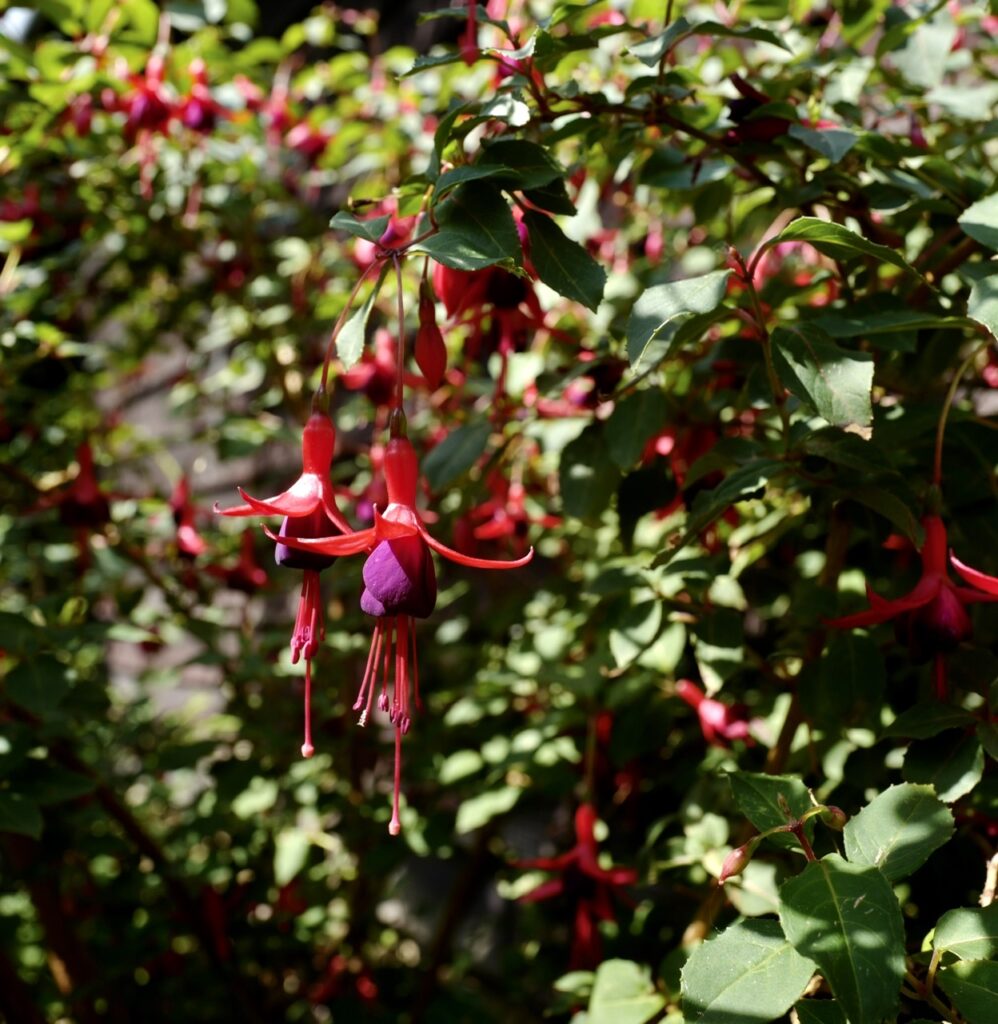 In our garden, this morning. One of my favourite plants, which has really thrived this year, for reasons unknown. Trouble is, it makes me nostalgic for County Kerry, which has more fuchsia hedges than anywhere else in the known world (IMHO).
---
Grandparents are critical workers too
Interesting long read (estimated reading time 15 minutes) in De Correspondent, a journalistic outfit to which I subscribe.
In a world where half of all Dutch families regularly ask grandparents to provide childcare, and those in other countries do so too; where care provided by grandparents in the UK saves over £7bn each year; and where a significant proportion of US, Filipino and Romanian children are raised by their grandparents, it's safe to say that grandparents play a key role in shaping future generations.

The different generations are much more closely intertwined than we like to admit. Seen in this light, it's a shame that many older adults are now being described, first and foremost, as "vulnerable". If only because our collective strength is not defined by our ability to separate "the vulnerable" from "everybody else" but, as Amy Davidson Sorkin aptly wrote in a recent piece for the New Yorker, "by our willingness to stand together".

"Covid-19 has caused generations to become increasingly separated from one another," Gopnik says. "It was already happening in many places, but I think the pandemic makes us realise even more how much we depend on the fact that we have grandparents involved in caring for grandchildren. It makes it really vivid that we've sort of neglected those two ends of the life-span." It also makes vivid the loss that ensues when grandparents and grandchildren are unable to interact.
I know it sounds like special pleading (I'm a grandfather) but I've been struck time and again — and not just in the pandemic — about this. I come from a rural culture where (just like parts of Italy, say) there's always been extensive extended-family groups living in close proximity. But when socially-mobile or ambitious children leave that kind of environment — to live and work, say, in large urban conurbations far away — and then themselves start to have children, suddenly the conflicts between the demands of work and those of childcare become acute. My wife and I both brought up broods without any help whatsoever from our parents, and it made life much more demanding in all kinds of ways. State childcare provision in the UK is abysmal and inadequate by Continental European standards, and so families with young children have much less flexibility when both parents need to be out of the house. Way back in the Ireland I grew up in, that problem didn't exist. The kids would simply wander round to Granny and Grandad's place.
The figure of £7B is just an estimate of what parents in the Uk would have to fork out for childcare if their parents weren't helping. I suspect it's a huge under-estimate.
That's not to say that there aren't downsides to extended families living close together. Apart from the privacy aspects, there's also the fact that initial impact of the Coronavirus seemed higher in cultures where multiple generations live together.
---
How to report the spread of a pandemic
The New York Times has produced a terrific animated-graphic-plus-succinct-narrative account. It's a very good example of how to use digital tools to visualise and communicate a dynamic process.
Well worth a visit. Give it time.
---
The history of the humble (and not so humble) door handle
A doorknob is a key part of the user-interface of a building. Yet until Covid-19 I'd never given much thought to it — except sometimes in exasperation when realising that a handle is better than a knob for many people and many purposes. And it never occurred to me that it might have an interesting history. Which, of course it has. And it's had some famous designers in its time. For example:
Arguably the most influential, although not necessarily familiar, door handle was designed not by an architect but by a philosopher – albeit one with an engineering degree. Ludwig Wittgenstein's handle for the house he designed for his sister in Vienna in 1928 is a simple bent metal bar with one of the pair kinked to accommodate a portion of frame for the French doors it was designed for. It apparently took him a year to design (he spent two years on the radiators), but that simple bent bar morphed into the bent tube which is perhaps the most ubiquitous and generic of all modern designs.
And, needless to say, that reminds me Of an old schoolboy joke: "Was Handel a crank?"
---
Zoom Hell
Lovely New Yorker cartoon.
---
Is Digital Contact Tracing Over Before It Began?
Sobering post by Jonathan Zittrain. The momentum towards contact-tracing seems to be on the wane, he thinks.
The work on planning and standing up contact tracing is being overtaken by a public sensibility that the disease has been sufficiently managed for things to more or less return to normal. Where before, the question of voluntary participation in a tracing and isolation scheme was seen as how to get from, say, 50% participation up to 70% or more by the general public, the question now is whether nearly anyone would bother to install or use contact tracing tools at all — or, apps aside, change their behavior should they receive a call indicating that they've been exposed by someone who has tested positive. In New York, contract tracers are having a hard time completing interviews. And in Massachusetts, a mixed bag: on the one hand, so many contact tracers were admirably stood up so quickly that there isn't enough work to go around. On the other hand, most of the cases being diagnosed haven't been identified beforehand through contact tracing — which means that transmission chains can't be pruned.
Contact-tracing requires testing. And testing capacity in parts of the US is currently being overwhelmed. On the tech front, Zittrain sees "a plateau in visible activity on the tech side of the ledger since the May 20, 2020, launch of the Apple/Google exposure notification framework". And it doesn't seem that any state has yet approved or launched an exposure notification app based upon the framework.
Efforts outside of the United States have made a little more progress. Switzerland has led the charge, piloting an app that implements the Apple/Google framework within hospitals, government agencies, and the military. Other nations — many of them among the 22 granted access to the Apple/Google framework in May — are developing and deploying apps of their own. We've also seen the emergence of a number of apps not based on the Apple-Google framework, including in Singapore and Australia.
So it's all incredibly patchy. So much for tech 'solutionism' in this crisis.
So what now? Zittrain sets out two possibilities: the Swedish model and what he calls the 'Company Town' model.
The Swedish model is basically to
re-open all but the most high-spreading services and events; ask people to exercise social distancing where they can; have people wear cloth masks to minimize the spread of the moisture in their breath to others; and try to make available testing so that people who wish to know if they're infected can find out and then self-isolate if they test positive or show worrisome symptoms.
The other option is interestingly different:
It's one in which some big companies and institutions decide to implement their own test/trace/isolate regimes as employees return to workplaces. A company whose employees don't physically interact much with the public during the day — an insurance company, or a tech firm like Facebook or Google — might require its employees to undergo regular testing, and then cease coming to work if they test positive. Such a company could stand up its own tracing program, and use data from company-issued devices, with notice to employees and no permitted opt-out, to assist in that tracing. Those who are deemed to have been exposed can also be required not to come to work. Universities might choose to require much the same for their faculty, staff, and students.

The overall regime may thus remain nominally a voluntary one, with respect to government coercion, but participation in private regimes like this will be by choice only in the sense that employees can quit their jobs, or students can choose to drop out of school, if they don't want to participate in their institutions' programs. And it of course leaves most people behind: if you don't work for an institution that can pull off its own internal testing and tracing, you won't directly benefit from such a program.
It looks as though this latter option is what Cambridge University will adopt — to name just one non-corporate example — because it now has the capacity to do all of that stuff.
But when you look at the bigger picture, this 'company town' approach would be a disaster for inequality, and maybe even for democracy. A bit like neoliberalism, in fact.
There's no substitute for state capacity here, rigorously, competently and fairly administered. And the big questions for us is: can the UK actually do it?
---
Quarantine diary — Day 97
---
This blog is also available as a daily email. If you think this might suit you better, why not subscribe? One email a day, delivered to your inbox at 7am UK time. It's free, and there's a one-click unsubscribe if you decide that your inbox is full enough already!
---