Kubrick in Venice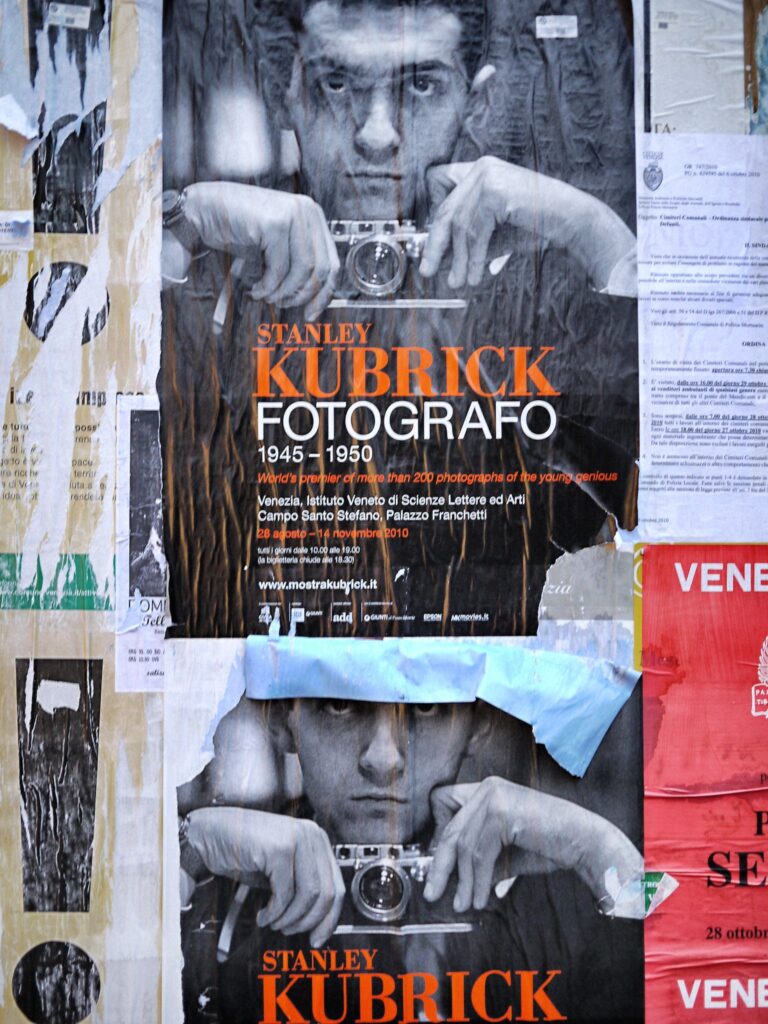 Until I saw this poster in Venice years ago I hadn't known that Stanley Kubrick had been a photographer long before he became a film-maker. He was quite a good one too, though a lot of his best shots were staged — which I guess was an indicator of how he would evolve.
---
A different kind of day
Such a strange Christmas Day. Normally it would have involved a crowded, noisy family dinner with much ado about Secret Santa, jokes about the absurdity of the Johnson government, commentary on the fiendish ingenuity of the virus, delicious photographs and videos of the latest infant additions to my extended family (I have 43 first cousins I'll have you know), wistful speculation of when we might be able to see people we miss in person again, and slightly apprehensive speculation about what 2021 might hold.
Mercifully, we managed to have some of this by converting our car-port into a kind of outdoor sitting room to which family members dropped in — in a lightly-organised, socially-distanced rota — for a glass of fizz, Christmas cake and a chat. Lovely in its way, especially in the morning when the sun shone in and made the space almost comfortably warm. But still only a pale reflection of the real thing — a thought that was doubtless mirrored a hundred thousand times in households throughout the UK.
---
Quote of the Day
"The time to relax is when you don't have time for it"
---
Musical alternative to the morning's radio news
In dulci jubilo | King's College Choir, 2020 
---
Long Read of the Day
 The Best Version of Itself: Nora Ephron's New York  
Lovely meditation by Carrie Courogen on Nora Ephron, When Harry Met Sally and New York.
Nora Ephron and I only lived in the same New York for a little over a year, though, of course, we didn't really inhabit the same New York. I was a poor student downtown, she was a famous filmmaker uptown. We did share one thing, however: Central Park. New York's park. Harry and Sally's park. Our park. I like to think she delighted in its small wonders her last year here: the reservoir regulars who start running laps at the same time every morning, no matter how cold; the few short weeks in spring when you can smell old ladies' perfume lingering in the air; the way bare backed bodies spread out across Sheep Meadow on a hot summer afternoon resemble a painting; the perfect afternoon walk by the history museum when the leaves begin to turn.

I miss Nora Ephron. I know it's such a strange thing to say about someone I never even met, but it's true, and I feel it more acutely as the years go by and the city seems to grow increasingly crueler and more difficult to love unconditionally. I still don't live in Nora Eprhon's New York; I have been made aware of this countless times over the past decade. I don't think I know anyone who does though, really…
If you've liked Nora Ephron's films, this is for you.
---
This blog is also available as a daily email. If you think this might suit you better, why not subscribe? One email a day, delivered to your inbox at 7am UK time. It's free, and there's a one-click unsubscribe if you decide that your inbox is full enough already!
---