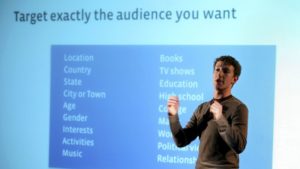 Well, well. Months — years — after the various experiments with Facebook's targeting engine showing hos good it was at recommending unsavoury audiences, this latest report by the Los Angeles Times shows that it's lost none of its imaginative acuity.
Despite promises of greater oversight following past advertising scandals, a Times review shows that Facebook has continued to allow advertisers to target hundreds of thousands of users the social media firm believes are curious about topics such as "Joseph Goebbels," "Josef Mengele," "Heinrich Himmler," the neo-nazi punk band Skrewdriver and Benito Mussolini's long-defunct National Fascist Party.

Experts say that this practice runs counter to the company's stated principles and can help fuel radicalization online.

"What you're describing, where a clear hateful idea or narrative can be amplified to reach more people, is exactly what they said they don't want to do and what they need to be held accountable for," said Oren Segal, director of the Anti-Defamation League's center on extremism.
Note also, that the formulaic Facebook response hasn't changed either:
After being contacted by The Times, Facebook said that it would remove many of the audience groupings from its ad platform.

"Most of these targeting options are against our policies and should have been caught and removed sooner," said Facebook spokesman Joe Osborne. "While we have an ongoing review of our targeting options, we clearly need to do more, so we're taking a broader look at our policies and detection methods."
Ah, yes. That 'broader look' again.