Down the lane…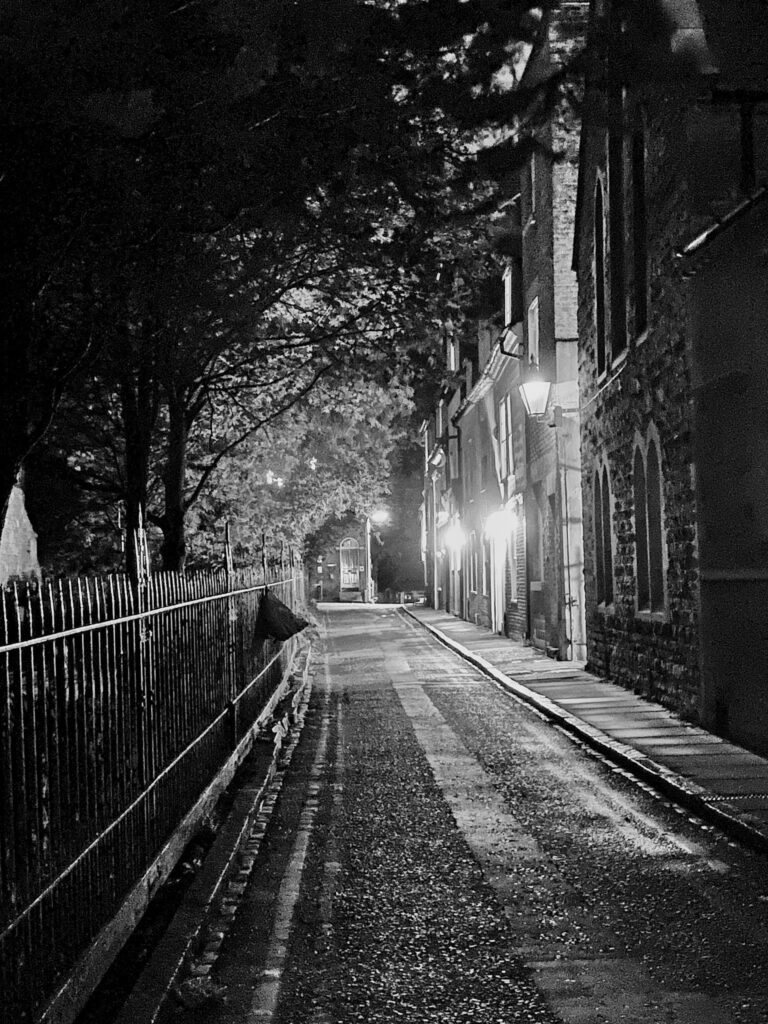 Walking back from a college dinner the other evening, I turned into Little St Mary's Lane, one of my favourite streets — and one I often strolled down when I was a graduate student on my (leisurely) way to the Lab. Stephen Hawking once lived in one of the houses, as did the great Irish historian, Joe Lee, when he was a Fellow of Peterhouse in the late 1960s.
---
Quote of the Day
"Nobody ever notices the host at a party, until the drink runs out"
---
Musical alternative to the morning's radio news
Elvis Costello sings Penny Lane for Paul McCartney at the White House.
I have a soft spot for Liverpool ever since my daughter went to university there and I got to know the city.
---
Long Read of the Day
AI and Leviathan: Part 1
This is the first of three remarkable essays by Sam Hammond pondering the challenges posed by the flowering of machine-learning into Generative AI. If you want to get a sense of where we might be heading, these essays are worth reading.
But just for now, here's how the first one in the series opens.
Imagine a breakthrough happened and suddenly everyone had access to cheap, x-ray style glasses. The glasses look like normal, everyday glasses, but come with a dial setting that lets you see through walls, people's clothing, etc. It somehow works on old photos and video recordings too.

On one level, this would be amazing. You might notice the mysterious lump on your friend's thyroid, say, catching their cancer early and saving them untold medical costs. But in the immediate term, universal and near-undetectable access to the glasses (or contact lenses, if you prefer) would be a security and privacy disaster. No one's home or device security was compromised per se. Rather, it's more like a society designed around the visible light spectrum became maladapted overnight.

There are three canonical ways that society could respond:

Cultural evolution: we embrace nudism and a variety of new, post-privacy norms;

Mitigation and adaptation: we start wearing lead underwear and scramble to retrofit our homes, office buildings, and locker rooms with impenetrable walls;

Regulation and enforcement: we ban or tightly regulate the technology and build an x-ray Leviathan for inspecting people's glasses, punishing violators, etc.

The option where everyone spontaneously coordinates to never use the glasses, or to only use them for a subset of pro-social purposes, is unstable. Even if you're a voyeur and access to the glasses benefits you personally, there's an underlying prisoner's dilemma, and so we quickly shift to the equilibrium where everyone has the glasses even if we all preferred the world without them.

The glasses are a metaphor for Artificial Intelligence.
See what I mean? Read on.
---
Books, etc.
John McPhee is the greatest long-form non-fiction writer alive IMO. Period. And he's just published his 32nd book, Tabula Rasa, which I downloaded last night and started reading — until I suddenly realised that staying up all night is not a great idea.
Noah Rawlings's review in the LA Review of Books might give you an idea of why I nearly didn't sleep.
Writers' lives are littered with unrealized projects. Some more than others. John McPhee—the New Yorker staff writer who, over his 60-year career at that magazine, redefined what is today known as "creative nonfiction"—does not strike one as the type to leave things undone. He has more published books than most writers have inchoate inklings: books on oranges, tennis, canoes, geology, the Swiss Armed Forces, the US Merchant Marine. We're talking 31. We are not talking 31 formulaic variations on a theme, not 31 books by Louis L'Amour or Clive Cussler (with all due respect), but 31 books that are, with few exceptions, masterworks of literary journalism. Greatness is not measured by word count, but McPhee's output doubles that of nonfiction giants like Gay Talese or Joan Didion or Tom Wolfe. To produce so much good work requires rare qualities: staggering energy, expansive interests, exceptional endurance. And a long life.

McPhee is now 92…
---
My commonplace booklet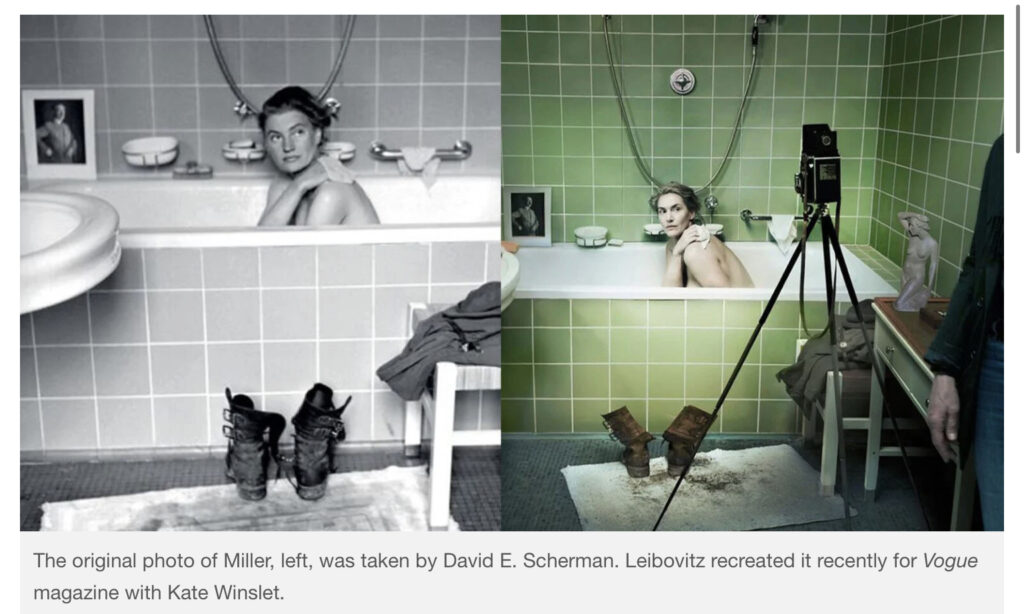 I'm looking forward to seeing the Lee Miller biopic (in which Kate Winslet plays Miller) when it comes out in December. In the meantime interesting fragments and references are appearing. Can't remember where I saw this, but it shows how photographer Annie Leibovitz has recreated with Winslet the famous picture of Miller in Hitler's bath when she and her fellow-photographer David Scherman got into the Führer's apartment in Munich as the war ended. Note the Rolleiflex on the tripod. You have to get these things right.
---
 This Blog is also available as an email three days a week. If you think that might suit you better, why not subscribe? One email on Mondays, Wednesdays and Fridays delivered to your inbox at 6am UK time. It's free, and you can always unsubscribe if you conclude your inbox is full enough already!
---