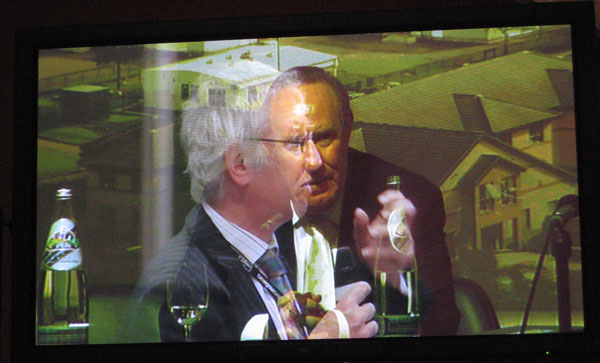 Andrew Neil (aka Brillo Pad) gave the Keynote Address to the Society of Editors conference. This picture was taken just as the TV director was switching from a questioner (standing) back to BP.
His Address was an entertaining farrago of insights, half-truths and thinly-veiled attacks on his enemies. It went like this:
New media bring challenges… time for a new mindset…an opportunity not a threat…all technological change brings upheaval…much to be positive about… bad news only for red top tabloids… the Guardian has used the web astutely to reinvent the Guardian brand… Sunday Times is selling more copies today than it did under his editorship…the Economist is doing brilliantly… the FT is thriving again, showing what can be done when a newspaper comes to terms with the Net…journalists who are so good at lecturing others about the need to adapt to disruptive change are not very good at learning to live with it themselves…the days of spending the day working on a piece, filing it just before five and heading off to the pub are over…all media organisations must become 24×7 operations…'reach' is the key to getting a true measure of our proposition… 38% of people's leisure time now spent online (more than watching TV) but 38% of advertising spend hasn't followed it — yet: but that will change as advertisers follow the eyeballs…Google now has more ad revenue than ITV… but Google is growing fat on the backs of poor unpaid journalists and their employers … time for a conversation with Google about this matter …need for a new breed of journalist … journalists will become brands in their own right… broadband has transformed the Net into a multimedia channel… there's a premium on moving-picture ads…. newspapers must get into that… there's never been a better time to be a journalist… these new journalist-brands "will write blogs because you wouldn't give them a column, and then they'll sell the Blog back to you for an inflated price"…
He finished off with some incomprehensible score-settling about the Scottish Media Group, the Scotsman, the Herald and the unalloyed stupidity of the Scottish political class.
In questioning, he revealed that he had bought Handbag.com for £300,000 and sold it a short time later for £22 million.
Update… Roy Greenslade is also at the conference. Here's his Blog's take on Brillo Pad.