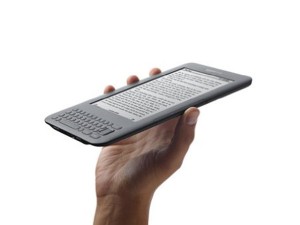 This is a really interesting development for anyone interested in long-form journalism.
Amazon issued a call today for "compelling ideas expressed at their natural length" for its e-book store.

Specifically, per Amazon's guidelines, that means non-fiction works in the 10,000-30,000-word (30 to 90-page) range that deliver a well-researched and thoughtfully executed argument related to business, politics, science, history, current events or other topics in the field of intellectual discourse.

Qualifying works will be labeled as "Kindle Singles" and sold in a corresponding section in the Kindle Store for "much less than a typical book."

"Ideas and the words to deliver them should be crafted to their natural length, not to an artificial marketing length that justifies a particular price or a certain format," said VP of Kindle Content Russ Grandinetti in a statement. "With Kindle Singles, we're reaching out to publishers and accomplished writers and we're excited to see what they create."

The Kindle Singles category seems like the perfect place to offer individual copies of works that typically wind up in anthologies — historical and contemporary essays on political theory and philosophy, for instance — that are simply too short to be bound individually, but too important not to be in circulation. The section could easily take aim at the education market by allowing students to forgo the purchase of course readers and unwieldy anthologies — often peppered with works that never become part of the course material — and provide additional visibility for "accomplished" self-published writers of non-fiction.