The resounding 'Yes" vote in the Irish Referendum on changing the Constitution to allow same-sex marriage is a pivotal moment in the history of my beloved homeland. And in the history of the world too, in a small way, because this is the first occasion in which legal equality has been conferred on non-heterosexuals by a popular vote.
My private expectation was that it would be a narrowly positive vote, and that it would be decided by the urban/rural divide, with the electorates of Dublin, Cork and Galway voting overwhelmingly 'Yes' and most of the rural constituencies voting 'No'. In the event I was completely wrong: only one constituency (Roscommon-South Leitrim) went negative, and that by a small margin. There was still an urban/rural divide, but it was much narrower than I had expected.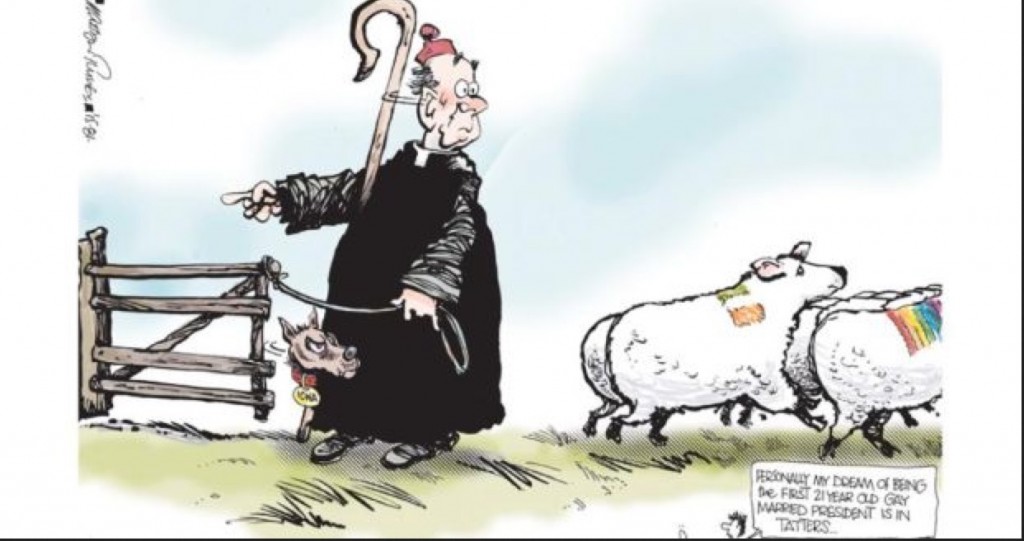 Cartoon by Martyn Turner in today's Irish Times.
What it means (and what the Archbishop of Dublin, Diarmuid Martin, conceded) is that Irish society has finally turned the corner towards secularity. What's astonishing, in some ways, is that it took so long, especially given how long the revelations about the hypocrisy and criminality of the Catholic church over child abuse have been in the public domain. The idea that this decrepit, decaying institution could pretend to be a guide to morals (not to mention politics) was laughable for decades, but it seems that it is only now that its bluff has finally been called.
In one way, it was bound to happen, for demographic reasons — or what marketing consultants call "biological leakage", i.e. the remorseless tendency of older people to pass away. But that doesn't lessen the sense of wonder that it has finally happened. As the Irish Times put it in its First Leader,
"the time when bishops could instruct the Irish people on how to vote has long gone. What we may not have appreciated until now is that being a young, networked society has political consequences that can overturn the cynical conventional wisdom about voting behaviour, turnout and engagement.

This is the first Irish electoral event in which young people have taken the lead and determined the outcome and it has been a bracing, refreshing experience. It had been visible on the streets for weeks in the Yes badges that became ubiquitous during the campaign but it had its most potent and poignant expression in the multitude of young emigrants who came home to vote on Friday. Here, in a single gesture, was all the pathos of separation and longing; an expression of solidarity and belonging; and an enduring loyalty to the nation that had so signally failed them. The tweets from those returning to vote for marriage equality were at once inspiring and heartbreaking, testimony to our failure and their promise."
The campaign was fascinating because it was, as Noel Whelan put it in the Times, "the most extensive civic society campaign ever seen in Irish politics". In that sense, it reminded one of the campaign that propelled Obama to the White House in 2008. The people who masterminded it — Brian Sheehan and Gráinne Healey — have shown themselves to be consummate, canny strategists who crafted a campaign that was deliberately open and conversational rather than confrontational. (The chosen theme was: "I'm Voting Yes, Ask Me Why?")
For me, it was especially cheering to see that a long, lonely and exceedingly courageous campaign by a fellow Joycean, Senator David Norris, had finally born fruit. Writing in the Times today, he recalled the long and winding road "from criminal to equal citizen":
I have been privileged in my life to follow a remarkable trajectory from being defined into criminality, challenging the criminal law, losing in the High Court and Supreme Courts, finally winning out by a margin of one vote in Europe, seeing the criminal law changed and then starting to build on this basis for human and civil rights for gay people.

Fifty years ago my first boyfriend said to me outside a Wimpy Bar on Burgh Quay: "I love you David but I can't marry you." I still remember that all these years later.

Go forward 10 years when, after a debate on decriminalisation, the late Mona Bean O'Cribben remarked vehemently to me: "This isn't just about decriminalisation. You have a homosexual agenda. You won't be satisfied until you have homosexual marriage." I turned to her and said: "What a wonderful idea, thank you very much madam, have you got any other suggestions?"
But there is another, intangible but real, aspect to this vote. One of the strangely positive side-effects of the 'Celtic Tiger' years — when the Irish economy zoomed from sensible economic development to casino property-development insanity — was that my fellow citizens experienced for the first time what it was like to be seen as successful by the rest of the world. It was suddenly, as some of them observed at the time, "cool to be Irish". All of which meant that the bust and the subsequent economic collapse had an even harsher psychic impact: it turned out that we had been kidding ourselves; that we had, as Frank McDonald (the great Irish Times journalist) used to say, "lost the run of ourselves".
But one of the most unexpected byproducts of Friday's vote is that we can be genuinely proud of ourselves, and for a reason infinitely better than fuelling a crazed property boom: for once, we did the right thing. Not a bad day's work.