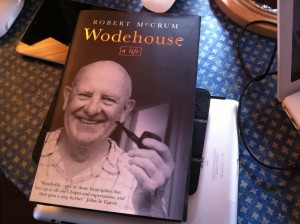 There are basically two kinds of people in the world: those who think that PG Wodehouse is the greatest comic writer in the English language; and those who for the life of them can't see what the fuss is about. I am firmly in the former camp, which is why I was fascinated by BBC4's Wodehouse in Exile (screened last Monday and still available on iPlayer as I write on Sunday morning).
It deals with the one great blunder that Wodehouse made in his life – broadcasting (on German radio) some light-hearted reminiscences of his time as an internee in a German prison camp. Coming at the height of World War II and before the United States entered the war, this was a bone-headed idea which led to him being accused of treachery in Britain and to permanent (if luxurious) exile in the United States.
It was a terrific production, with Tim Piggott-Smith giving a wonderful performance as a bemused innocent at large in a dangerous world, and by Zoe Wanamaker as Ethel, Wodehouse's fiery, exotic wife. Nigel Williams's screenplay did a great job of explaining how 'Plum' got into the mess, and of what a tragedy it turned out to be.
Checking with the two Wodehouse biographies (Robert McCrum's
and Frances Dolandson's
) in my collection suggests that the screenplay was pretty accurate. But what was most striking to me was a realisation that the reason Wodehouse was so good at bringing two of his greatest creations – Bertie Wooster and Lord Emsworth – to life is that he was, in a way, just describing himself. In real life he was, like Bertie, a good-hearted, innocent chump.