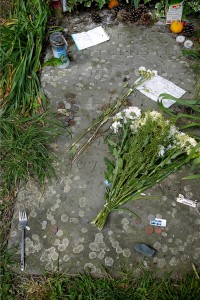 Fascinating piece by Freeman Dyson, who lived on the same staircase as Wittgenstein in Whewell's Court across from Trinity Great Gate.
Wittgenstein's intellectual asceticism had a great influence on the philosophers of the English-speaking world. It narrowed the scope of philosophy by excluding ethics and aesthetics. At the same time, his personal asceticism enhanced his credibility. During World War II, he wanted to serve his adopted country in a practical way. Being too old for military service, he took a leave of absence from his academic position in Cambridge and served in a menial job, as a hospital orderly taking care of patients. When I arrived at Cambridge University in 1946, Wittgenstein had just returned from his six years of duty at the hospital. I held him in the highest respect and was delighted to find him living in a room above mine on the same staircase. I frequently met him walking up or down the stairs, but I was too shy to start a conversation. Several times I heard him muttering to himself: "I get stupider and stupider every day."

Finally, toward the end of my time in Cambridge, I ventured to speak to him. I told him I had enjoyed reading the Tractatus, and I asked him whether he still held the same views that he had expressed twenty-eight years earlier. He remained silent for a long time and then said, "Which newspaper do you represent?" I told him I was a student and not a journalist, but he never answered my question.

Wittgenstein's response to me was humiliating, and his response to female students who tried to attend his lectures was even worse. If a woman appeared in the audience, he would remain standing silent until she left the room. I decided that he was a charlatan using outrageous behavior to attract attention. I hated him for his rudeness. Fifty years later, walking through a churchyard on the outskirts of Cambridge on a sunny morning in winter, I came by chance upon his tombstone, a massive block of stone lightly covered with fresh snow. On the stone was written the single word, "WITTGENSTEIN." To my surprise, I found that the old hatred was gone, replaced by a deeper understanding. He was at peace, and I was at peace too, in the white silence. He was no longer an ill-tempered charlatan. He was a tortured soul, the last survivor of a family with a tragic history, living a lonely life among strangers, trying until the end to express the inexpressible.
The photograph shows Wittgenstein's grave as it is now. Larger size here.