Corporate cant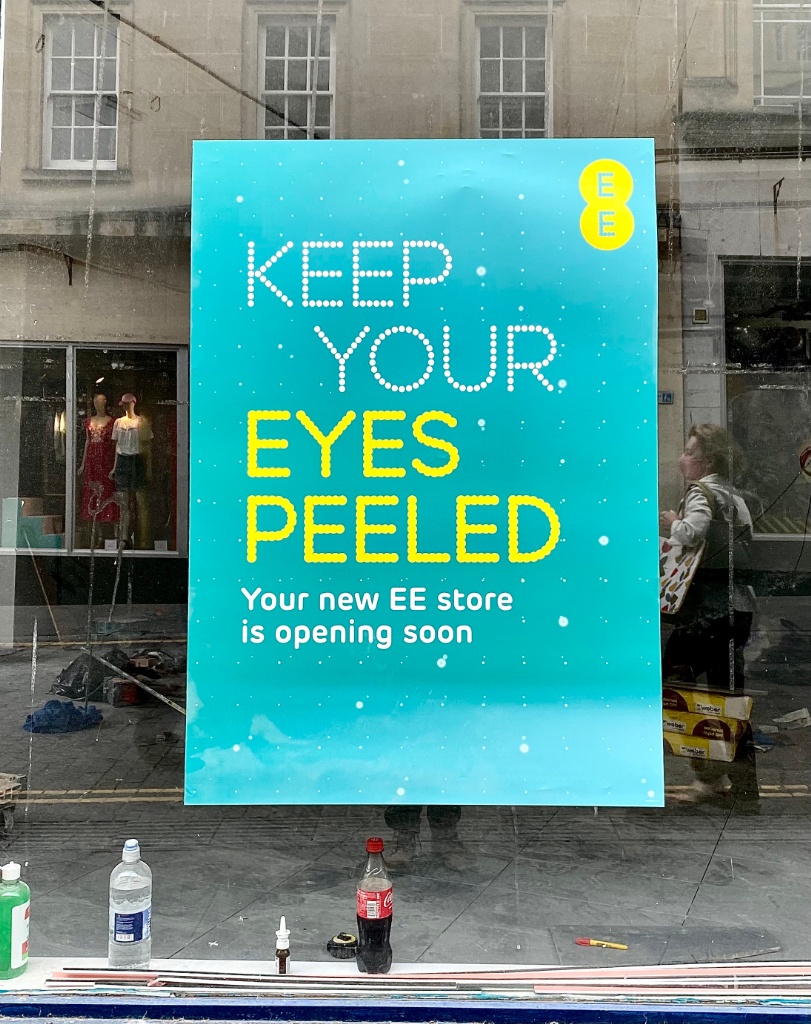 Er, it's not "my" store (or yours), but the premises of a gigantic public corporation.
---
Quote of the Day
"The Papacy is not other than the ghost of the deceased Roman Empire, sitting crowned upon the grave thereof."
---
Musical alternative to the morning's radio news
Eels | Grace Kelly Blues | Albert Hall
My favourite recording of the song.
---
Long Read of the Day
 The Lost Art of Looking at Nature
Nice essay by Rachel Riederer in Dissent on David Attenborough (Whom God Preserve). "Perhaps we love Attenborough", she concludes, "because he is an advocate and practitioner of a special way of seeing and relating. His interest in the natural world begins not with the gaze of an empath, for whom another's feelings become real because he feels them himself, but with the humility of an observer content to be an outsider".
Yep. Worth your time.
---
New York Times heads downmarket…
It's found a gap in the market between Hello magazine and The Tatler.
Witness yesterday's pass-the-sickbag piece about a flashy dame with aspirations to pass as a public intellectual, and a culture-war spat at Princeton, a hedge-fund with a nice university attached. The centre-piece of the essay is a dinner-party that she and her husband are hosting with some friends who, apparently, are on their side in the aformentioned culture wars.
Some choice cuts from the piece.
Exhibit A:
PRINCETON, N.J. — Solveig Lucia Gold was setting the table in her backyard, next door to the house once occupied by Albert Einstein. Her yard is a sweeping field of emerald green grass leading down to the 18th-century blacksmith's cottage with stone floors that houses her home study.

Ms. Gold, 27, was preparing for an intimate dinner with some of the few people — "our little cabal," she said — who publicly admit to being on friendly terms with her and her husband, the recently fired (she prefers "canceled") former Princeton classics professor Joshua Katz.
Exhibit B:
As her guests were about to arrive, Ms. Gold changed from a plain blue summer shift into a more glamorous cinched-waist yellow dress, drawing an approving smile from her husband, who was wearing a pink linen shirt.

She set the long rectangular table in the grass precisely, with a Wedgewood-blue and white tablecloth, cloth napkins tied up in yellow ribbons, place cards inked in a neat cursive hand and melamine dishes in a Provençal design. She was schooled in formal manners from a young age, she said, as an only child to an actress and a soap opera writer. "My mom threw a lot of dinner parties, and I ended up talking to adults," Ms. Gold said.
Exhibit C:
At the dinner table, Ms. Gold, wearing a checked kitchen apron over her yellow dress, sat at one end and Dr. Katz at the other. Ms. Gold said a swift prayer ("Come Lord Jesus be our guest, and let these gifts to us be blessed") and the chilled pea soup was served.
Needless to say, the happy couple "are going to start house-hunting in Washington, D.C." where Dr. Katz is a fellow at — you guessed it! — the American Enterprise Institute.
The New York Times, by the way, was once a serious newspaper.
---
This Blog is also available as a daily email. If you think that might suit you better, why not subscribe? One email a day, Monday through Friday, delivered to your inbox. It's free, and you can always unsubscribe if you conclude your inbox is full enough already!
---