Online delivery — Venice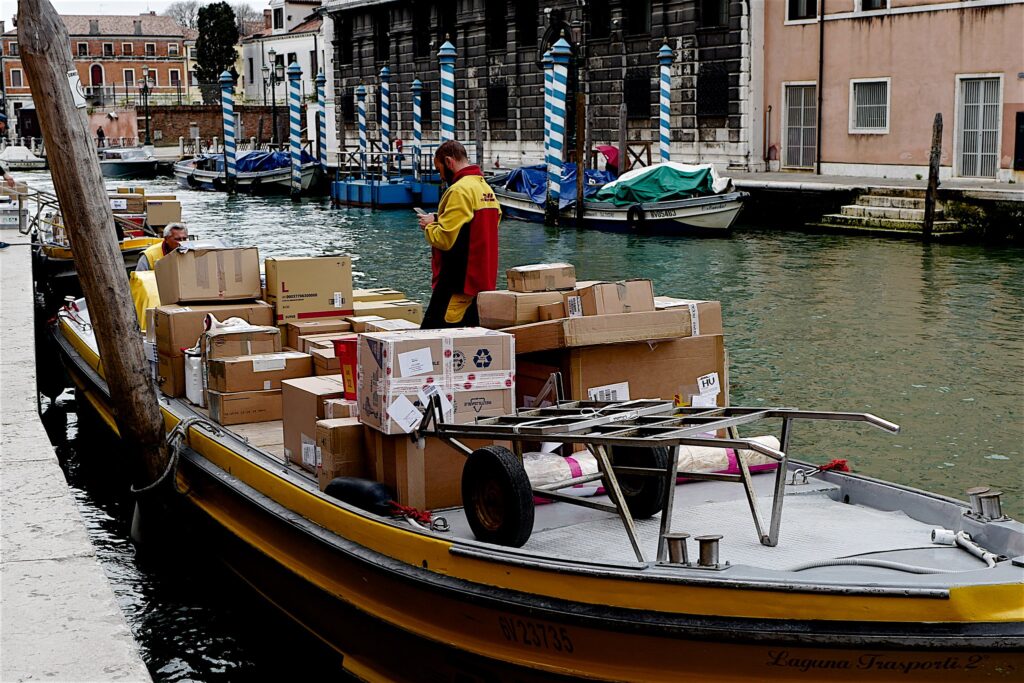 ---
Quote of the Day
"When the war broke out she took down the signed photograph of the Kaiser and with some solemnity, hung it in the men-servants' lavatory; it was her one combative action."
Evelyn Waugh, Vile Bodies.
---
Musical alternative to the morning's radio news
John Garth | Keyboard Sonata in C | Allegro
---
Long Read of the Day
 The Soft Corruption of Big Tech's Antitrust Defense
As the tech companies realise that they are going to become regulated they are mounting a massive covert rearguard action to influence the legislation that will affect them. It doesn't just involve direct political lobbying: it involves subsidising real and phoney think-tanks, funding 'research' by greedy or unscrupulous academics and other stunts. This essay by Alex Kantrowitz provides a nice introduction to the soft underbelly of liberal democracy.
---
How Big Is Amazon, Really?
Thoughtful piece by Shira Ovide in the NYT:
I'm fond of repeating a shopping statistic that often surprises people. In the United States — even during the pandemic — only about $14 out of each $100 worth of stuff we buy is spent online. Amazon is responsible for roughly $5 of that.

So is Amazon a giant that dominates our internet spending or a blip in America's shopping universe? It depends on how you look at the numbers. Amazon is huge in internet sales, but puny relative to all the goods Americans buy.

Our perception of Amazon's size influences how the public and policymakers think about the company. And yet while the company's share of spending matters, it also doesn't tell us everything.
This is a useful piece which highlights the way we both over- and under-estimate the power of tech companies. Actually what it means is that we need appropriate ways of measuring the effective power of tech giants. And also that we need to recognise that each of them requires different regulatory approaches.
---
How to pitch an idea for an OpEd
Useful advice from Sifted, the Financial Times European-tech site.
Here's what we're looking for. A punchy opinion.

We like starting conversations. There's nothing better than a somewhat controversial or unusual point of view to get people talking about a subject.

So, don't pitch us an idea about why it's a good idea to talk to your customers early on (everyone knows that!) Pitch us an idea about why customers are stupid and should be ignored at all costs. That sounds much more intriguing.
On the other hand…..
Here's what we're not looking for. Self-promotion.

We're looking at you, VC firms. It's not very interesting to hear about why you think your latest investment is great. (Of course, you think that.) And we're looking at you, founders. It's also not that interesting to hear about why you think there's such a big opportunity in your niche. It's okay to write about trends you're a part of, but only if you place yourself within the bigger picture. Pre-written pieces.
Don't send in pre-written pieces, just an idea, a catchy title and bullet points outlining the main gist of your argument.
Oh, and "Don't send us something you (or your client) have already drafted. That's what Medium is for."
Don't you just love that last jibe?
---
Critics and statues
Clive Page, citing yesterday's Sibelius quote about nobody putting up statues to critics, asks: "What about George Bernard Shaw – he was surely an important critic and there seem to be several statues of him around, including in Dublin and Bournemouth?"
Interesting question (for which many thanks). The difference, I'd say, is that Shaw was a creator (all those plays, for example) as well as a great critic. He had a foot in both graves.
---
Other, hopefully interesting, links
The Overedge Catalog: New Types of Research Organizations. A catalogue of research institutions whose interests overlap with various intellectual silos. Link
The Year Earth Changed Trailer for a new Attenborough-narrated documentary about the side-effects of the lockdown. Link
---
This blog is also available as a daily email. If you think this might suit you better, why not subscribe? One email a day, delivered to your inbox at 7am UK time. It's free, and there's a one-click unsubscribe if you decide that your inbox is full enough already!
---