Quote of the Day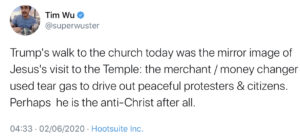 ---
Participle physics
Another wickedly sharp column from Marina Hyde.
I've no time for this theory that the government doesn't care about having the worst death toll in Europe, based on the fact that they only robotically acknowledge it once a day by confirming how many people "have sadly died". They do care, but just slightly shy of the amount required to tell a civil servant to visit thesaurus.com. The repeat formulation gives the impression of being governed by a Grammarly template, or perhaps an automated phone system. "You are currently number –" "SADLY" "– in the queue."

On Sunday, it was Robert Jenrick's turn on the sadface, with the housing and communities secretary released briefly for the press conference. He normally lives in a stock photo about online banking. Unfortunately, that environment seems not to have prepared Robert for questions about why the government is easing lockdown when they themselves said they would not do so until the official alert level was 3. "The alert level is changing," Jenrick handwaved. "We are still at level 4 but we are transitioning to 3." Is this like when I still haven't done the ironing but I am transitioning to having done it? Have I, at that moment, done the ironing? No. Of course I haven't. But I WILL have. Scientifically, it's a hugely interesting space to be in. I call it participle physics – which is like particle physics, except Robert Jenrick can do it.
---
The case of bookcases
Lovely short essay by sociologist David Beer. Noting that the background of many people on Zoom involves book cases, he writes,
I'd probably aim for the same type of scenery, if I could. My video calls are backed by a blank wall. This is no proclamation and nor is it a choice. It is by no means an attempt to subvert or make a statement on the selfconsciously-situated bookcase. I have only a small number at home: my book collection is almost entirely housed in my work office. Locked in. Limited space at home and an attempt to demarcate home and work space have kept me in the habit of only bringing a book or two home at any one time. My book collection exists only at work – a space that I imagined would always be accessible. Those many images of crammed shelves remind me of my books.

I sometimes, in the moments of daydreaming, imagine my office. Empty and dark. The walls lined with my books. The tools of the trade, left unused. It's a small and inconsequential problem, but it does make me think of how work has been transformed now and possibly in the future.

It's limiting without them – and not just because I lack a visual representation of my cultural capital to adorn my moments of remote social contact. Planning a lecture, doing some writing, checking and cross-checking some idea. I wrote before about the difficulty of writing at the moment; as the focus starts to return, steadily, I'm now seeing the separation from my books will make things difficult (and that's without even beginning to contemplate libraries staying shut).
Beer also has a thoughtful post about the difficulty of writing serious (i.e. scholarly) stuff at the moment which resonates with me.
---
Scott Galloway on the post-pandemic future of (US) universities
If you thought the Wired piece about UK universities that I blogged yesterday was scary, then this interview with Scott Galloway could make your flesh creep. He's flamboyant but smart. And he knows the tech and Higher Education industries well. It's a fascinating interview from start to finish, but if you're busy here's the summary:
In 2017, Scott Galloway anticipated Amazon's $13.7 billion purchase of Whole Foods a month before it was announced. Last year, he called WeWork on its "seriously loco" $47 billion valuation a month before the company's IPO imploded. Now, Galloway, a Silicon Valley runaway who teaches marketing at NYU Stern School of Business, believes the pandemic has greased the wheels for big tech's entrée into higher education. The post-pandemic future, he says, will entail partnerships between the largest tech companies in the world and elite universities. MIT@Google. iStanford. HarvardxFacebook. According to Galloway, these partnerships will allow universities to expand enrollment dramatically by offering hybrid online-offline degrees, the affordability and value of which will seismically alter the landscape of higher education. Galloway, who also founded his own virtual classroom start-up, predicts hundreds, if not thousands, of brick-and-mortar universities will go out of business and those that remain will have student bodies composed primarily of the children of the one percent.

At the same time, more people than ever will have access to a solid education, albeit one that is delivered mostly over the internet. The partnerships he envisions will make life easier for hundreds of millions of people while sapping humanity of a face-to face system of learning that has evolved over centuries. Of course, it will also make a handful of people very, very rich. It may not be long before Galloway's predictions are put to the test.
---
So Greece is opening up again? Er, up to a point, and cautiously
Here's the official story
In summary (via Tyler Cowen):
Phase 1 – Until 15 June International flights are allowed only into Athens airport. All visitors are tested upon arrival and are required to stay overnight at a designated hotel. If the test is negative, then the passenger self-quarantines for 7 days. If the test is positive, the passenger is quarantined under supervision for 14 days.

Phase 2 – Bridge phase- 15 June to 30 June International flights are allowed into Athens and Thessaloniki airports. If your travel originated from an airport not in the EASA affected area list (https://www.easa.europa.eu/SD-2020-01/Airports#group-easa-downloads), then you are only subject to random tests upon arrival. If you originate from an airport on the EASA affected area list, then you will be tested upon arrival. An overnight stay at a designated hotel is required. If the test is negative then the passenger self-quarantines for 7 days. If the test is positive, the passenger is quarantined under supervision for 14 days.
Hmmm… I wasn't planning to go, anyway. But if I were…
---
The French contact-tracing app
Just got this from a French reader (to whom merci bon):
The French Stop-Covid app went live yesterday and from this users perspective its most serious flaw may not be privacy but battery life. In less than five hours it has depleted the fairly new battery on my iPhone 6s from near 100% to it's current 10%. Even the French government website admits that users may find the need for a supplementary charge during the day. Many give too little thought to data privacy but all of us dislike badly-engineered apps that rapidly deplete battery life.
Agreed. I'd be mightily pissed-off by an app that did that. Presumably it's not using the Apple API.
---
Quarantine Diary — Day 74
---
This blog is also available as a daily email. If you think this might suit you better, why not subscribe? One email a day, delivered to your inbox at 7am UK time. It's free, and there's a one-click unsubscribe if your decide that your inbox is full enough already!
---