Analogue nostalgia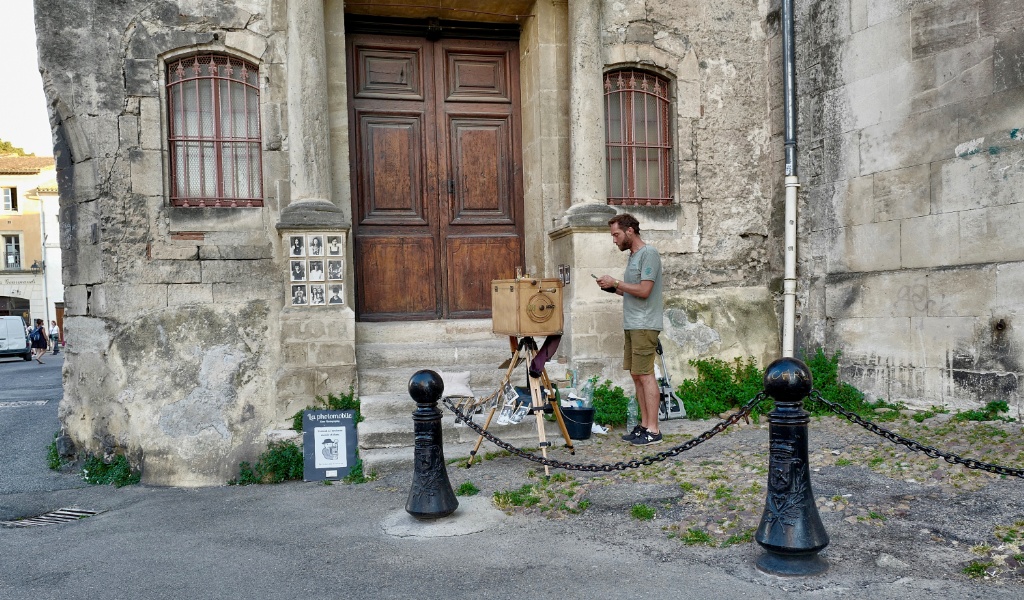 Arles, at the end of a very hot working day.
---
Quote of the Day
"If we had had more time for discussion we should probably have made a great many more mistakes."
---
Musical alternative to the morning's radio news
Ry Cooder & David Lindley | The Promised Land | 1994 | Fillmore Auditorium
---
Long Read of the Day
Algorithmic anxiety
An interesting New Yorker essay by Kyle Chayka on the subtle pressures of surveillance capitalism.
Of course, consumers have always been the targets of manipulative advertising. A ubiquitous billboard ad or TV commercial can worm its way into your brain, making you think you need to buy, say, a new piece of video-enabled exercise equipment immediately. But social networks have always purported to show us things that we like—things that we might have organically gravitated to ourselves. Why, then, can it feel as though the entire ecosystem of content that we interact with online has been engineered to influence us in ways that we can't quite parse, and that have only a distant relationship to our own authentic preferences? No one brand was promoting leg warmers to Peter. No single piece of sponcon was responsible for selling her Van Cleef jewelry. Rather, "the algorithm"—that vague, shadowy, inhuman entity she referenced in her e-mail—had decided that leg warmers and jewelry were what she was going to see…
I think this piece will resonate with many (most?) social media users.
---
What the Confederate flag signifies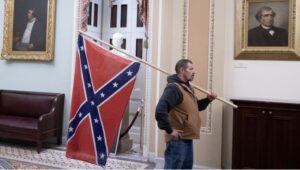 Very interesting review in the Financial Times ($) by Rachel Bowlby of Sarah Churchill's new book, The Wrath to Come. The photograph illustrating the piece is of one of the January 6 'insurrectionists' inside the Capitol building holding the Confederate flag.
It is with this moment that The Wrath to Come takes its complex cue: "To anyone who knows the history — the real history — of what that flag meant, who these people the white supremacists were and what they fought for, it was a terrible, sickening sight. But as America has spent the last century and a half trying to obliterate that real history, only a tiny minority fully grasped the reckoning at hand."

As a demonstration of that longstanding practice of historical erasure, Churchwell focuses on a grand cultural exhibit from midway between the civil war and the present day. Gone with the Wind was a phenomenally popular novel by Margaret Mitchell, published in 1936 and adapted three years later into an equally successful movie starring Clark Gable and Vivien Leigh. Both book and film follow the moral transformation of the initially self-absorbed Scarlett O'Hara in the years during and after the civil war.
That point about most people in the US not realising what the flag signifies is really significant. The slave-owning Confederate South was the heartland of white supremacy. And those who carry it now are declaring that that's what they stand for now too. Wonder if some of them realise that.
---
My commonplace booklet
Best newspaper corrections (contd.)
My favourite correction that was Monday's Quote of the Day has prompted some nice emails (for which many thanks). I particularly liked Alexander Melichar's personal favourite, which came from the New York Times:
"Because of an editing error, an article on Monday about a theological battle being fought by Muslim imams and scholars in the West against the Islamic State misstated the Snapchat handle used by Suhaib Webb, one of the Muslim leaders speaking out. It is imamsuhaibwebb, not Pimpin4Paradise786.
Don't you just love Pimpin4Paradise786?
---
This Blog is also available as a daily email. If you think that might suit you better, why not subscribe? One email a day, Monday through Friday, delivered to your inbox. It's free, and you can always unsubscribe if you conclude your inbox is full enough already!
---