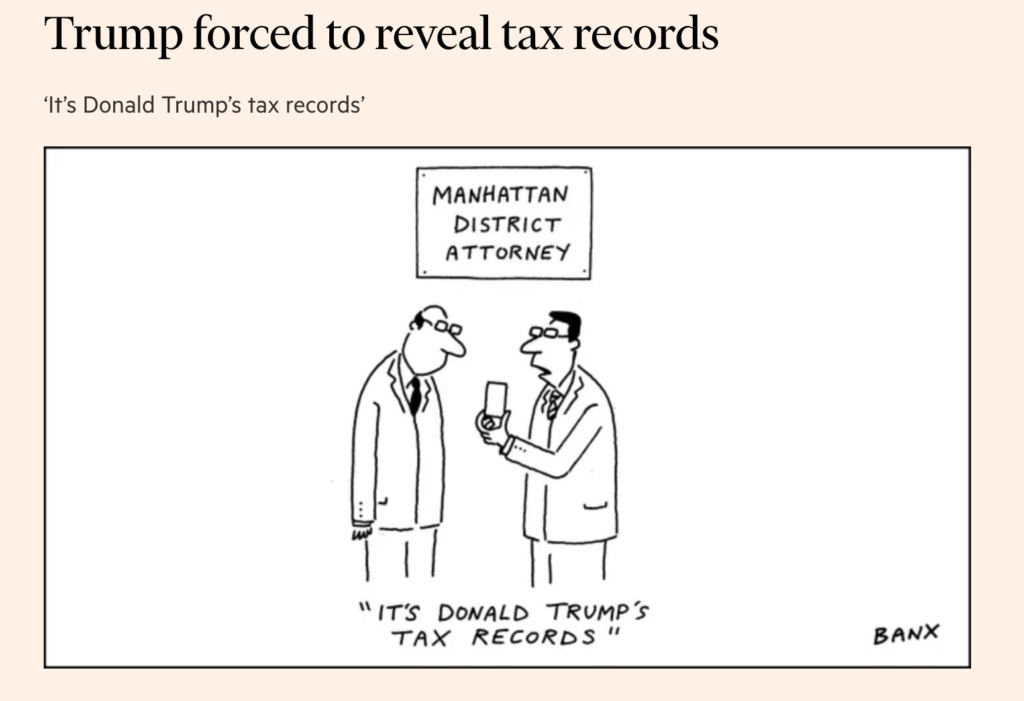 From today's FT.
---
Quote of the Day
"Playing polo is like trying to play golf during an earthquake."
---
Musical alternative to the morning's radio news
Alison Krauss : Down to the River
---
Long Read of the Day
Twenty-Six Words Created the Internet. What Will It Take to Save It?
Section 230 of the 1996 Communications Decency Act is the "kill switch" for organisations that host content on the Web. Two years ago Jeff Kosseff wrote a lovely book on it — The Twenty-Six Words that Created the Internet.
He's now done a fascinating interview with ProPublica Editor-in-Chief Stephen Engelberg.
Worth a read.
---
David Vincent: 'Sadly'
David writes regular posts on the Covid2020diary blog which are unfailingly thoughtful and thought-provoking. Here's how his entry for today begins:
The Government is producing daily figures on the progress of the pandemic. It falls to the newsreaders on the main television channels to deliver these at the head of the bulletin. There are scores for infections, hospital admissions, deaths within 28 days of a Covid diagnosis, and recently, vaccinations.

When it gets to the deaths, always the same feeling is inserted. 'Sadly' XXX deaths were reported in the last twenty-four hours. The point of this extra descriptor is presumably to indicate that the broadcasters comprehend the tragedy that is unfolding day by day. They are not just reading from a teleprompter, but somehow engaging with their own emotions. When they can remember, politicians will also furrow their brows and put the word in front of the deaths they are discussing.

'Sadly', when repeated night after night, is an oddly featureless term. I might use it to describe the recent demise of several roses in the arctic winds that blew through my garden last week or the failure of an online order to arrive. I would not think it adequate to encompass the pain I might feel if I were being connected to a ventilator or if a close relative had died.
He goes on to write about an American study which recalculates the 'bereavement multiplier,' the number of individuals left suffering after a death. This research, he says, increases what has been the conventional ratio of five to just under nine. In the UK context, the current death toll of 121,000 would generate a little over a million bereaved people; globally the figure would be twenty-two million.
Great post. Worth reading in full.
---
SpaceX small print on Starlink insists no Earth government has authority or sovereignty over Martian activities
From The Register (Which God Preserve)…
SpaceX has ambitions for its Starlink constellation beyond annoying stargazers if the pre-order agreement for its satellite-based internet service is anything to go by.

Spotted by Register reader Amarinder Brar during his UK application for the system, an intriguing section in the pre-order agreement warns that disputes related to "Services provided to, on, or in orbit around the planet Earth or the Moon" are governed by English law and "subject to the exclusive jurisdiction of the courts of England and Wales."

Mars, on the other hand, is a completely different kettle of fish. SpaceX is asking that those wanting a Martian connection to Starlink "recognize Mars as a free planet and that no Earth-based government has authority or sovereignty over Martian activities."

The rule also applies when in transit to Mars "via Starship or other spacecraft."

SpaceX boss Elon Musk is not messing about, and he'll have the keys to the airlock after all. Still, "disputes will be settled through self-governing principles, established in good faith, at the time of Martian settlement."
But (there's always a but with Elon Musk)…
This goes against Article VI of the 1967 Outer Space Treaty, which declares that
"States Parties to the Treaty shall bear international responsibility for national activities in outer space, including the moon and other celestial bodies, whether such activities are carried on by governmental agencies or by non-governmental entities."
---
BoJo and the dog
Marina Hyde has a theory about what's happening to the Acting Prime Minister of the so-called United Kingdom and his dog, Dilyn…
I read that Cummings reportedly holds a grudge against the Jack Russell cross, after it humped his leg at a No 10 away day. There is more – much more. The dog is said to have caused expensive damage to Chequers antiques, while according to the Mail "one visitor claims to have seen Dilyn 'mount' a stool made from the foot of an elephant shot by US president Teddy Roosevelt". Take a moment – I know I did.

In the Downing Street garden, Dilyn is said to have cocked his leg on some spad's handbag. "Dilyn is a much-put-upon animal who in a non-Covid world would have had his balls chopped off long ago," a No 10 aide explained to the Sunday Times. "It's not his fault that he is a bit exuberant."

Right. Are we still talking about the dog?

And that was when it hit me. Maybe we're NOT still talking about the dog at all. In a very literal, very metaphorical sense – stay with this – is it possible that Boris Johnson's old larrikin spirit has transferred itself into Dilyn the dog?

Let's look at the evidence. We have a prime minister who suddenly appears vaguely housebroken. Meanwhile, we have a sexually incontinent dog who will fuck anything – even a trophy pouffe, or Dominic Cummings – and who is being extensively briefed against by factions unhappy with his performance. It's surely the classic bodyswap comedy: "When he ingests a plot device, a struggling UK prime minister ends up in the body of his own resourceful and appealing rescue dog – and vice versa!"
And no sooner had a finished reading this up popped an OpEd in the New York Times, no less, with the headline: "Humans Are Animals. Let's Get Over It".
---
Other, hopefully interesting, links
Need to generate some blobs? Here's a useful tool. Well, you never know when a blob will come in handy. Dominic Cummings refers to the entire UK civil service as a 'blob'. Link 
The Secret Message Encoded in the Parachute of the Mars Perseverance Rover. Link. HT to Jason Kottke, an endless source of wonderful things.
---
This blog is also available as a daily email. If you think this might suit you better, why not subscribe? One email a day, delivered to your inbox at 7am UK time. It's free, and there's a one-click unsubscribe if you decide that your inbox is full enough already!
---