Truffles, anyone?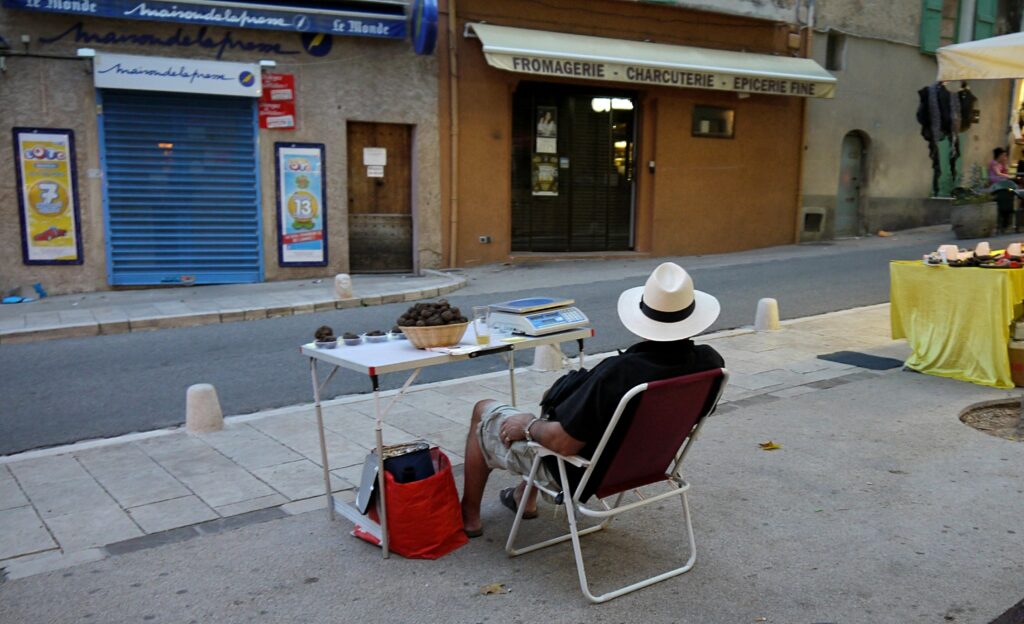 ---
Quote of the Day
"He stared the assorted meannesses and failed promises of American life straight in the face, and they stared back."
Brendan Gill, writing about Walker Evans's photographs in James Agee's Let Us Now Praise Famous Men.
---
Musical alternative to the morning's radio news
Rachmaninov | Piano Concerto No.2 (Adagio sostenuto) | Khatia Buniatishvili
11 minutes, but worth it on a chilly Thursday morning
---
Long Read of the Day
How an obscure British PC maker invented ARM and changed the world.
Lovely essay by Jason Torchinsky about a great Cambridge story.
---
ProRaw and the Gradual Gradation of Grays
From Om Malik. Probably only of interest to photo geeks. TL;DR version: it underscores the message that the computational photography enabled by high-end smartphone cameras like the iPhone makes it increasingly difficult to justify lugging around an optically-superior conventional camera. Sigh.
Om Malik is a keen Leica user and an interesting photographer. This post is his report on an experiment he did recently.
Last week, I decided to head to the Santa Cruz Mountains with a friend. The idea was to leave San Francisco, go down I-280, turn into Portola Valley, and then meander our way to Santa Cruz before grabbing a coffee and driving back down Highway 1. We would stop wherever, whenever a photo beckoned and a composition lured us. I was traveling light — just my Leica SL and the newly released iPhone 12 Pro Max, which I have on loan from Apple.

I wanted to use the adventure to focus purely on the iPhone 12 Pro Max as a camera and exploit the capabilities of Apple's new photo format, ProRAW. I mean, everyone is talking about it. Everyone seems to love it. I just wanted to know what all the fuss is about.

Ben Sandofsky of Halide Camera has written an in-depth overview of the Apple ProRAW, which is worth the time and effort. He points out that, "Technically, there's no such thing as a ProRAW file. ProRAW images are regular DNG files that take advantage of some little known features in the specification, and introduce a few new ones."
I keep wondering what Ansel Adams would have made of all this.
---
Biden and the Solarwinds hack
Interesting NYT report. "This assault happened on Donald Trump's watch when he wasn't watching," said Biden, stating the obvious. And he threatened retribution.
Unlike Mr. Trump, the president-elect left no doubt that he believed Russia was responsible, noting that both Secretary of State Mike Pompeo and Attorney General William P. Barr had said as much publicly, even if Mr. Trump would not. And Mr. Biden said once there was a formal determination of responsibility, a task that could take intelligence agencies weeks, "we will respond, and probably respond in kind."
Oh yeah. One of the first things Biden will have to do is negotiate an extension of up to five years of New Start the nuclear arms control treaty that expires in early February. So, as the Times puts it, Biden will be "trying to strike a deal to prevent one threat — a nuclear arms race — while simultaneously threatening retaliation on another".
Cyberwarfare represent a paradigm shift in aggressive behaviour between states, and we're in the same position as we were in 1946 with nuclear weapons.
---
Fishing for sovereignty
From Jonty's blog:
I know I should have noticed this earlier but the UK has agreed a Brexit fisheries deal already. In fact it has agreed 4 deals, the trouble is that they are with Norway, Iceland Greenland and the Faroe Islands.

Perhaps the reason that these agreements have got under my radar, is that the Government hasn't made much of a fuss about them. Strange given that they allow for bilateral agreements on managing fish stocks and access to each others waters, which is a major problem in agreeing an FTA with the EU.

How the government managed to do this when, it seems to believe that without controlling its own fishing waters the UK is not a sovereign country is a mystery.
It is, until you understand the Brexiteer mindset.
---
Other, hopefully interesting, links
Reuters: Pictures of the Year 2020. Link
Joining Apple 40 years ago. Nice memoir by Jean-Louis Gasseé, who was VP of Product Development for five years before the return of Steve Jobs. Link
January 1, 2021 is Public Domain Day: Works from 1925 are open to all! Wonderful annual feature by James Boyle and his colleagues at Duke University Law School: a list of works that are coming into the public domain on January 1st. Link
---
This blog is also available as a daily email. If you think this might suit you better, why not subscribe? One email a day, delivered to your inbox at 7am UK time. It's free, and there's a one-click unsubscribe if you decide that your inbox is full enough already!
---