The Man Himself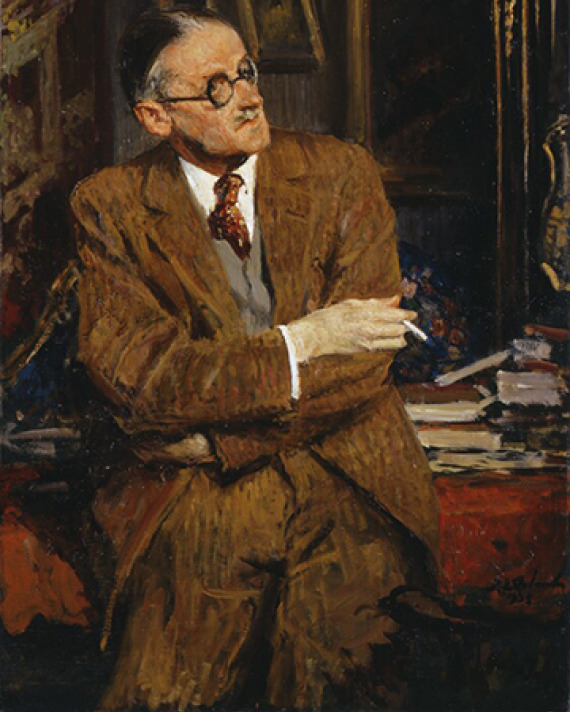 © National Portrait Gallery.
This portrait, oil on canvas by Jacques-Emile Blanche, painted in 1935, is my favourite picture of Joyce
---
Quotes of the Day
"My considered opinion, after long reflection, is that whilst in many places the effect of Ulysses on the reader undoubtedly is somewhat emetic, nowhere does it tend to be an aphrodisiac. Ulysses may, therefore, be admitted to the United States."
John M. Woolsey, US District Judge, in his judgment after the prosecution of Ulysses for obscenity.
Or this:
"Ulysses… I rather wish I'd never read it. It gives me an inferiority complex. When I read a book like that and then come back to my own work, I feel like a eunuch who has taken a course in voice production and can pass himself off fairly well as a bass or a baritone, but if you listen closely you can hear the good old squeak just the same as ever."
George Orwell, in a letter to Brenda Salkeld, September 1934.
---
Musical alternative to the morning's radio news
Love's Old Sweet Song | John McCormack
As you can tell, this is a very old recording. McCormack, a bel canto tenor, was a contemporary and friend of Joyce — who was himself a promising young singer. McCormack persuaded him to enter the national singing competition in 1904 (the year in which Ulysses is set). The story is taken up by this blog post by the James Joyce Centre in Dublin:
On 16 May 1904 Joyce participated in the Feis Ceoil singing competition.

The Feis Ceoil is an annual celebration of Irish musical talent with competitions in various categories including singing. In 1903, the Feis Ceoil tenor singing competition was won by John McCormack. The prize was a year-long scholarship to study in Italy. Shortly after his return to Ireland in 1904, McCormack persuaded his friend Joyce to enter the Feis Ceoil.

In preparation, Joyce started taking lessons from Benedetto Palmieri, the best singing teacher in Dublin, but he soon switched to Vincent O'Brien who was less expensive than Palmieri. Joyce had moved into rooms at 60 Shelbourne Road where he hired a piano to rehearse for the competition. Joyce sang in a concert given by the St Brigid's Panoramic Choir on Saturday 14 May 1904, and two days later he sang at the Feis Ceoil.

The set pieces for the singing competition in 1904 were 'No Chastening' by Arthur Sullivan (of Gilbert and Sullivan fame), and 'A Long Farewell,' a traditional song arranged by Moffat. According to the review of the competition in the Irish Daily Independent on 17 May, "Mr. Joyce showed himself possessed of the finest quality voice of any of those competing…"

Part of the competition was to sing at sight from a previously unseen music score, and at that point Joyce simply walked off the stage. It seems that the judge, Professor Luigi Denza, had intended to give Joyce the gold medal but, when Joyce refused the sight-reading test, Denza could not place him among the medal-winners. However, at the end of the competition, the second-placed singer was disqualified and Denza awarded the third-place medal to Joyce. Joyce gave the medal to his Aunt Josephine and today it is owned by the dancer Michael Flatley.
I first learned of this from Fr. O' Brien, my wonderful Jesuit English teacher — whose father, Vincent' had been Joyce's singing tutor!
Small world.
---
Long Read of the Day
 Virginia Woolf's Reading of Joyce's Ulysses, 1918-1920
Virginia Woolf's brusque and disdainful dismissal of Ulysses ("merely the scratching of pimples on the body of the bootboy at Claridges") is often quoted. But actually she was obsessed with Joyce and with the book, as this wonderful scholarly essay by James Heffernan demonstrates. This is how it concludes:
The startling diversity of Woolf's comments on Joyce make one thing clear. None of them–not even the relatively complex assessment in "Modern Novels"– tells the whole truth about her response to his work. But a major clue can be found in her diary for September 26, 1920, where she writes again of the visit paid by T.S. Eliot a week before. Coming just after she had run aground in the middle of the party chapter about halfway through Jacob's Room (on which she had been working for two months without a break), his visit–she writes– "made [her] listless" and "cast shade" upon her. Since she has already noted that Eliot praised the brilliance of Ulysses for its rendering of "internals," of the inner lives of its characters, we might well guess the reason for her listlessness. She herself recalls: "He said nothing–but I reflected how what I'm doing is probably being better done by Mr. Joyce". This strikes me as a revelation. By "he said nothing," she presumably means that he said nothing about her own work in progress to accompany his extraordinary praise of Ulysses. What then could she conclude? That her own efforts to liberate the novel from the material solidity of the railway carriage and to focus its energies on the irrepressible life of the mind were probably being surpassed by Joyce, who was almost her exact contemporary? Praise him or damn him, she knew only too well that she had to reckon with him. The following April, when a "thin-shredded" cabinet minister asked her over lunch "who are our promising litterateurs?" she answered simply, "Joyce".
But do read the whole thing. Especially today. It's a model of how to do literary scholarship.
En passant: Woolf was such an incurable snob (which, I suppose, is one reason why she was such a terrific diarist).
---
This blog is also available as a daily email. If you think this might suit you better, why not subscribe? One email a day, Monday through Friday, delivered to your inbox at 7am UK time. It's free, and there's a one-click unsubscribe if you decide that your inbox is full enough already!
---