Yeats's Fortress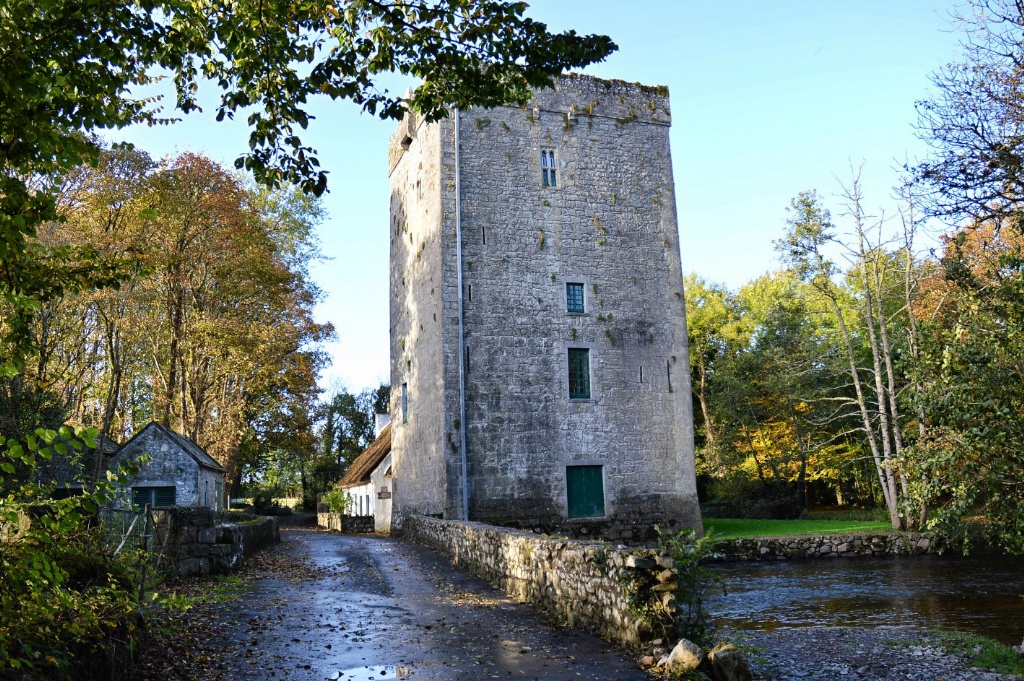 One of my favourite places in Ireland. It's a 16th century fortified Hiberno-Norman tower house built in Ballylee by the De Burgo family. It was originally known as Ballylee Castle but is now known as Thoor Ballylee (where Thoor is the Irish for 'tower') because the building was restored by William Butler Yeats in 1919 as a retreat for himself and his family. They lived there for ten years.
There's a plaque on the wall that reads:
I, the poet William Yeats,

With old mill boards and sea-green slates,

And smithy work from the Gort forge,

Restored this tower for my wife George.

And may these characters remain

When all is ruin once again.
---
Quote of the Day
"Don't cheer, boys. Those poor devils are dying."
Admiral J.W. Philip, on passing a burning Spanish ship at the battle of Santiago on July 3, 1898.
---
Musical alternative to the morning's radio news
Liam O'Flynn | Cailín na Gruaige Donn
Literally, the girl with brown hair.
---
Long Read of the Day
Exit by Hari Kunzru
This is worth reading. Kunzru is a terrific novelist, but this is him turning a laser beam onto something that has preoccupied many of us for at least a decade — the ideological underpinnings of the tech imaginary.
One measure of how perceptive the essay is that he's spotted the significance of Jacob Rees-Mogg's old man.
One of the most quietly influential books about libertarian political exit is The Sovereign Individual, which was written in 1997 by the antitax activist (and future Newsmax board member) James Dale Davidson with the editor William Rees-Mogg, the father of the Conservative minister and arch Brexiteer Jacob Rees-Mogg. Together the authors imagine a "cognitive elite" who will operate outside political control:

"At the highest plateau of productivity, these Sovereign Individuals will compete and interact on terms that echo the relations among the gods in Greek myth. . . . The new Sovereign Individual will operate . . . in the same physical environment as the ordinary, subject citizen, but in a separate realm politically. Commanding vastly greater resources and beyond the reach of many forms of compulsion, the Sovereign Individual will redesign governments and reconfigure economies in the new millennium."

Fueled by the pandemic and the crypto boom, such exit schemes have multiplied.
Do read the piece. It's worth your time.
---
'Fine dining' is not so fine, apparently
Whenever I hear the phrase "fine dining" I would have reached for my revolver if I possessed one. I've always seen it as a pretentious euphemism for what one of my more irascible friends calls "starvation at £100 a plate".
Anyway…
This rant is prompted by the news, courtesy of the New York Times that the Copenhagen restaurant Noma, supposedly the world's best eatery, is closing its doors. Its founder, René Redzepi, says that fine dining at the highest level, with its gruelling hours and intense workplace culture, has hit a breaking point: "It's unsustainable."
Given that two of its current specialities are grilled reindeer heart on a bed of fresh pine, and saffron ice cream in a beeswax bowl I get the unsustainability bit. So the global class of gastro tourists that "schedules first-class flights and entire vacations around the privilege of paying at least $500 per person for its multicourse tasting menu" will just have to find somewhere else to set fire to $100 bills.
Apparently Noma will become "a full-time food laboratory, developing new dishes and products for its e-commerce operation, Noma Projects, and the dining rooms will be open only for periodic pop-ups" and Mr Redzepi will morph into "something closer to chief creative officer". Hopefully from then on he'll be able to sleep nights.
---
Books, etc.
From Craig Brown's biography of the late Princess Margaret. The passage comes from a chapter about the alleged sexiness of the princess when she was a young woman.
"It was in the early 1950s that Pablo Picasso first began to have erotic dreams about Princess Margaret. Occasionally he would throw her elder sister in for good measure. From time to time Picasso shared these fantasies with his friend, the art historian and collector Roland Penrose, once even confiding in him that he could picture the colour of their pubic hair."
It's clear that I've led a sheltered life.
---
My commonplace booklet
Disguising solar panels as ancient Roman tiles in Pompeii
Now this is an interesting idea.
---
This Blog is also available as a daily email. If you think that might suit you better, why not subscribe? One email a day, Monday through Friday, delivered to your inbox. It's free, and you can always unsubscribe if you conclude your inbox is full enough already!
---