Quote of the Day
"Why are women so much more interesting to men than men are to women?"
Good question.
---
Musical alternative to the morning's radio news
Cannonball Adderley | One for Daddy-O
---
Long Read of the Day
'Politics-as-Sports': Why It Matters
This long essay by James Fallows is terrific. In part, it's a reprise of an idea he first put forward in the book Breaking The News: How the Media Undermine American Democracy, which I first read avidly when it came out in 1997 (and still have on my shelves).
This is how the essay begins:
This post has a simple purpose. It is to clarify and illustrate an important point about journalism of this moment. Once you start noticing the pattern I'm talking about, I predict you'll see it everywhere.
Read on to see why.
---
How one ratings agency assesses corporations' preparations for, and risks from, climate change
Moody's, one of the big ratings agencies has just published an assessment of how prepared various industrial sectors are for the proposed transition to a zero-carbon future. The report
assesses the outlook in a scenario of rapid emissions reduction for carbon-intensive sectors – the ones whose transformation will be vital to the world's ability to halve emissions by 2030 and achieve a net zero economy by 2050. Incorporating insights from across Moody's, it analyzes these sectors' exposure to climate risk and their relative 'transition readiness', and models the likely impacts on their default risk.
It's an 18-page document, but here are the overall conclusions:
Progress: Momentum in automotive and utilities demonstrates that rapid improvement in companies' positioning for a rapid transition is possible in some of the most carbon-intensive sectors.

Challenges: Many carbon-intensive sectors and companies are less well-positioned for a rapid transition – leaving the world off track for 1.5 degrees C.

Risk: Variations in disclosure within and between sectors mask hidden climate- related financial risks. In some key instances company-level disclosures do not fully reflect the true level of exposure.

Pressure: Sectors that are least prepared overall for rapid transition also have the widest range of potential default risk outcomes for individual companies. Competitiveness is set to intensify within sectors as some companies position themselves to prosper in a zero-carbon future.

Opportunities: Early action by companies during the 2020s can halve their probability of default compared to delayed action, while enabling the global economy to chart a smoother path to net zero. By contrast, delayed action in the 2030s increases default risk as less progress this decade is likely to lead to higher degrees of intervention and a less orderly transition later.
TL;DR version: Lots of bankruptcies ahead. On the other hand, given the abysmal failure of Moody's and their peers to spot the 2008 banking catastrophe, I'm not sure we can take this seriously either.
---
Johnson nailed
Sam Knight has a nice piece in the New Yorker about Boris Johnson's, er, performance at COP26. Knight gets him bang to rights:
He is, more than anything, a facile student in a perpetual essay crisis: staying up late, scribbling unwieldy, fancy-sounding analogies to get through another assignment. Something something Sophocles. It's mostly wordplay and bullshit.
Bingo! Got him in one.
---
Getting Back to Normal Is Only Possible Until You Test Positive
Alexis Madrigal (a writer I've been following for years) is a co-founder of the COVID Tracking Project. He was ultra-careful for 18 months. Then he got COVID at a wedding.
He's written a compelling piece about the experience. He was double-vaccinated and is ok. But it was the impact on his family that was the killer punch. His conclusion:
Right now most policies appear designed to make life seem normal. Masks are coming off. Restaurants are dining in. Planes are full. Offices are calling. But don't be fooled: The world's normal only until you test positive.
Yep.
---
My commonplace booklet
Eh? (See here)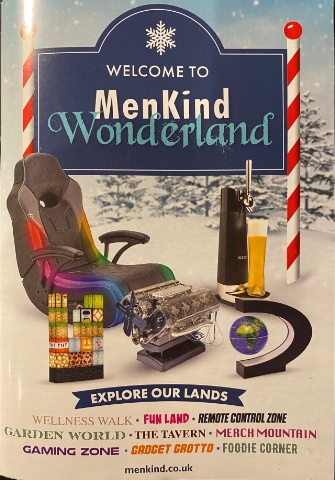 This catalogue dropped through the letterbox the other day. At first I thought it was a spoof, because it was beyond parody. But it's genuine.
Here, for instance, is one of the items women can order for their semi-house-trained male companions: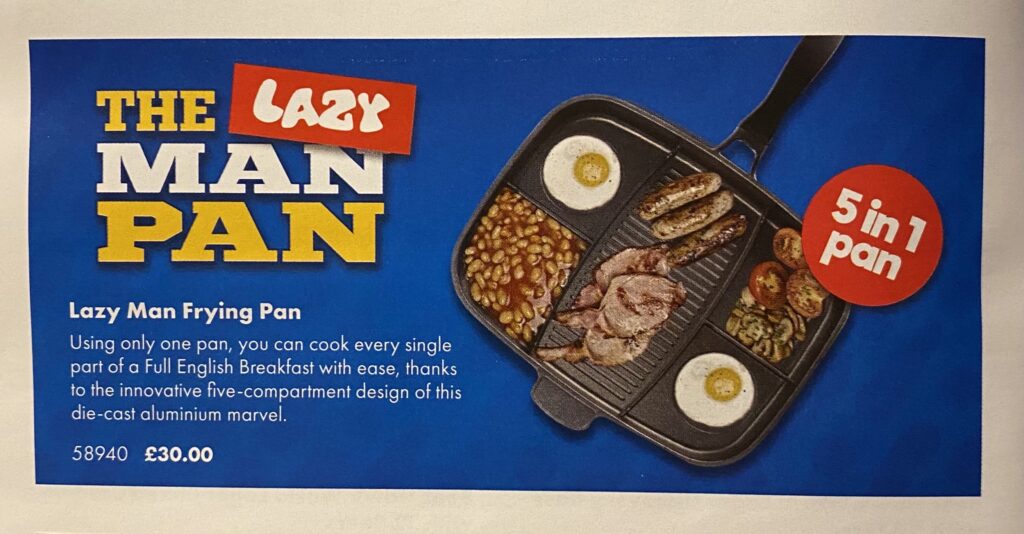 ---
  This Blog is also available as a daily email. If you think that might suit you better, why not subscribe? One email a day, Monday through Friday, delivered to your inbox. It's free, and you can always unsubscribe if you conclude your inbox is full enough already! 
---