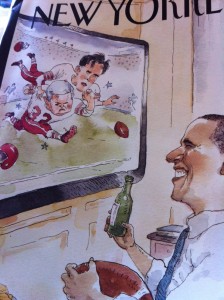 If, like me (and, possibly, Barack Obama), you are transfixed by the brain-dead stupidity of the Republican primaries in the US, then you might enjoy this NYTimes column by Tom Friedman.
You know how in Scrabble sometimes you look at your seven letters and you've got only vowels that spell nothing? What do you do? You go back to the pile. You throw your letters back and hope to pick up better ones to work with. That's what Republican primary voters seem to be doing. They just keep going back to the pile but still coming up with only vowels that spell nothing.

There's a reason for that: Their pile is out of date. The party has let itself become the captive of conflicting ideological bases: anti-abortion advocates, anti-immigration activists, social conservatives worried about the sanctity of marriage, libertarians who want to shrink government, and anti-tax advocates who want to drown government in a bathtub.

Sorry, but you can't address the great challenges America faces today with that incoherent mix of hardened positions. I've argued that maybe we need a third party to break open our political system. But that's a long shot. What we definitely and urgently need is a second party — a coherent Republican opposition that is offering constructive conservative proposals on the key issues and is ready for strategic compromises to advance its interests and those of the country.