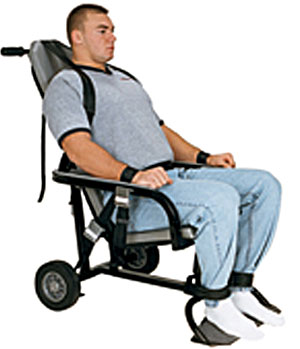 From today's New York Times…
United States military authorities have taken tougher measures to force-feed detainees engaged in hunger strikes at Guantánamo Bay, Cuba, after concluding that some were determined to commit suicide to protest their indefinite confinement, military officials have said.

In recent weeks, the officials said, guards have begun strapping recalcitrant detainees into "restraint chairs," sometimes for hours a day, to feed them through tubes and prevent them from deliberately vomiting afterward. Detainees who refuse to eat have also been placed in isolation for extended periods in what the officials said was an effort to keep them from being encouraged by other hunger strikers.

The measures appear to have had dramatic effects. The chief military spokesman at Guantánamo, Lt. Col. Jeremy M. Martin, said yesterday that the number of detainees on hunger strike had dropped to 4 from 84 at the end of December.

Some officials said the new actions reflected concern at Guantánamo and the Pentagon that the protests were becoming difficult to control and that the death of one or more prisoners could intensify international criticism of the detention center. Colonel Martin said force-feeding was carried out "in a humane and compassionate manner" and only when necessary to keep the prisoners alive. H e said in a statement that "a restraint system to aid detainee feeding" was being used but refused to answer questions about the restraint chairs.
Just been browsing the web site of the supplier of these ingenious conveniences. It's like a "padded cell on wheels", apparently.
Designed by Sheriff Tom Hogan of the Crawford County Sheriff's Dept, Denison, Iowa. After years of dealing with combative prisoners and ineffective restraining methods, Sheriff Hogan developed this innovative solution: the Emergency Restraint Chair®.

Safely restrains a combative or self–destructive person. Does not restrict normal breathing, secures individual without injury. Allows for safe prisoner transport by a single officer to court or hospital. Reduces your liability from combative–related incidents. Reduces the need for additional personnel. Reduces your transport costs.
A mere $1500 per chair in quantities of five or more. Order online. Don't all rush.
Meanwhile, trust those spoilsports over at Amnesty International to rain on the parade.
As the use of the restraint chair proliferates in detention facilities nationwide, Amnesty International is concerned that inadequate training and supervision of detention officers in their use has caused unnecessary pain, injury and even death.

Since the beginning of 2000, at least four inmates have died in the USA after being subdued in a restraint chair — a metal framed chair in which prisoners are immobilized in four-point restraints securing both arms and legs, with a strap across the chest. Three prisoners died within the space of three months. These cases are the latest in a disturbing line of restraint chair related deaths that have occurred in US prisons and jails nationwide… There are also numerous reports of prisoners being subjected to verbal, physical or mental abuse while in restraint chairs.