Icy leaf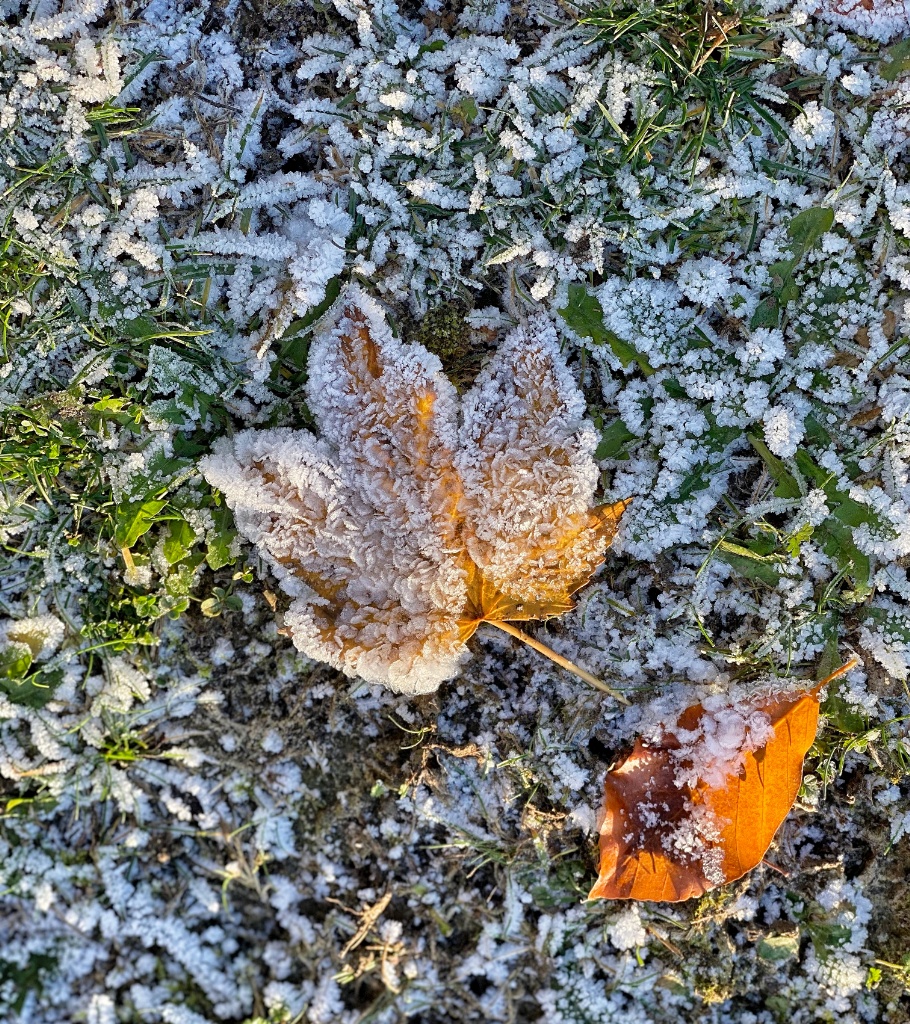 Sometimes, frost is beautiful.
---
Quote of the Day
"There is such a thing as ostentations humility, and it is all over Twitter. It won't save your reputation that you yourself don't tweet the twee stuff. You'll be tainted by association on a platform where 812,000 people follow someone pretending to be the Downing Street cat. What is worse, you might join them over time."
Janan Ganesh, "The real reason to get off Twitter", Financial Times, 12/13 November, 2022.
---
Musical alternative to the morning's radio news
Liam O'Flynn | Newfoundland | performed at the Ateneul Roman, Bucharest in 2011
I've always loved this. It's the 10th movement in The Brendan Voyage, Shaun Davey's first major orchestral suite, composed for uilleann pipes played by Liam O'Flynn. It depicts Tim Severin's adventure in reconstructing Saint Brendan's 6th century Atlantic crossing to America in a 36-foot, two-masted boat built of Irish ash and oak, hand-lashed together with nearly two miles (3 km) of leather thong, wrapped with 49 traditionally tanned ox hides, and sealed with wool grease. The voyage ended on June 26, 1977 when Severin and his crew reached Peckford Island, Newfoundland. Hence the title of the movement.
---
Long Read of the Day
 Nostalgia for decline in deconvergent Britain
This is the less-than-compelling headline on a compelling analysis by the historian Adam Tooze of the real extent of the UK's decline. And although Brexit obviously figures in the story, it really only plays a walk-on part in the longer narrative.
We need to talk about the state of Britain, the situation is dire. But the evocation of earlier debates about decline, debates which stretch back to the 1950s and beyond, is not just beside the point. It distracts from alarming novelty of the current situation. If you don't engage with the data, the incoherence and repetitive structure of those earlier debates about decline, can seem to justify a relativistic or downright apologetic stance. Ding-dong exchanges between Brexiteers and Remainers have not helped to clarify the situation. Whilst Brexiteers chase the vanishing dream of "global Britain", the national economic collapse that, according to "Project Fear", was supposed to follow Brexit, never arrived either. That is not to say that the economic impact of Brexit will not be severe. The latest predictions are nasty. See for instance the CER. But the Brexit effects have not yet been fully felt.

More importantly for our purposes, the shock of 2016 cannot by itself explain what really ought to alarm us, namely the astonishing stagnation in productivity and real incomes that now stretches back over more than a decade. This stagnation, and this is the essential point, does not fall into the pattern familiar since the 1950s, of stop-start, of repeated currency crises and of more or less disappointing cycles of growth. Though it takes place at a high level of average income, the current stagnation is unlike anything in the last quarter millenium. The prospect of future damage from Brexit, only renders the outlook more bleak. In light of the UK's situation and its likely future prospects, to indulge in the familiar back and forth between declinism and anti-declinism is to indulge in escapist nostalgia.
This is not a story about the last 20 or 30 years, btw. It's about 120 years of decline. Here's one of the charts that tells the story of the rate of growth of productivity in the UK — I.e. of the economic factor which ultimately determines how well the economy is doing.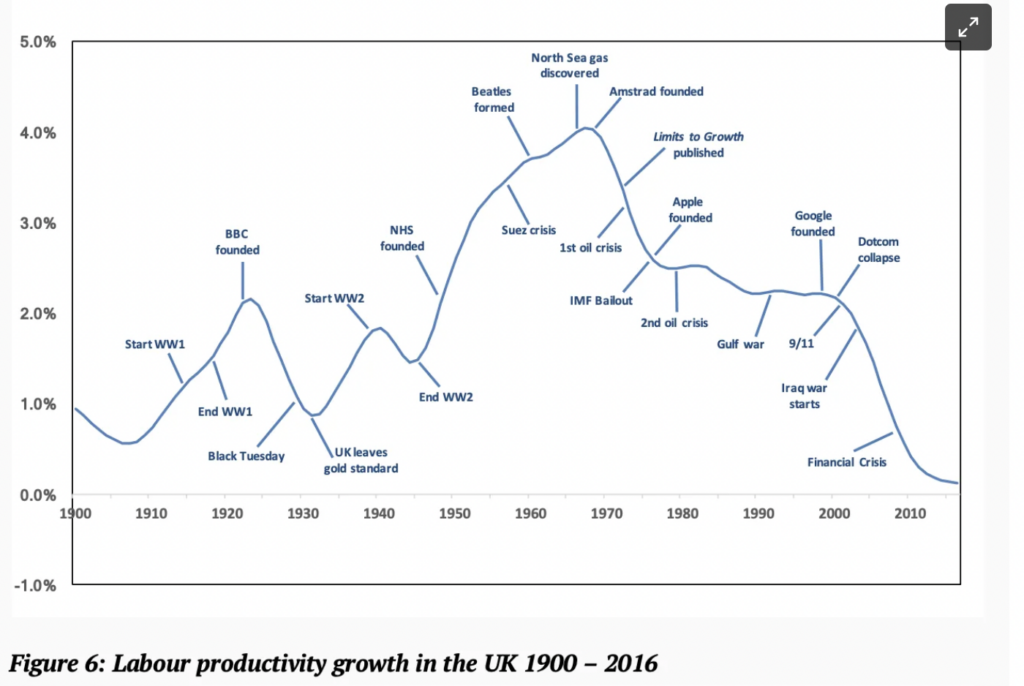 On the more recent past, just after I put that chart in, I came on a striking quote from an essay in The Economist:
"Britain seems trapped in a doom loop of superannuated governments which, after a term or two of charismatic leadership and reformist vim, wind up bereft of talent, sinking in their own mistakes and wracked by backbench rebellions; in office but barely in power. Eventually routed at the polls, it then takes the guilty parties several parliamentary terms to recover. In opposition, both Labour and the Tories have determinedly learned the wrong lessons from defeat before alighting on the right ones. In a system with two big parties, for either to lose its mind is dangerous. For both to do so at once—as happened when, amid recent Tory convulsions, Labour was led by Jeremy Corbyn, a hard-left throwback—is a calamity."
---
Something is afoot with copyright this Public Domain Day
Sunday's Observer column…
Here's a reason to be cheerful this morning: it's Public Domain Day, ie the day on which a new batch of hitherto copyrighted works comes out of copyright and enters the US public domain – the zone that consists of all the creative work to which no exclusive intellectual property rights apply. For those readers who do not reside in the US, there is perhaps another reason for celebrating today, because copyright terms are longer in the US than they are in other parts of the world, including the EU and the UK. And therein lies a story about intellectual property laws and the power of political lobbying in a so-called liberal democracy…
Do read the whole piece.
---
Can Elon Musk's Tesla Really Last?
Following the vertiginous drop in its share price, Paul Krugman, Nobel laureate and NYT columnist, is sceptical. The column seems to be behind the paywall, but this is the gist:
I'm not talking about how great Teslas are or aren't right now; I'm not a car enthusiast (I should have one of those bumper stickers that say, "My other car is also junk"), so I can't judge. But the lesson from Apple and Microsoft is that to be extremely profitable in the long run a tech company needs to establish a market position that holds up even when the time comes, as it always does, that people aren't all that excited about its products.

So what would make that happen for Tesla? You could imagine a world in which dedicated Tesla hookups were the only widely available charging stations, or in which Teslas were the only electric cars mechanics knew how to fix. But with major auto manufacturers moving into the electric vehicle business, the possibility of such a world has already vanished. In fact, I'd argue that the Inflation Reduction Act, with its strong incentives for electrification, will actually hurt Tesla. Why? Because it will quickly make electric cars so common that Teslas no longer seem special.
He's right. Tesla's just an automobile company that was first off the block in the EV business — and had the nous to realise that its USP would be that it also had its own charging infrastructure available only to those who owned its cars.
The recent drop in Tesla's share price signals that the stock market has finally recognised that it's just another car company. Which is progress of a sort.
---
This Blog is also available as a daily email. If you think that might suit you better, why not subscribe? One email a day, Monday through Friday, delivered to your inbox. It's free, and you can always unsubscribe if you conclude your inbox is full enough already!
---