Fontenay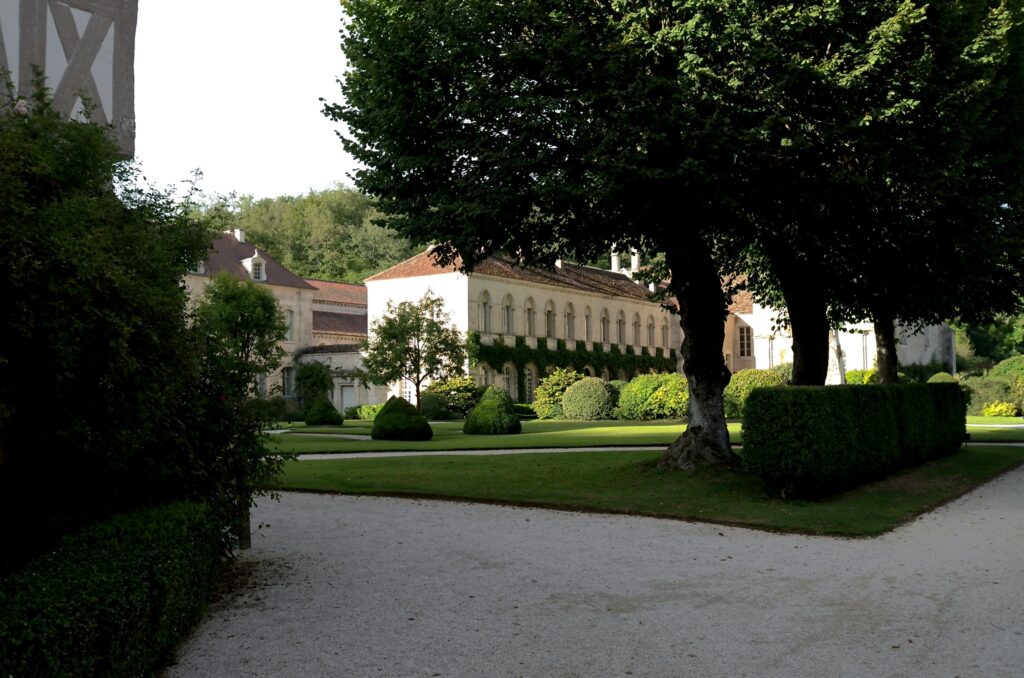 Abbaye de Fontenay near Montbard in Burgundy is one of the world's magical places. I've loved it ever since I discovered it in the 1980s.
---
Quote of the Day
"Many epidemiologists expect SARS-Cov-2's long-term future to become an endemic virus causing mild illness, rather like four other human coronavirus Ed that cause cold-like symptoms."
Clive Cookson, Financial Times, 6/7 February 2021
Now that's the kind of future we can live with.
---
How Bruce Springsteen Agreed To Do a Super Bowl Commercial for Jeep
Interesting story in Variety of how the legendary singer — who doesn't do endorsements — was persuaded to make this little movie to be shown on Super Bowl night.
Springsteen didn't take a laissez-faire approach to the project. Jeep offered to let him film scenes at his home in New Jersey, then mix them in with footage captured at the Kansas church, but Springsteen insisted on flying out to the chapel a week ago. His attention to detail was fervent, Francois says. There was no "glam squad" for makeup and no complaints about how cold it was outdoors.

"He spent 12 hours on site. He was totally hands-on about the editing. He was very, very, very active with the editing and the process," says Francois. "He knew what he wanted, and he got what he wanted."

The ad executive would not change anything about the process. "It took me ten years to get him in, but once he was in, he was all in." Can't see it going down well with the Trump crowd, though. Not that he will give a toss about that.
---
Musical alternative to the morning's radio news
Daniel Grimwood | John Field | Nocturne no 6 in F major | Live
---
GameStop contd. — Playing the market
Two related questions… 1/ Are share-trading apps a safe way to play the markets? Alex Hern has a useful guide to them in the Guardian:
This has resulted in billion-dollar losses for some hedge funds, and big profits for traders who cashed out before the stock fell back to less than $100. Many of these speculators were using a new generation of share-trading apps, such as eToro, Robinhood and Trading 212. Have these services tipped the scales of financial power in favour of the little guy? Here we answer some key questions …

What's the difference between these new apps and an established platform, such as Hargreaves Lansdown?

There are two main differences between the new breed of trading apps and old-fashioned brokers. One is the cost, the other is the market. Apps, from Robinhood to Trading 212, have broken ground by offering trades "fee-free". That's a big difference from before, when an old-fashioned human broker would take a substantial cut for providing trading services and even newer online services – so-called eBrokers – would charge a flat fee per trade.

Just as important is market access. Until recently, most small investors focused on buying and selling equities (shares), bonds (loans to companies and governments) and funds that aggregate bundles of tens or hundreds of other financial products.

Trading apps broaden that out substantially. At one end of the spectrum, a growing number, including Robinhood and eToro, allow or even focus on trading cryptocurrencies – digital assets such as bitcoin, Ethereum and Monero – which tend to be very volatile. For those who want to stick with comparatively simple equities, the apps also offer financial tools that can increase the risk – and return – of bets, from buying on margin (taking out a loan to buy extra shares) to the world of options (bets that a particular stock will rise or fall a certain amount). These pay off handsomely if they're correct, but are wiped out if they're wrong.
2/ Hern has a link to an interesting NBER paper on the impact of smartphone trading apps on investor behaviour. The Abstract reads:
Using transaction-level data from two German banks, we study the effects of smartphones on investor behavior. Comparing trades by the same investor in the same month across different platforms, we find that smartphones increase purchasing of riskier and lottery-type assets and chasing past returns. After the adoption of smartphones, investors do not substitute trades across platforms and buy also riskier, lottery-type, and hot investments on other platforms. Using smartphones to trade specific assets or during specific hours contributes to explain our results. Digital nudges and the device screen size do not mechanically drive our results. Smartphone effects are not transitory.
In other words, if you want to play the market, do it from your laptop, not your phone. That sounds plausible to me.
---
T-cells, the South African variant and the AstraZeneca vaccine
Given that I'd been musing about the conjectured inadequacy of the AstraZeneca vaccine to protect against the South African variant of the coronavirus, Seb Schmoller (Whom God Preserve) send me a link to this interesting Twitter thread. On this analysis, it all comes down to one's T-cells: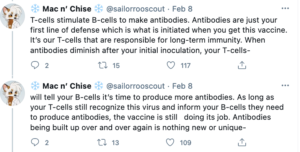 I never did biology in school, and it shows.
---
Dave Winer on the New York Times's firing of Don McNeil
I'm baffled by why the New York Times would fire a great reporter like Don McNeil and concluded that there must be something going on that I don't know about. Dave Winer is much more vocal on the matter:
I was asked why I care that the NYT fired Donald McNeil. It's pretty simple. We all have an interest in how journalism works. They like to say that journalism is an essential part of democracy, but do the people have any influence over journalism? To really press the point, democracy is about the people, right? You can't be of democracy without being of the people. We have a role in this, which journalism hasn't embraced, in fact by fighting Facebook they are actively undermining our participation. And when they fire a great reporter who helps people, I, simply as a person and nothing more, have a stake in that, as does everyone who depends on good information from news orgs. And sure I care how 150 reporters at the NY Times feel, but I don't care about them that much, compared to how much I care about the service McNeil was providing.

Another reason the firing of McNeil was such a concern is this question: Would the 150 people at the NY use their power to cancel against the people they cover, for an infraction like McNeil's. Are we ready to accept that as a proper role of reporters at a news organization?
---
Facebook's WhatsApp land-grab
Perceptive piece by Wafa Ben-Hassine.
On January 4, domestic terrorists were using Facebook as a tool to execute a violent attack on the US Capitol. On the same day, Facebook executives put the finishing touches on their own power grab. The plot? Wrest data from WhatsApp's users.

Facebook's plan started in 2018, after both of WhatsApp's founders had left WhatsApp over clashes about data privacy. Now, three years later, WhatsApp's updated privacy policy is the final stage. The policy change is simple: WhatsApp users no longer have the freedom to choose if their information can be shared to Facebook, other Facebook-owned companies or third parties. Now, billions of people across the globe must surrender their data to Facebook or lose access to the essential messaging app.

This ultimatum, as others have astutely observed, is actually a ham-handed admission by Facebook. WhatsApp started sharing its data with Facebook in 2016, and since then new users have never had the opportunity to opt out — even if the user's experience is limited to WhatsApp. These latest changes are so egregious that 50 million users, and counting, are rushing to find a WhatsApp replacement with which to talk to family and friends. International users, who rely on WhatsApp as a business tool, have to rethink their business plans.
Alarmed by the exodus of annoyed WhatsApp users to Signal and Telegram, Facebook pushed back the ultimatum's deadline by three months, but this is transparently just a stalling tactic. It's also clearly influenced by the investigation by the US Federal Trade Commission (FTC) and more than 40 states for illegally building a monopoly through acquisitions, coercion, and by bullying smaller companies. Facebook, says the FTC, has been engaging for years in a "systematic strategy" that includes "its 2014 acquisition of WhatsApp. So integrating WhatsApp more tightly into the Facebook corporate web is doubtless a preemptive move to make it more difficult for courts to compel it to set WhatsApp free.
---
100 Not Out! — my lockdown diary, is out as a Kindle book. You can get it here 
---
This blog is also available as a daily email. If you think this might suit you better, why not subscribe? One email a day, delivered to your inbox at 7am UK time. It's free, and there's a one-click unsubscribe if you decide that your inbox is full enough already!
---