Acton this Day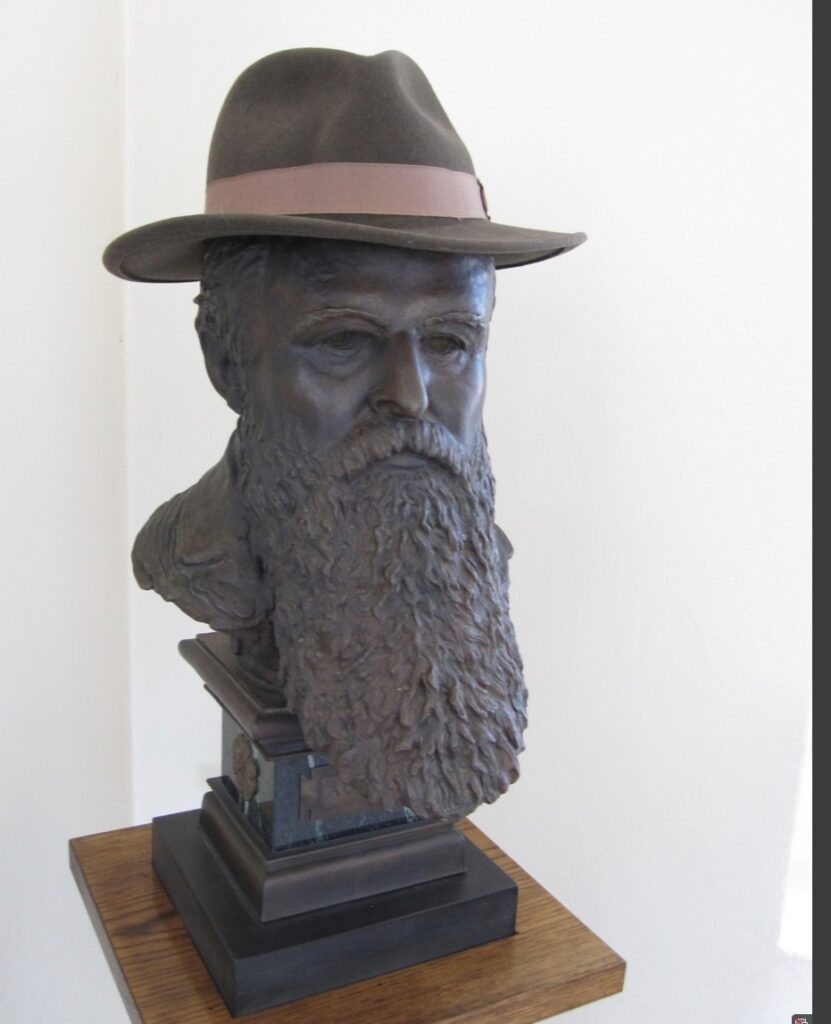 Lord Acton (he of "power corrupts…' fame) wearing one of my hats. His bust is in a back staircase in the University Library in Cambridge. I check on the old boy occasionally, just to make sure that he is still uncorrupted.
---
Quote of the Day
"I do not know what I may appear to the world, but to myself I seem to have been only like a boy playing on the sea-shore, and diverting myself by finding a smoother pebble or a prettier shell than ordinary, whilst the great ocean of truth lay all undiscovered before me."
---
Musical alternative to the morning's radio news
Procol Harum | A Whiter Shade of Pale | with the Danish National Concert Orchestra and choir at Ledreborg Castle, Denmark in August 2006
---
Long Read of the Day I Didn't Want It to Be True, but the Medium Really Is the Message
Thoughtful (and insightful) essay in The New York Times by Ezra Klein about the significance of our current media ecosystem .
Over the past decade, the narrative has turned against Silicon Valley. Puff pieces have become hit jobs, and the visionaries inventing our future have been recast as the Machiavellians undermining our present. My frustration with these narratives, both then and now, is that they focus on people and companies, not technologies. I suspect that is because American culture remains deeply uncomfortable with technological critique. There is something akin to an immune system against it: You get called a Luddite, an alarmist. "In this sense, all Americans are Marxists," Postman wrote, "for we believe nothing if not that history is moving us toward some preordained paradise and that technology is the force behind that movement."

I think that's true, but it coexists with an opposite truth: Americans are capitalists, and we believe nothing if not that if a choice is freely made, that grants it a presumption against critique. That is one reason it's so hard to talk about how we are changed by the mediums we use…
Thanks to Peter Sutherland for the link.
---
The futility of ambition
An abridged version of a fable by Heinrich Böll…
An American investment banker was at the pier of a small coastal Mexican village late one morning when a small boat docked. Inside the small boat was just one fisherman who had already caught several large fish. The American complimented the fisherman on the fish and asked how long it took to catch them.

The fisherman replied, "only a little while."

The American then asked why didn't he stay out longer and catch more fish?

The Mexican said he had caught plenty enough to provide for his family's needs for quite a while and even to give some fish away to others in the village.

The American then asked, "but what do you do with the rest of your time?"

The Mexican fisherman said, "I sleep late, play with my children, take siestas with my wife, and stroll into the village where I sip wine, and play guitar with my amigos. I have a full and busy life."

The American scoffed. "I am an experienced businessman and can help you," he said. "You should spend more time fishing, and with the proceeds, buy a bigger boat. With the proceeds from the bigger boat, you could have a fleet of fishing boats, open up your own cannery and control all of the distribution," he said. "Of course, you would need to leave this small coastal fishing village and move to a bigger city to run the expanding enterprise."

The Mexican fisherman asked, "But, how long will that all take?"

To which the American replied, "Oh, 15 to 20 years or so."

"But what then?" asked the Mexican.

The American laughed and said, "That's the best part. When the time was right, you would sell your company and become very rich. You would make millions!"

"Millions – then what?" asked the Mexican.

The American said, "Then you could retire. Move to a small coastal fishing village where you could sleep late, play with your kids, take siestas with your wife, and stroll to the village where you could sip wine and play guitar with your amigos."

"I already do that," said the Mexican fisherman.
Böll's Irish Journal provides an interesting picture of the Ireland of my childhood. My countrymen were not entirely pleased with it, which perhaps is testimony to the author's perceptiveness.
---
My commonplace booklet
More than 1,300 families apply to live rent-free on Inis Meáin for a year
Lovely story in the Irish Times. Inis Meáin is the smallest of the three Aran islands off the coast of Co Galway and a place to put on your Bucket List, if you have one.
---
This Blog is also available as a daily email. If you think that might suit you better, why not subscribe? One email a day, Monday through Friday, delivered to your inbox. It's free, and you can always unsubscribe if you conclude your inbox is full enough already!
---