Driving in France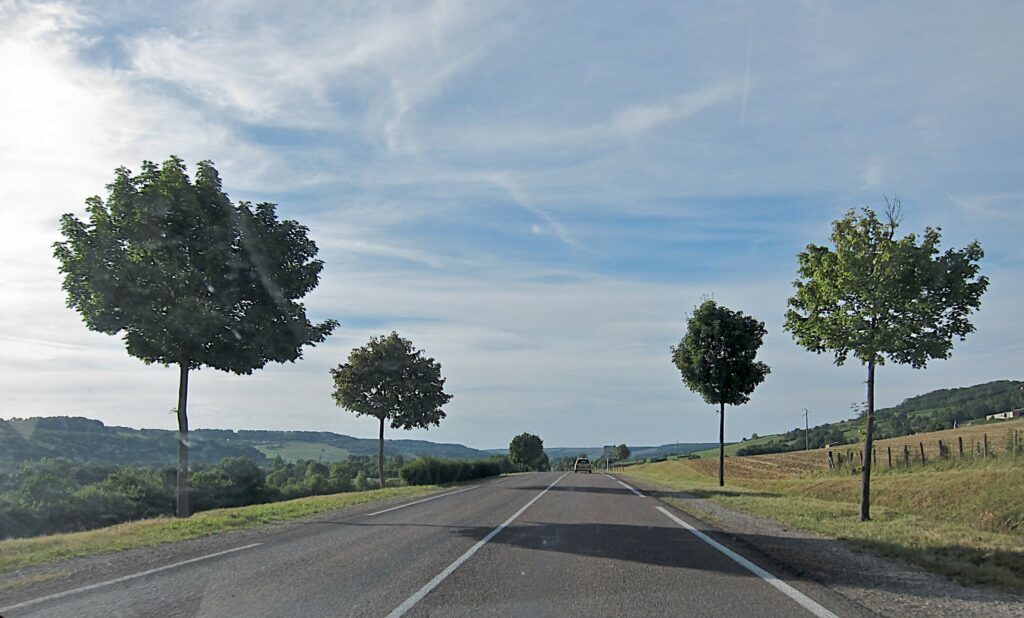 Hopefully, again in due course.
---
Quote of the Day
"I would suggest that the only books that influence us are those for which we are ready, and which have gone a little further down our particular path than we have yet got ourselves."
E.M. Forster in Two Cheers for Democracy, 1951.
---
Musical alternative to the morning's radio news
John Field- Nocturne no. 5 B Flat Major Andantino
---
Long Read of the Day
DeepMind's protein-folding breakthrough 
Terrific account by Cade Metz of how researchers at DeepMind think they have solved "the protein folding problem," a task that has bedeviled scientists for more than 50 years.
Some scientists spend their lives trying to pinpoint the shape of tiny proteins in the human body.

Proteins are the microscopic mechanisms that drive the behavior of viruses, bacteria, the human body and all living things. They begin as strings of chemical compounds, before twisting and folding into three-dimensional shapes that define what they can do — and what they cannot.

For biologists, identifying the precise shape of a protein often requires months, years or even decades of experimentation. It requires skill, intelligence and more than a little elbow grease. Sometimes they never succeed.

Now, an artificial intelligence lab in London has built a computer system that can do the job in a few hours — perhaps even a few minutes…
Great read. And a nice accompaniment to the astonishing achievement of the Covid vaccine development effort.
---
Peter Alliss RIP
The Guardian carried the obit that had been written by the late Frank Keating (who died in 2013). It concludes thus:
To the end, he could be outrageously and sharply pointed but also poetically, tellingly simple at the microphone, like this sotto running-commentary advice at Sandwich in 2011 as the young Irishman Rory McIlroy came into view down the fairway: "Just keep playing nicely, gently, m'boy … keep finding the fairways, keep finding the greens … You can't force this game … some people think you can … some players think they can … but you can't … Golf is all about patience … Good old-fashioned word 'patience' … ask kids today about 'patience' and they pull out their iPhones, whatever they are, and say it don't say anything here about 'patience' but I can tell you the population of Madagascar … "
Alliss was, by all accounts, a born raconteur (in the same genre as his predecessor Henry Longhurst). Mark Townsend in Golf Monthly included Alliss's anecdote about Bobby Locke, who won the British Open four times:
One of his favourite memories was, again, something quirky rather than the norm. To set the scene the great Bobby Locke had joined him on a patch of rough ground to the right of the 1st fairway at the Old Course to hit a few balls ahead of his opening round in 1957.

"He had about eight balls and he sent his caddy, Bill Golder, who was about 65 then, down on to the beach. We spent the next five minutes chatting about this exhibition match and that exhibition match before I said 'Well, I must be off'.

"He asked what the time was, I told him it was twenty to and he replied 'Oh God, I must be off.' He never hit a ball, he waved to his caddy and he was off. It is bizarre to think these days that there are rows of Titleists and there's his caddie, who has clambered down across the beach, and he never hit a ball. He went to the 1st tee and went on to win the championship by three shots."
As someone who was a keen golfer in my undergraduate days, Alliss is a figure from my past. I remember once walking round with him in a tournament — something you could do occasionally in those days, before golf became a TV-dominated sport. He struck me as a handsome, amiable, right-wing buffer who also happened to be a terrific golfer. And he was a terrific commentator on the game.
---
Uber dumps its ludicrous self-driving operation
Lovely blast by Cory Doctorow:
When they write the history of this era, one of the strangest chapters will be devoted to Uber, a company that was never, ever going to be profitable, which existed solely to launder billions for the Saudi royals.

From the start, Uber's "blitzscaling" strategy involved breaking local taxi laws (incurring potentially unlimited civil liability) while losing (lots of) money on every ride. They flushed billions and billions and billions of dollars down the drain.

But they had billions to burn. Mohammed bin Salman, the murdering Crown Prince of the Saudi royal family, funded Softbank – a Japanese pump-and-dump investment scheme behind Wework and other grifts – with $80B as part of his "Vision 2030" plan.

Vision 2030 is a scheme to diversify Saudi wealth away from hydrocarbons by attempting to establish monopolies that will allow the family to control entire sectors of the global economy.

These schemes are longshots, and the fallback position is to unload failed monopolies – with staggering debt-overhangs – on investors who've been suckered with the promise that really big piles of shit surely have a pony buried underneath them somewhere.
I particularly like his payoff lines…
Every long con needs a "store" – a place where the con plays out, like a fake betting shop where the scammers rope in the mark and fleece them of every dime. But once the con is done, the store has to shut down amid a "blow-off" that lets the grifters escape.

Uber's shutting down the AV part of its store: they "sold" the division to a startup called Aurora, but the "sale" involves Uber "investing" $400,000,000 in Aurora. That is, they've paid someone else to take this bit of set-dressing off their hands.

If you want to learn more about how Uber will never, never, ever, ever be a real business, be sure to tap into transport economist Hubert Horan's series on the company, which he calls a "bezzle."
Great stuff.
---
Another, hopefully interesting, link
The best of the 'Best Books of 2020' lists. Curated by Jason Kottke. Link
---
This blog is also available as a daily email. If you think this might suit you better, why not subscribe? One email a day, delivered to your inbox at 7am UK time. It's free, and there's a one-click unsubscribe if your decide that your inbox is full enough already!
---