Das Boot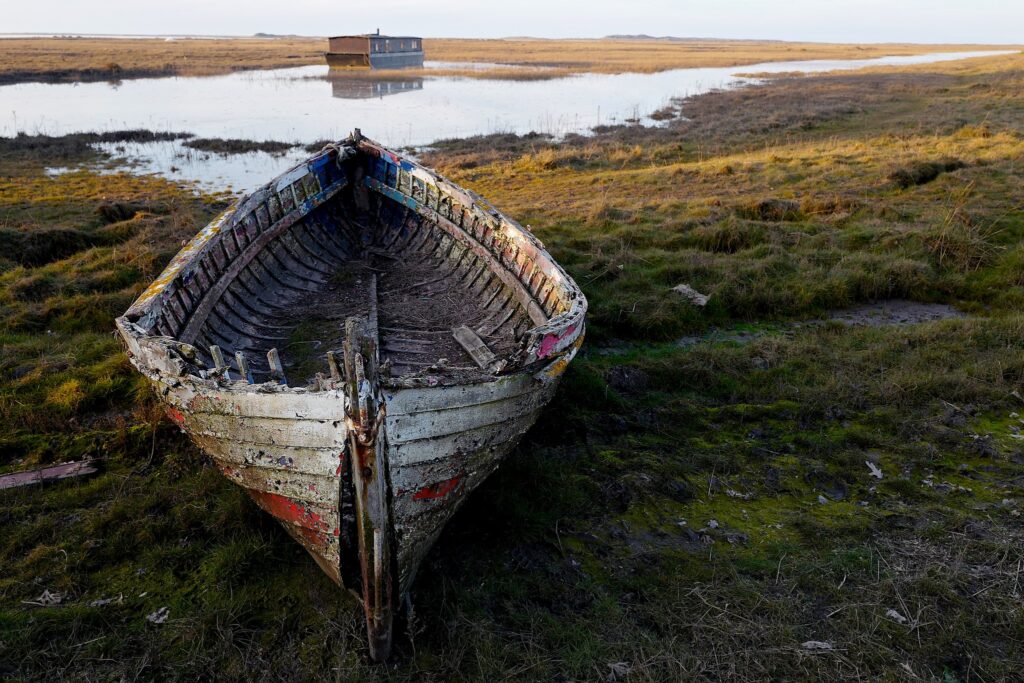 Or should it be zwei Boote, really?
Taken years ago in North Norfolk. The boat in the foreground eventually broke up and is no more.
---
Quote of the Day
"Yesterday, in the gym, my physiotherapist placed my own claw-like hand onto my own face. It was certainly a horror, as if several semi-frozen vegetarian sausages had been draped across my face by a prankster.

The hand felt cold and inanimate. But Miss S claims I should forego the self-pity. If I persist, I will soon be waving at London taxis and giving my enemies the finger. At the moment, my right hand is more lively than my left, which feels nearly dead.

What I would like, what I wish for, what I dream of, is the ability to pick up a fountain pen, and make a mark in the page; to write my own name in purple ink. This is my ambition."
Hanif Kureishi, dictated from his hospital bed.
On holiday in Rome just after Christmas he suddenly collapsed onto the pavement; as he fell he twisted his neck and grievously injuring the top of his spine. He lost the use of his arms and legs and is now in a specialist rehabilitation clinic. But from the outset he has been dictating blog posts like this one to his son Carlo.
This is moving and impressive. What it reminds me of is the great historian Tony Judt who, when he was similarly immobilised before his death, managed to produce a truly beautiful book, The Memory Chalet.
---
Musical alternative to the morning's radio news
Haydn | String Quartet in D Major Op.64-5, Hob.III:63, "The Lark", 1st Movement | . Classikan String Quartet
Good ol' Papa Haydn.
---
Long Read of the Day
Ken Burns on His Most Important Film
Transcript of an interview Bari Weiss did with documentary film-maker Ken Burns on his latest film on American attitudes to the Holocaust.
BW: I want to start with one of the first scenes of the six-hour documentary, which is about the Frank family. Many have read the diary of Anne Frank, but you decide to tell this story in a new light by focusing on her father, Otto Frank, and the way that he desperately tried to get the Franks into the United States. He couldn't, despite having all of the connections one would need to make it from Europe into America. This theme—America's policy toward Jewish refugees during the war—underscores the entire film. Why did you decide to open with this story of Otto Frank desperately trying to escape, instead of the story that we know, of an innocent little girl hiding in an attic?

KB: Let's remember that the diary of an innocent girl, who is often the point of entry for many Americans and certainly schoolkids to the story of the Holocaust, isn't about the Holocaust. It's about everything leading up to the moment of her arrest and the overshadowing fear of hiding in the secret annex. As a country, we think we're disconnected from that, but we are not. We are culpable. Otto Frank had connections in the United States. He had crossed every t and dotted every i and he still couldn't get in. What I wanted to do is leave our audience with the sense from the very beginning that she could be here and still be alive.
Unmissable. Do read it.
---
Nick Clegg: from Liberal hope to Trump Enabler
Nice sharp Guardian comment piece by Jan-Werner Müller on Meta's decision (announced by Clegg) to allow Trump back on its platform.
But Trump has neither paid any price for various offenses against democracy, nor ever shown the slightest repentance for his role in what Facebook, in its official announcement, gingerly calls "civil unrest" (as if we were talking about some general conflagration, with all sides to blame). By allowing him back on, Facebook is signaling that neither the past, nor what a perpetrator thinks about the past, matter. It pretends that, unless Trump is on the platform, citizens have no chance to find out what "the king of social media" (according to Nigel Farage) is thinking, depriving them of vital information – a patently absurd claim given that Trump remains the most public American who has ever lived. Not only that: AJ Liebling once observed that freedom of the press is guaranteed only to those who own one – if nothing else, freedom to address the public is also guaranteed to those who own a social network.
That description of a Trump-fomented armed insurrection as "civil unrest" would have delighted the author of "Politics and the English Language"
---
My commonplace booklet
Jonty Bloom sees the connection between Father Ted and Nadhim Zahawi
Nadhim Zahawi, poor love, feels hard done by, lynched by the media and driven out of office by a mob. Without even the chance to clear his name.

Father Ted was exiled to Craggy Island, when the money involved was "just resting in my account".

How much worse for the former Chancellor, who only sought to hide the fact that he was being fined by HMRC, while running HMRC, for trying not to pay several million pounds in tax to HMRC.

After all it is not as if we need the money or anything, and he has stables to heat at his own expense these days; will no one think of the poor horses?

Still not to worry, Father Ted may have been on Craggy Island for years, but these days political exile for bullying staff, starting your own foreign policy, avoiding tax or even leaking state secrets, is a few weeks at most.

At this rate we will be lucky if Mr. Zahawi isn't back in the cabinet by February.
---
This Blog is also available as a daily email. If you think that might suit you better, why not subscribe? One email a day, Monday through Friday, delivered to your inbox. It's free, and you can always unsubscribe if you conclude your inbox is full enough already!
---