Quote of the Day
"Writing is a form of therapy; sometimes I wonder how all these people who do not write, compose or paint can manage to escape the madness, the melancholia, the panic fear which is inherent in the human situation."
Graham Greene, Ways of Escape, chapter 9.
Simple: they keep a daily blog.
---
Musical alternative to the morning's radio news
Albinoni: Adagio For Strings And Organ In G Minor, Berliner Phil and von Karajan
---
Boris Johnson is not lost; he's right in front of you
Nice Financial Times column by Robert Shrimsley. Sample:
It was all meant to be such fun. There would be cocktails at Chequers, hilarious nose-tweaking of po-faced progressives and the bellowing of "Brussels sucks" as they roared down freedom highway like Mr Toad in his new car. Anyone who got in the way would be sacked, debagged or prorogued. Yes, there's a crisis, but dammit where's the good old Boris they used to know?

The answer is he's right there in front of them. Mr Johnson's weaknesses were never hidden. It cannot, surely, be a shock to discover his lack of focus, carelessness, excessive delegation and love of the bold play over the grinding detail. Furthermore, "good old Boris" is not going to change. He is not, aged 56, suddenly going to "get a grip".

Their dismay would be laughable if it were not shared by his MPs, who are staggered by his mis-steps and outraged by the obvious contempt shown for them by his Downing Street team.

Even loyalists are open-mouthed at the accumulation of errors. How, they ask, could a conservative premier advocate breaking the law? How could he not foresee that the return of schools would lead to surging demand for Covid-19 tests? As they look ahead to mass unemployment and virus spikes, MPs can no longer see the rapids for the rocks.
Well, as the notices in antique shops say: "If you break it, then you own it."
---
Facebook needs Trump as much as Trump needs Facebook
Interesting Bloomberg piece:
Zuckerberg isn't easily influenced by politics. But what he does care about—more than anything else perhaps—is Facebook's ubiquity and its potential for growth. The result, critics say, has been an alliance of convenience between the world's largest social network and the White House, in which Facebook looks the other way while Trump spreads misinformation about voting that could delegitimize the winner or even swing the election. "Facebook, more so than other platforms, has gone out of its way to not ruffle feathers in the current administration," says Jesse Lehrich, co-founder of Accountable Tech, an organization making recommendations to tech companies on public-policy issues. "At best, you could say it's willful negligence."

The pattern hasn't been confined to U.S. politics. A Facebook executive in India was accused in August of granting special treatment to a lawmaker from Prime Minister Narendra Modi's ruling Bharatiya Janata Party who'd called for violence against Rohingya Muslim immigrants. (It was only after the Wall Street Journal reported on the posts that the company banned the lawmaker, T. Raja Singh.) A memo from a former employee, published by BuzzFeed on Sept. 14, detailed how Facebook had ignored or delayed taking action against governments using fake accounts to mislead their citizens. "I have blood on my hands," she wrote.
The (long) piece goes on to details the ways in which Zuckerberg has sought to deflect Trump's ire onto other targets. But…
Trump is trailing by 7 points or so nationally, and it's likely that a Biden administration would seek to regulate Facebook. In July, Zuckerberg got a preview of the Democrats' playbook when he faced the House Judiciary subcommittee on antitrust, alongside all the other major tech executives. Representatives' questions for him were pointed, prosecutorial, and informed by thousands of internal emails and chat logs that seemed to suggest a path for regulators to argue that the company should be broken up or penalized in some other way.
As the election nears, and Trump continues to lag in the polls, the prospect of a Biden presidency becomes more likely. And last January said that he also favours removing Section 230 protections and holding executives personally liable. "I've never been a big Zuckerberg fan," he told the New York Times in January.
So Zuckerberg seems to have woken up to the risks — for Facebook, not humanity — of a Trump loss. The Bloomberg piece says that he's told employees that the company is likely to fare better under Republicans.
Just one more reason for electing Biden!
---
The legal fight awaiting the US after the Election
Jeffrey Toobin, the New Yorker's legal eagle, has a long piece in the magazine looking forward to November 3 and its likely aftermath. There's no good news in it. Here, in a nutshell, is why:
Trump's grievance is almost certainly tied to the fact that Democrats are more likely to vote by mail in the upcoming election than Republicans are. This will contribute to a phenomenon called the "blue shift"—votes that are counted, and reported, later on tend to favor Democrats. This year's blue shift may be particularly dramatic. In a recent poll by Hawkfish, a data firm associated with Democrats, only nineteen per cent of Trump supporters said that they planned to vote by mail, compared with sixty-nine per cent of Biden supporters. Using data from late-summer polls, Hawkfish predicted that Election Night results could show Trump in the lead, with a total of four hundred and eight electoral votes. Four days later, with seventy-five per cent of the mail-in votes counted, Biden would take the lead, with two hundred and eighty electoral votes and, with all the votes counted, the former Vice-President would win the Presidency, with three hundred and thirty-four electoral votes.
You can imagine the scenario. And gun sales have gone through the roof in the US. The only consolation is that there's a shortage of some kinds of ammunition.
---
Why would anyone pay £1500 for this when they could have, say, an infinitely more useful Apple Watch for a third of the price?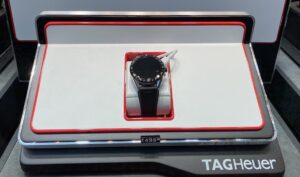 Look, as a regular reader of the Financial Times I get it that for some rich guys watches are basically the male equivalent of women's jewellery. And that's fine by me: it's a free country and all that. But what baffles me is why anyone would pay good money for a half-assed smartwatch that a famous analog watch brand has tried to cobble together.
I've just read a friendly review of it and this is the best it can say:
Verdict

If you want a smartwatch that looks like a traditional Tag, the Connected 2020 fully delivers. That attractive design now includes an upgraded screen and the extra software additions help to make it feel less of a Wear OS watch. The included watch faces are great, while the new sports app certainly shows good potential.

Its sports tracking skills can't really rival what you'll get from a serious Polar or Garmin sportswatch, but if you're more 20 minute treadmill runner than marathon racer, it should more than do the job.

There are other brands like Montblanc and fellow LVMH stablemate Louis Vuitton that have noticeably raised their game on the luxury smartwatch front. But Tag Heuer remains ahead of the pack as far as building a truly desirable smartwatch that feels worthy of that steep price tag.

There's no getting away from it: the Tag Heuer Connected 2020 is a beauty of a smartwatch.
Sad, isn't it.
---
This blog is also available as a daily email. If you think this might suit you better, why not subscribe? One email a day, delivered to your inbox at 7am UK time. It's free, and there's a one-click unsubscribe if you decide that your inbox is full enough already!
---