Nature's Polygons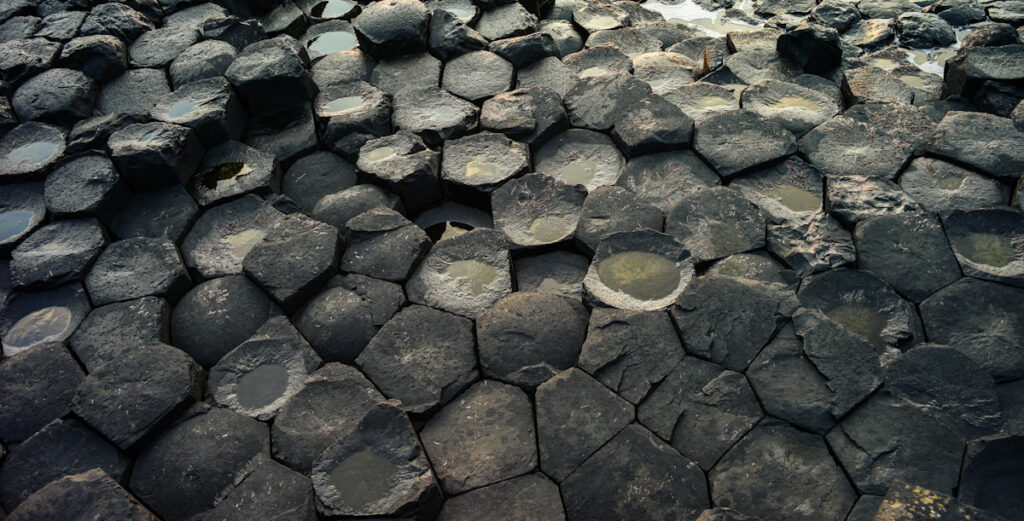 Giant's Causeway, Northern Ireland, on a quiet evening.
---
Lest we forget…
Dr Deborah Birx, one of Trump's Coronavirus advisers, listens to her boss. Thought bubbles not by me,btw.
---
The madness of (investing) crowds
From Chris Nuttall in the FT yesterday:
Silver has replaced GameStop as the investment du jour for retail traders, but there is also the Elon effect out there, with Mr Musk lifting bitcoin last week after adding it to his Twitter bio. Now his appearance on the Clubhouse audio service at the weekend has led to a doubling in the share price of Clubhouse Media Group, which happens to be a completely different company. The same thing happened last month when he recommended the Signal messaging service and unrelated Signal Advance rose by more than 6,000 per cent. Regarding Clubhouse, Lex says audio could be the future of online socialising, with the Discord chat app attracting 300m users as well.
Does make you wonder about people, sometimes. The way in which Elon Musk can shape opinion is one of the wonders of the online world.
---
Quote of the Day
"The battle for the mind of Ronald Reagan was like the trench warfare of World War I. Never have so many fought so hard for such barren terrain."
Peggy Noonan, Reagan's speechwriter 1984-9.
I've never understood why people had such a high opinion of Reagan. He was an amazingly destructive President who just happened to have a good bedside manner.
---
Musical alternative to the morning's radio news
Diana Krall | Just The Way You Are
---
Twitter, George Soros, and Porn
An interesting essay by Ranjan Roy on subjective vs objective realities: or, social media vs the real world. A worrying aspect of pandemic life is how our understanding of reality is increasingly being shaped by algorithmically-curated, ad-funded digital representations. We trust the platforms to let us know "what's happening right now" (to coin a Twitter trope) because we can't be out there seeing it for ourselves.
For any of you that may have ever perused a pornography website, you may have noticed the scenarios getting increasingly preposterous over the years. Multiple partners and medically improbable appendages are the base case. I am cognizant that the situations presented are not representative of 'real life'. They are not representative of typical sexual relations. I'm sure the scenarios presented on porn sites really do happen sometimes, but they're highly exaggerated outliers.

I've been a tech platform cassandra for my non media+tech friends for a few years now, but trying to explain how ad-based business models and algorithms combine to create a completely distorted understanding of reality has been difficult. The one thing that almost instantly breaks through is to equate the reality presented in a social feed to porn. Yes, the things you are presented with are real and do exist, but they are not representative of the mundane nature of everyday life. Again, highly exaggerated outliers.

In the same way none of us are going to pornhub and searching "suburban pudgy 40something couple missionary" (maybe you are and kudos to you) the algorithm does not promote the uninteresting and the unstimulating. If there is any censorship on these platforms, it's of the tedious and routine elements of life.

To look at your Facebook, Instagram, or Twitter feed as representative of reality is to look at Pornhub and think "this is how most people have sex".
Great stuff. He goes on to explain George Soros's concept of 'reflexivity', which is basically the feedback loop by which expectations or desires can shape reality.
---
Joke Capitalism: GameStop Populism and the Desire for Narrative
Fabulous piece by Andrew Granato that suggests that my initial reading of the GameStop narrative might have been a trifle, er, naive! Sigh.
This story that retail investors buying GameStop shares constitutes populism relies on the fact that the most publicly visible reason for the stock surge is investors who are putting in small amounts of money by public equity markets standards (from the hundreds to the tens of thousands, if we choose to believe screenshots with thousands of upvotes on Reddit) while the most visible losers are two hedge funds, Melvin Capital and Citron Research.

Who is actually reaping the strong majority of the benefits of the surge, on the other hand, bears little resemblance to Reddit day traders and much more resemblance to Melvin and Citron, because the strong majority of equities in the United States are owned by wealthy individuals and asset managers who act on behalf of mostly wealthy individuals. Who are the biggest owners of GameStop? Fidelity (14%), Cohen's RC Ventures (13%), and BlackRock (11%), and then a bunch of other mutual and hedge funds, and also a guy named Donald Foss who became a billionaire from a subprime auto loan company. Pick almost any American publicly traded company; the list of names will be pretty similar. And as Ranjan Roy wrote about yesterday for some newsletter, there is strong evidence that the rally itself is primarily driven by professional investors.
Maybe I should eat my hat — again! I've always found it a nutritious diet.
---
Still living in a council flat with 'Grenfell' cladding? The Westminster government would prefer that you — and we — didn't know about it.
Great piece of investigative journalism by openDemocracy:
Aluminium composite cladding (ACM), which was implicated in the catastrophic Grenfell Tower fire that killed 72 people in June 2017, was banned the following year.

But the Ministry for Housing, Communities and Local Government (MHCLG) has told local authorities they can block Freedom of Information (FOI) requests that may identify high-rise buildings with aluminium cladding.

In a letter sent to all local authority chief executives, and obtained by openDemocracy, the housing ministry told councils that when responding to FOI requests about ACM "it is appropriate to withhold information that could lead to the identification of affected buildings".

The news comes as Labour leader Keir Starmer announced that he will force a vote in Parliament next week to commit the government to publishing figures on the number of buildings affected by dangerous cladding.

The housing ministry's letter, written by the director-general of building safety in November 2017, states that "clearly it is not for" the department to determine how councils respond to FOI requests. But Jon Baines, an information rights expert at the law firm Mishcon de Reya, said he "cannot see any other way of interpreting" the letter than as official guidance.
You think this is a scandal? So do I. But for the current regime it's business as usual.
---
Another, hopefully interesting, link
Gigapixel Vermeer: Girl with a Pearl Earring has no more secrets. Amazing. Just keep zooming in. Link
---
This blog is also available as a daily email. If you think this might suit you better, why not subscribe? One email a day, delivered to your inbox at 7am UK time. It's free, and there's a one-click unsubscribe if you decide that your inbox is full enough already!
---