Democracy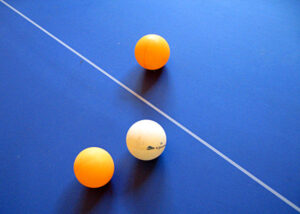 Seems appropriate for today.
---
DC on my mind
I woke in the middle of the night thinking fretfully about Biden's inauguration. In a half-dreamlike state there were two things on my mind. One was an almost superstitious worry that the security would not be tight enough and that some of the far-right nutters would get within shooting distance. Given that the cops have already picked up one guy with a handgun and 500 rounds of ammo, and that the Pentagon has had to screen all of the 20,000+ troops who will be on duty in DC on Wednesday, that's not en entirely hysterical concern.
The other thought was a reminder — posted yesterday by someone — that Trump had received 75m votes in the election. That's damn nearly half the electorate who, knowing everything that we — and they — know about Trump, still voted for him. And then there are the poll results which show that an astonishing proportion of Republicans apparently believe that the election was stolen and that Biden is an illegitimate President.
And then I embarked on a thought experiment: if the UK referendum result had been a narrow win for 'remain' rather than Leave, would the losers have calmly accepted the result? Of course they wouldn't. But at least — unlike the US — most of them aren't armed.
I went back to sleep eventually and all this faded from my mind. But it occurred to me this morning that before going to bed I had watched — and posted on this blog — the videos that Trump supporters had uploaded to Parler during the January 6 Trump rally and the assault on the Capitol. Maybe they lay at the root of my nocturnal worries.
Still, I'll be relieved when Biden, having been sworn in, arrives safely at the White House.
---
Quote of the Day
"When I meet a historian who cannot think that there have been great men, great men moreover in politics, I feel myself in the presence of a bad historian; and there are times when I incline to judge all historians by their opinion of Winston Churchill — whether they can see that, no matter how much better the details, often damaging, of man and career become known, he still remains, quite simply, a great man."
---
Musical alternative to the morning's radio news
Händel | Hallelujah | Gert van Hoef in de Nieuwe Kerk Katwijk
---
Long Read of the Day
Not for everyone, but this long report by Jeff Dean (Senior VP of Google SVP of Google Research and Health) on what his researchers have been doing is fascinating. One thing that caught my eye is the work they're doing on what you might call meta machine-learning — AutoML — which is…
Using learning algorithms to develop new machine learning techniques and solutions, or meta-learning, is a very active and exciting area of research. In much of our previous work in this area, we've created search spaces that look at how to find ways to combine sophisticated hand-designed components together in interesting ways. In AutoML-Zero: Evolving Code that Learns, we took a different approach, by giving an evolutionary algorithm a search space consisting of very primitive operations (like addition, subtraction, variable assignment, and matrix multiplication) in order to see if it was possible to evolve modern ML algorithms from scratch. The presence of useful learning algorithms in this space is incredibly sparse, so it is remarkable that the system was able to progressively evolve more and more sophisticated ML algorithms.
---
Ireland and the virus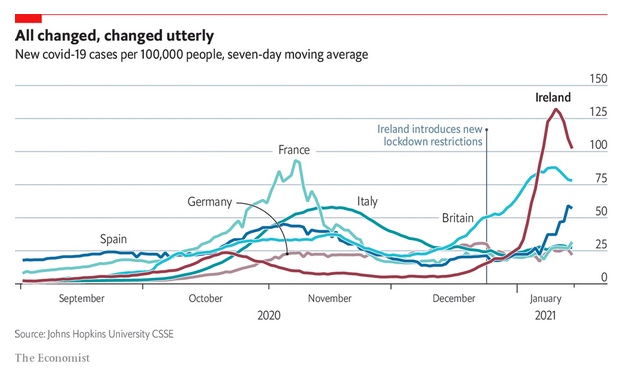 Sobering Economist piece…
At one time, Ireland was doing really well in managing the virus. Now it's in crisis.
Ireland's woes can be blamed in part on too much holiday cheer. In December the Irish government eased covid-19 restrictions to allow for a "meaningful Christmas". Rules around household mixing were eased, and limits on travel between counties temporarily lifted for three weeks. This would prove a grave misstep, making it easier for a new, more infectious strain of the virus, first detected in Britain, to spread. By January 11th Ireland's infection rate had reached more than 130 new daily cases per 100,000 people, the highest in the world, as measured by a seven-day moving average (see chart). The new variant accounted for roughly a tenth of infections in mid-December; today it is responsible for nearly half.
---
Who's moving from WhatsApp to Telegram?
Interesting list. Given some of them, I'm not sure you'd like to be on Telegram.
Ironic also that one of the refugees is Jair Bolsonaro, President of Brazil, who probably owes his election to WhatsApp!
---
Facebook bans 'stop the steal' content, 69 days after the election
From CNN Business on January 12:
Facebook will begin removing all content that mentions the phrase "stop the steal," a full 69 days after Election Day.

The social media giant said in a blog post that it will ramp up enforcement against the phrase because it was used by those who participated in last week's riots at the US Capitol.

"With continued attempts to organize events against the outcome of the US presidential election that can lead to violence, and use of the term by those involved in Wednesday's violence in DC, we're taking this additional step in the lead up to the inauguration," Guy Rosen, Facebook's VP of integrity, wrote in a post about the company's preparation for Inauguration Day.
Why is this interesting? Simple: it takes Facebook 69 days to decide that the time had come to stop profiting from the levels of 'user engagement' associated with Stop the Steal.
But when its ultimatum to WhatsApp users about using their data led to a stampede to Signal and Facebook (and a significant reduction in WhatsApp downloads), the company turns on a dime, cancels the February 8 cut-off date and pushes it back to May.
Tells you everything you need to know about this toxic outfit. And how oxymoronic that Facebook has a "Vice President of Integrity". Truly, you couldn't make this stuff up.
---
Other, hopefully interesting, links
---
This blog is also available as a daily email. If you think this might suit you better, why not subscribe? One email a day, delivered to your inbox at 7am UK time. It's free, and there's a one-click unsubscribe if you decide that your inbox is full enough already!
---