Southward Ho!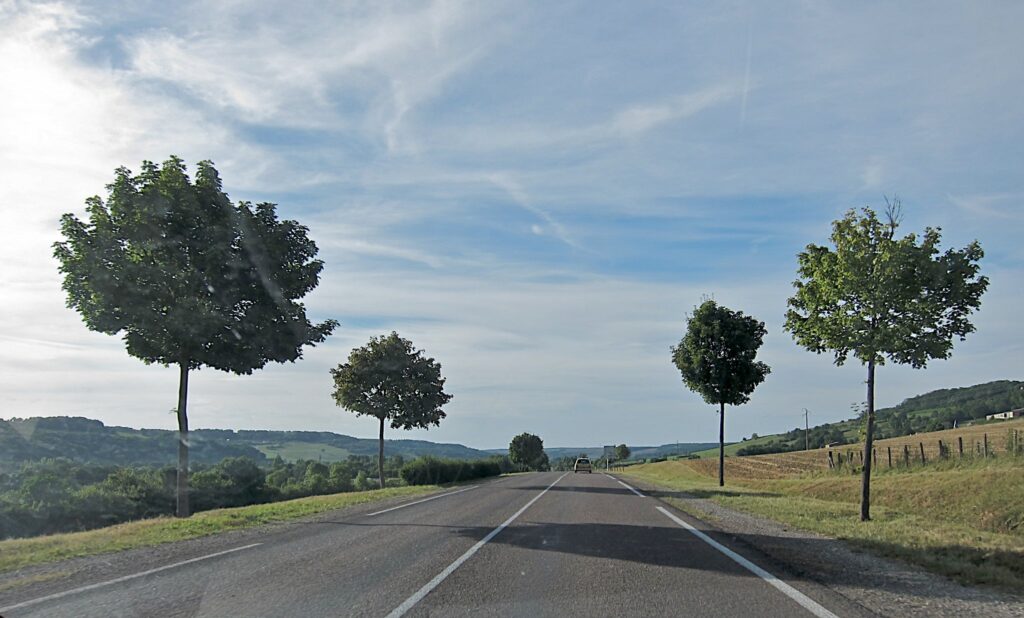 ---
Quote of the Day
"The louder he talked of his honour, the faster we counted our spoons."
---
Musical alternative to the morning's radio news
Beethoven, Violin Concerto, 3. Rondo
Warning: There's about 8 seconds of silence before it begins.
---
Did Everyone Buy a Guitar in Quarantine or What?
A good-news lockdown story from Rolling Stone…
All three retailers report that the guitar was the most popular product they sold in quarantine. "Based on what we saw in 2020, one thing is certain: The guitar is thriving," says Reverb's Mandelbrot. "Orders and searches for guitars have been up significantly — including an increase in searches for popular guitar brands like Fender, Gibson, and Taylor — as well as searches for music gear that you pair with your guitar, like amps, guitar straps, effects pedals, and more." Both searches for acoustic guitars and acoustic guitar amps were up by 50 percent year over year.

He adds that living-room-friendly acoustic guitars like the Taylor GS-Mini have been undeniably popular, but Reverb "continued to sell some really rare vintage guitars — like a beautiful 1965 Fender Stratocaster that Brian Setzer sold through his Reverb Shop." Limited edition, boutique pedals also did particularly well. Mandelbrot says the selling price of classic and rare effects pedals from vintage brands like Klon and Mu-Tron went up "significantly" in 2020. And drops of limited-edition pedals on Reverb sold out within minutes and, in one case, in less than a minute.
---
Lupin, Van Gogh and Arles
This is about one of those nice rabbit-holes one finds on the Web…
I came on a nice NYT article about Lupin, a French Netflix series of which I'd never heard, and started reading.
The article is based on an extended interview with John Kay, the British author of the series' screenplay. Here is the bit that caught my attention:
The Louvre figures prominently in the first block of episodes released in January (a second batch is due later this year). But it was another Parisian institution that stirred Kay's imagination: the Musée d'Orsay. While "Lupin" is set in contemporary Paris, Kay looked at the time period of the original books for inspiration. A natural destination was Orsay whose collections focus on the turn of the 20th century. "It was a place to go and relax and enjoy the paintings," Kay said. "But what started to happen — and you'll see it more and more across 'Lupin' — is that the museum became a real inspiration as a place for ideas for the series." One of the holdings, van Gogh's "Starry Night Over the Rhône," inspired an episode in the next set of shows (though it ended up being switched for a Pissarro painting) and the museum is responsible for the name of a forthcoming character. Featuring the Normandy beach town, Étretat, whose signature cliffs figure prominently in the Leblanc novel "The Hollow Needle" and in the show's fifth episode, can also be traced to the museum, which has period renderings of the town in its collection. "It's the most Lupin building," Kay said, laughing, of Orsay.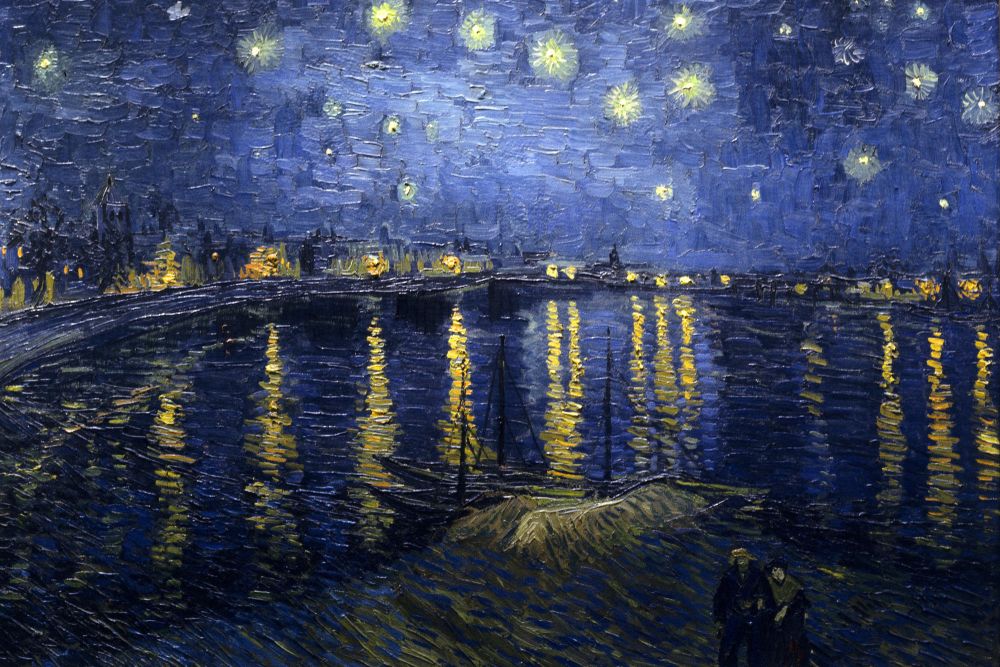 Which (of course) led me to a search for the Van Gogh painting and 10 Facts You Don't Know About Van Gogh's Starry Night Over the Rhone, which tells me that it was painted at a spot on the banks of river which was only a minute or two's walk from the The Yellow House on the Place Lamartine which Van Gogh was renting at the time. The night sky and the effects of light at night provided the subject for some of his more famous paintings, including The Starry Night, the most famous Van Gogh night stars painting.
The challenge of painting at night intrigued Van Gogh. The vantage point he chose for "Starry Night Over the Rhone" allowed him to capture the reflections of the gas lighting in Arles across the glimmering blue water of the Rhone. In the foreground, two lovers stroll by the banks of the river. Here his stars glow with a luminescence, shining from the dark, blue and velvety night sky. Dotted along the banks of the Rhone houses also radiate a light that reflects in the water and adds to the mysterious atmosphere of the painting.
This rang a bell for me. Until the pandemic made it impossible, my wife and I drove down to Provence every summer and the final waypoint before we got to the house was always Arles. Our habit was to stay in the same hotel every year — one just out from the centre within easy walking distance. And then in the evening we would walk in, wander around looking for a restaurant (with me taking photographs), have a leisurely dinner and then walk back along the Rhone. And of course I suddenly realised that we had always walked past the spot where Van Gogh set up his easel!
And of course now I'll have to watch Lupin.
---
The paradox of Facebook: hated — and rich
Interesting cri de coeur from Shira Ovide…
The company said on Wednesday that its sales — nearly all of which come from the ads it sells on Facebook, on Instagram and its other apps — reached nearly $86 billion in 2020 and are growing rapidly…. Each day, 2.6 billion people use at least one of Facebook's apps, and the user numbers are still rising.

This is a company that's embroiled in a different scandal each week and that people say they dislike, yet its products are used by billions of people, and businesses spent like crazy on ads during a pandemic to reach them.

I've been writing about corporate finances for a long time. I don't think I've ever seen this combination of popularity, fast-growing sales, fat profits — and complete revulsion. "The gap between Facebook's public reputation and its financial success has never been greater," Kurt Wagner of Bloomberg wrote this week.

Historians, tell me if there's a comparable company that was so reviled and yet so widely used and successful….
---
Other, hopefully interesting, links
The GameStop stock frenzy, explained. If you neither knew nor cared about GameStop, then this isn't for you. But if you're interested in the craziness of the stock market, then it's right up your street. Link
Danny MacAskill – The Slabs. If you suffer from vertigo, avoid. But it you want to know what can be done on a mountain bike, then it's unmissable. And it has great drone photography. Link.
---
This blog is also available as a daily email. If you think this might suit you better, why not subscribe? One email a day, delivered to your inbox at 7am UK time. It's free, and there's a one-click unsubscribe if you decide that your inbox is full enough already!
---