Indecision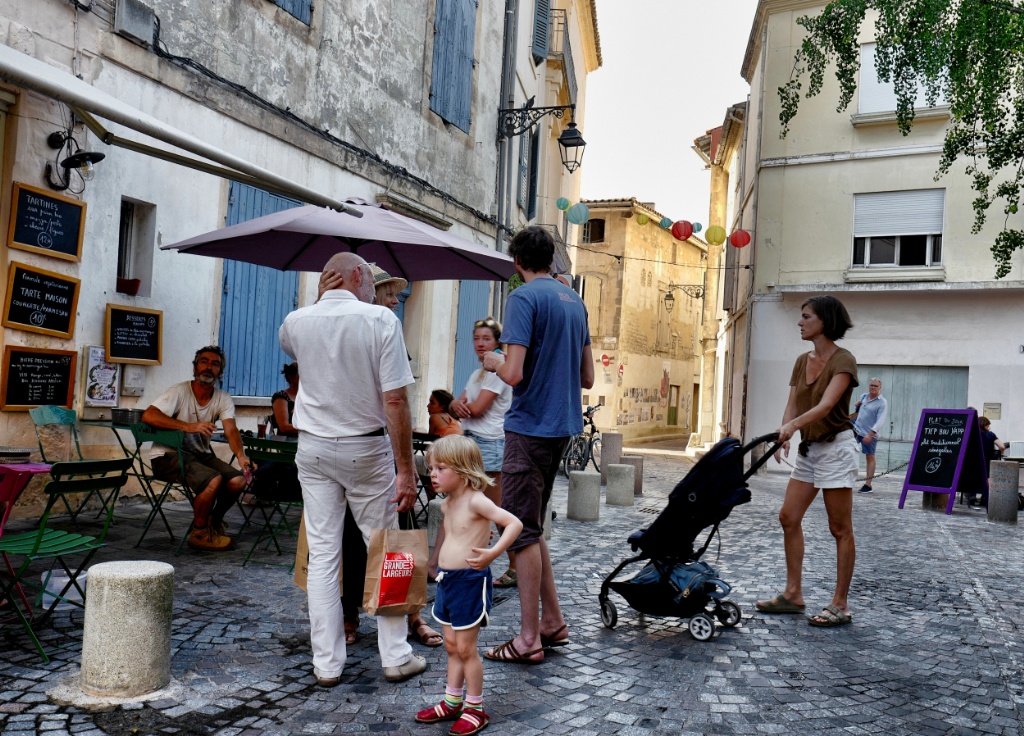 Outside a café in Arles where I felt the kid wanted the adults to make up their minds.
---
Quote of the Day
"The newly published diaries of Chris Patten, the last governor of Hong Kong, are meant to be an elegy for that place. They end up leaving the reader wistful, yes, but for a certain genre of politician. Smart, administratively able, undoctrinaire: Patten wasn't even the outstanding member of a Tory cohort that included a lawyer who took silk at 40 (Ken Clarke) and the builder of a commercial fortune (Michael Heseltine). By way of comparison, Britain might soon be run by someone who tried to get the word "cock" into a parliamentary speech as often as she could. The crisis of democracy is the crisis of the restaurant trade and of Heathrow airport. You just can't get the staff."
Janan Ganesh, writing in the Financial Times on the implications for liberal democracy of talented people shunning politics as a vocation.
---
Musical alternative to the morning's radio news
Paul Simon | René and Georgette Magritte with Their Dog After the War | Acoustic Version
This was one of the most delightful outcomes of my Matisse/Magritte mistake the other day — a link from Richard Mortier, for which many thanks.
---
Long Read of the Day
À la cashpoint
Yesterday morning I had a charming conversation in my best Franglais with one of the staff in the local pharmacy on the important subject of mosquito repellents. As we talked, I suddenly remembered a lovely memoir by my friend Quentin.
It goes like this…
About twenty years ago, my brother and I went on a cycling holiday in France. As we sat eating a baguette in the central square of a small town in the Loire Valley, we watched a wonderful scene play out before us. There was a bank on the square, which had a shiny new cashpoint (ATM) machine – something of a rarity back then, at least in rural France. As we munched our lunch, a family approached it hesitantly; a tall, gaunt father, a rather shorter and decidedly less gaunt mother, and a young boy. It was an outing which was to end in disappointment, because, despite the careful attention of the father and the suitably Gallic gesticulations of the mother, the machine swallowed the card and they departed empty-handed.

What I had forgotten was that, that evening in our tent, I had written a short (and most unworthy) homage to Miles Kington's wonderful 'Franglais' sketches. When clearing out my filing cabinet this weekend, I came across a faded dot-matrix printout, and decided to post it here, if only for nostalgia…

M. Jones: Ah! Monsieur! Vous êtes le bank manager, n'est-ce pas?

M. le BM: Oui, c'est moi. Can I help Monsieur?

M. Jones: Peut-être. Votre super-electronique nouvelle machine de cashpoint a mangé mon card!

M. le BM: Ah oui, Monsieur. Si la machine n'aime pas le card, elle le mange.

M. Jones: That's as peut-être. Mais c'etait un perfectly bon card, avec des jolies couleurs et un hologram.

M. le BM: Oui, Monsieur. Mais c'etait le card de la super-store just round le corner. Monsieur is holding notre cashcard dans son main gauche.

M. Jones: Oh. So je suis. Et voila pourquoi votre machine a mangé l'autre?
That's just the beginning. Keep reading!
---
My commonplace booklet
 What human-made structures can be seen from space?
Good question. Link
---
  This Blog is also available as a daily email. If you think that might suit you better, why not subscribe? One email a day, Monday through Friday, delivered to your inbox. It's free, and you can always unsubscribe if you conclude your inbox is full enough already!
---