So where's the actual door?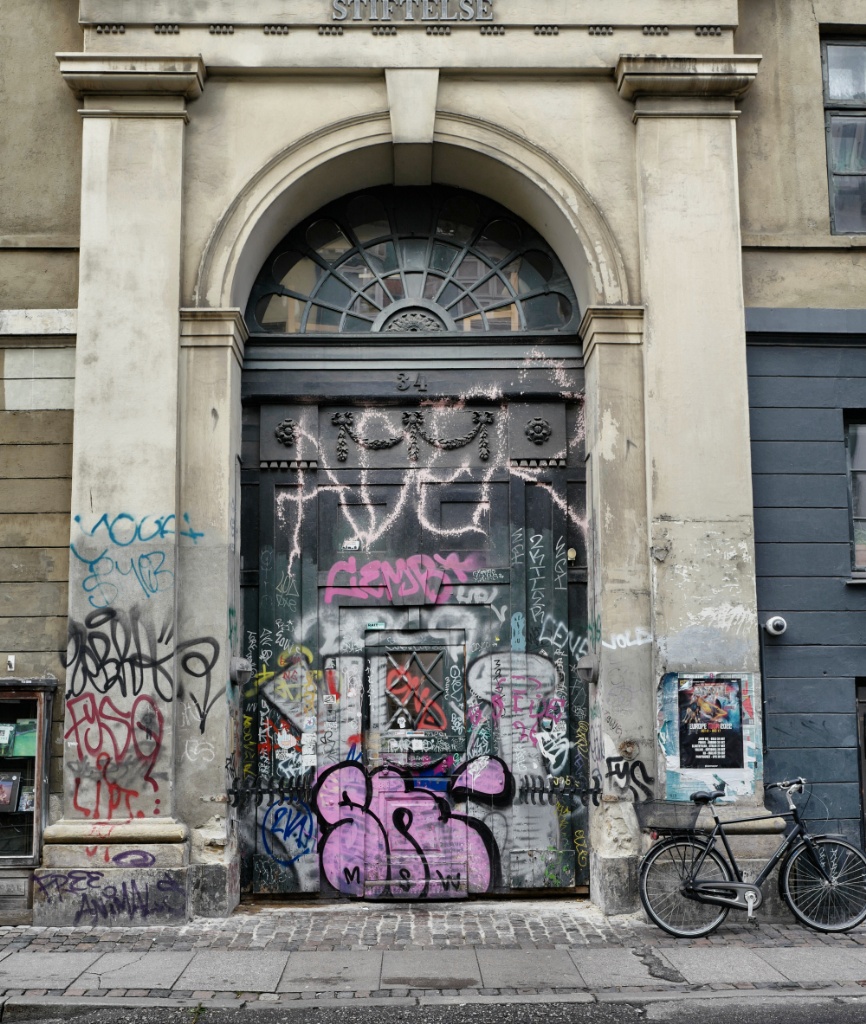 Copenhagen, November 2022.
---
Quote of the Day
"In a sense one can never read the book that the author originally wrote, and one can never read the same book twice."
---
Musical alternative to the morning's radio news
Bob Dylan | All I Really Want to Do
---
Long Read of the Day
On Elon Musk's Vision of Twitter as a Hive Mind
Terrific essay by Joe Bak-Coleman.
Under what conditions can we expect a group of individuals to act cohesively and effectively as a collective, and in what circumstances does human behavior prevent such action? I believe this is a defining question for science in the coming decades, as we develop systems that alter our interactions with one another and with technology, all the while facing challenges like climate change, pandemics, and war that threaten our existence as a species.

Of course, the question isn't wholly unanswered. We know that our minds function as a consequence of millions of years of natural selection shaping the structure of the brain to promote functioning and decision-making. And, we know that the number of neurons and connections between them is not what makes brains work, it's how those neurons interact.

Yet neurons are ultimately a poor analogy for individual human behavior. As a collection of cells with identical DNA bound to live or die together, neurons share a common goal and have no reason to compete, cheat, or steal…
Really illuminating. Worth your time.
---
Books, etc.
Bruce Schneier has a new book coming early next year.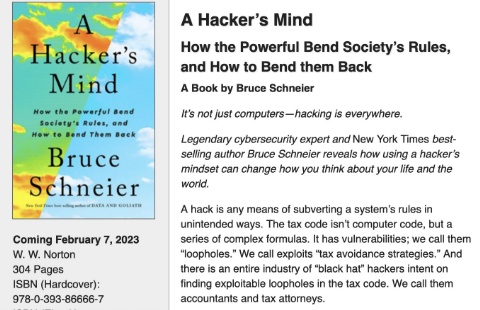 Anything by him is worth reading. It's on my list.
---
How China Got Our Kids Hooked on 'Digital Fentanyl'
TikTok is a national security threat.
Sobering blog post by Geoffrey Cain, who was kicked out of China's China's westernmost region of Xinjiang in 2017 for investigating the beginnings of what the State Department has since labeled a genocide. He can't understand why the threat posed by TikTok to western democracies isn't alarming people. Neither can I.
I know all about this. I used to be an investigative reporter in China. In December 2017, I first heard from friends on social media that a Chinese tech unicorn called ByteDance was planning on entering the American market with a new app. It was called TikTok.

Alongside its sibling app, Douyin, which operates only in China, TikTok was poised to sweep up the Gen Z audience in America, with its preference for video snippets of dancing celebrities, DIY projects, cooking demonstrations, skincare routines and other Gen Z'ers singing and dancing in their parents' kitchens. As the fastest growing social media app ever, it rankled American competitors Facebook and YouTube, which were banned in China.

By October 2018, ByteDance was the world's most valuable startup, with a valuation of $75 billion.

Four years later, ByteDance is worth $300 billion. TikTok is expected to reach 1.8 billion users globally by the end of the year. And a quarter of American adults under 30 get their news from the social-media app…
Read on.
---
Correction
In my piece about Lee Miller the other day I inadvertently claimed that she was married to Roger Penrose, not Roland. This was not a typo but a cognitive slip, because Roger Penrose, the great mathematical physicist, had been on my mind in another context, whereas Roland Penrose was an artist, art collector and the biographer of Picasso, and therefore the most likely husband for Lee. It was the kind of error that would have been picked up by even a half-witted proof-reader. But, alas, I am not even that bright.
Thanks to Keith Devlin for alerting me to the mistake.
---
My commonplace booklet
Hey Elon: Let Me Help You Speed Run The Content Moderation Learning Curve
Wonderful satirical take on why Musk and his ilk don't understand what "free speech" actually means.
---
This Blog is also available as a daily email. If you think that might suit you better, why not subscribe? One email a day, Monday through Friday, delivered to your inbox. It's free, and you can always unsubscribe if you conclude your inbox is full enough already!
---