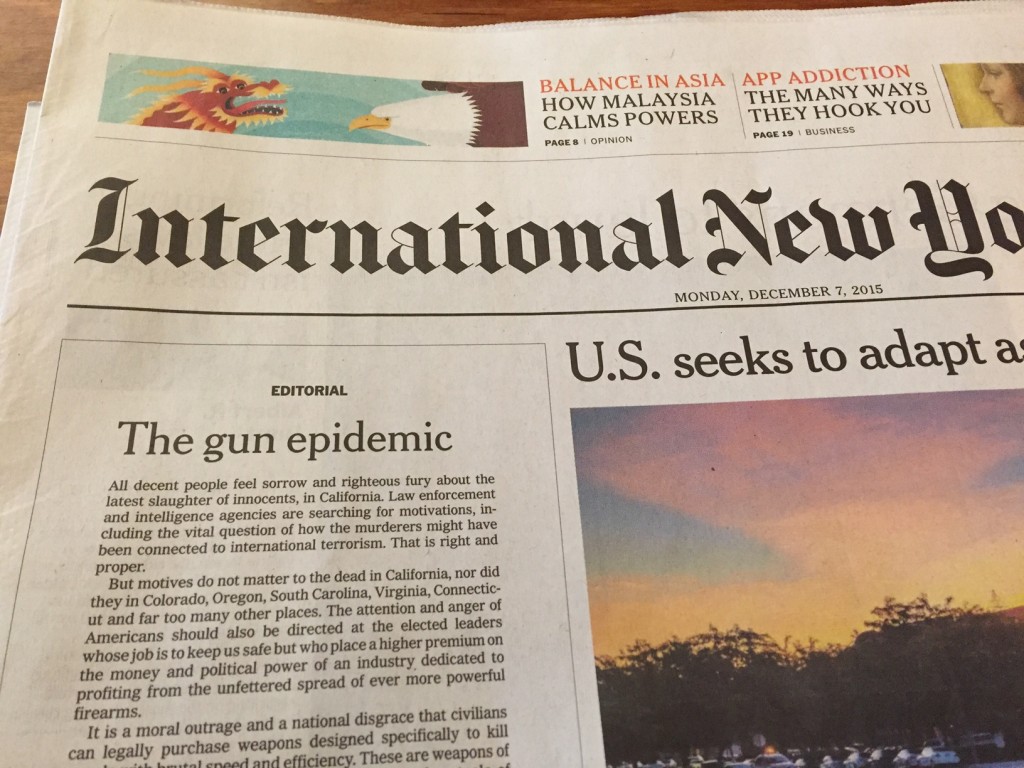 The New York Times has put an editorial on its front page for the first time since 1920. It's about gun control in the wake of the Californian terrorist massacre. It will, of course, have no effect: the US is beyond rationality in this area — as Nick Kristof observes in a remarkable column on the inside pages:
LESBOS, Greece — For three weeks American politicians have been fulminating about the peril posed by Syrian refugees, even though in the last dozen years no refugee in America has killed a single person in a terror attack.

In the same three weeks as this hysteria about refugees, guns have claimed 2,000 lives in America. The terror attacks in San Bernardino, Calif., and at the Planned Parenthood clinic in Colorado Springs were the most dramatic, but there's an unrelenting average of 92 gun deaths every day in America, including suicides, murders and accidents.

So if politicians want to tackle a threat, how about developing a serious policy to reduce gun deaths — yes, including counterterrorism measures, but not simply making scapegoats of the world's most vulnerable people.

The caricatures of Syrian refugees as jihadis who "want to kill us," as one reader named Josh tweeted me, are unrecognizable to anyone who spends time with these refugees…
Note the numbers in the Kristof piece: an average of 92 gun deaths a day in the US.