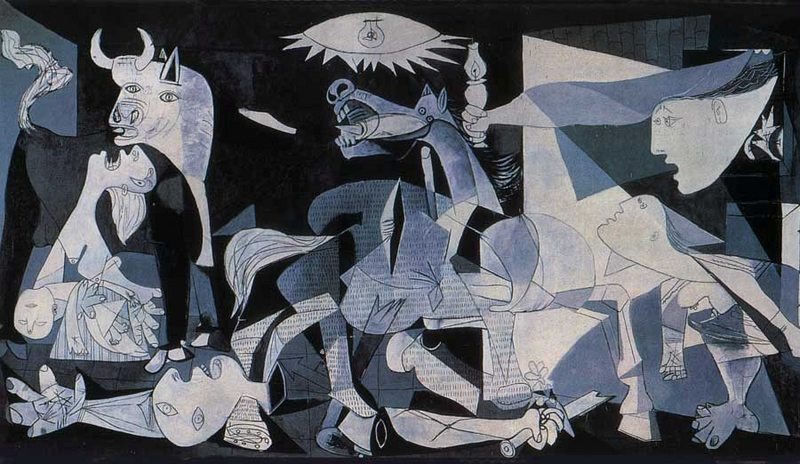 Here's something I ought to have known, but didn't until I heard an art critic on Radio 4 talking about it this morning. This report dates from February 2003.
In an act with extraordinary historical resonance, United Nations officials covered up a tapestry reproduction of Pablo Picasso's anti-war mural "Guernica" during US Secretary of State Colin Powell's February 5 presentation of the American case for war against Iraq.

Picasso's painting commemorates a small Basque village bombed by German forces in April 1937 during the Spanish Civil War. The painter, in desolate black, white and grey, depicts a nightmarish scene of men, women, children and animals under bombardment. The twisted, writhing forms include images of a screaming mother holding a dead child, a corpse with wide-open eyes and a gored horse. Art historian Herbert Read described the work as "a cry of outrage and horror amplified by a great genius."

The reproduction has hung outside the Security Council chamber at UN headquarters in New York since its donation by the estate of Nelson A. Rockefeller in 1985. As the council gathered to hear Powell on Wednesday, workers placed a blue curtain and flags of the council's member countries in front of the tapestry.

UN officials claimed that the cover-up was simply a matter of creating a more effective backdrop for the television cameras. "When we do have large crowds we put the flags up and the UN logo in front of the tapestry," asserted Stephane Dujarric. New York Newsday, however, reported that "Diplomats at the United Nations, speaking on condition they not be named, have been quoted in recent days telling journalists that they believe the United States leaned on UN officials to cover the tapestry, rather than have it in the background while Powell or other US diplomats argued for war on Iraq."
This is an extraordinary story. It reminds me of the anecdote (possibly apocryphal?) of a German diplomat looking intently at the painting and then turning to Picasso. "Did you do this?" he asked. "No", replied the painter, "you did". As the Italians say, if it's not true tehn it ought to be.