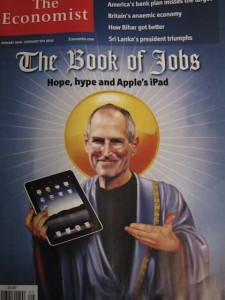 According to today's NYTimes,
SAN FRANCISCO — A handful of presumptive biographers have, over the years, tried to tell the remarkable story of Steven P. Jobs: the youthful visionary who, after being ousted from Apple, the company he helped to found, triumphantly returned to lead a new era of high-tech innovation.

But those efforts lacked one important ingredient: cooperation from Mr. Jobs himself.

Now Apple's chief executive is set to collaborate on an authorized biography, to be written by Walter Isaacson, the former managing editor of Time magazine, according to two people briefed on the project.

The book, which is in the early planning stages, would cover the entire life of Mr. Jobs, from his youth in the area now known as Silicon Valley through his years at Apple, these people said.

Mr. Jobs, who will turn 55 on Feb. 24, has invited Mr. Isaacson to tour his childhood home, one person with knowledge of the discussion said.
Hmmm… Wonder if Mr Isaacson has checked his blood-pressure recently. He'll need a stable reference point for the coming months.