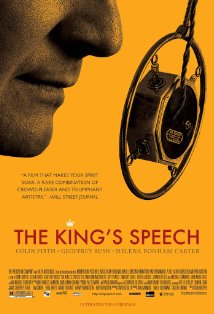 We went to see The King's Speech last night. I thought it was terrific — beautifully acted, cleverly written and surprisingly moving. Colin Firth gives a great performance as the stammering monarch-to-be but what really blew me away was Geoffrey Rush's rendition of Lionel Logue, the speech therapist who gave him his voice. (Helena Bonham-Carter is also good as Elizabeth Bowes-Lyon, but her performance isn't in the same league as that of the two men.)
One small, cavilling point. The film claims to be based on a true story — of how a rough Antipodean diamond of a speech therapist enabled a shy stammerer to carry out his public duties. But Derek Jacobi portrays Archbishop Cosmo Lang — who played such a pivotal role in the Abdication crisis — as an odious little creep. I'm perfectly prepared to accept that senior prelates can be odious creeps (as a former Irish Catholic I could give you a long list of same), but Lang seems to have been a more complex character than Jacobi's performance allows. For example, the Wikipedia entry on him claims that he denounced Mussolini's invasion of Abyssinia and was outspoken about European anti-semitism. On the other hand, Wikipedia also claims that he supported the appeasement policies of the Baldwin and Chamberlain administrations.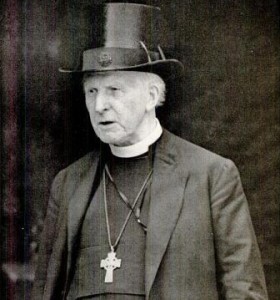 The real Cosmo Lang.
Whatever else, Lang was right about the odious Edward VIII and his manipulative floozy (magnificently rendered in the film by Eve Best). A Life magazine profile of him published in 1939 records that in October 1936 he and the Archbishop of York "respectfully requested to be permitted to decline" a Royal invitation to a dinner at St. James's palace at which Wallis Simpson was to be present. Later, Lang threatened to withhold communion from Edward if he married her. Eddie is reported to have retorted: "Please remember that I am the head of your organisation". The magazine also goes on to reveal something startling: that on November 17, while the great British public was still completely in the dark about what was going on, Lang presided over a secret session of the House of Lords to discuss the crisis. (Hmmm… I wonder about that: surely the 'speaker' of the Lords at the time would have been the Lord Chancellor.)
The IMDB entry for the film notes one 'goof': in a scene set in 1934 Bertie (then still Duke of York) refers to "Marshal Stalin". However, says IMDB, "Joseph Stalin was appointed Marshal of the Soviet Union almost 10 years later, in March 1943."
The trailer for the film is here. Hope you enjoy it as much as we did.
On reflection… Another thought. Given that it's supposed to be a true story, the film's portrayal of Winston Churchill's role in the Abdication crisis seems misleading. The impression is given that Churchill — played by a smouldering cigar ably brandished by Timothy Spall — was firmly behind Bertie and — by implication — implacably hostile to Eddie. But that wasn't the case. For example, he and Lord Beaverbrook, the newspaper proprietor, were in favour of allowing the King to put his case (for being allowed to marry Wallis) to "the people" via a radio broadcast. This idea was blocked by the Cabinet, on the grounds that it would undermine the principle of a constitutional monarchy (which is that the only body entitled to decide these matters is Parliament).