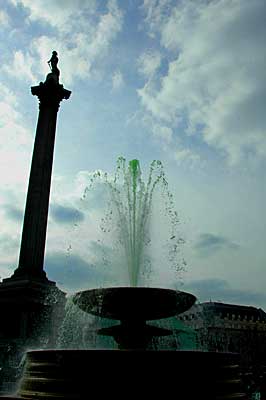 I had a text message this morning from one of my sons explaining that the water in the Trafalgar Square fountains in London was running green. (Later, he sent me the above photograph.) It turns out that Mayor Ken Livingston is celebrating St. Patrick's day a few days early (it falls on next Friday). There's a parade, a screening of Irish films at the Barbican and the Mayor hosted a big dinner last night.
How times change. We're accustomed to big celebrations of St Patrick's day in the US — where the Irish-American diaspora wields huge economic and political power. But traditionally the Brits used to look down their noses at the Irish. In my lifetime there used to be notices in English boarding houses saying "No Blacks or Irish". We supplied the manual labour that built British railways and motorways — and a good many post-war houses. Thirty years ago the idea of the city of London officially celebrating its Irish community would have provoked outrage (legitimated perhaps by IRA terrorism).
How things change. One of the ironies of Irish economic growth is the fact that English plasterers and bricklayers are now much in demand — building for my countrymen, in Ireland! Alongside Poles, Latvians, Lithuanians and others.
Later… More reports and photographs suggest a different interpretation. For example, this…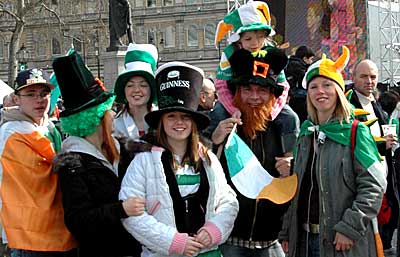 … suggests that corporate sponsorship (courtesy of that faux-Irish firm Guinness — which is in fact owned by Diageo) had a big hand in the festivities. And the idiotic get-up of other participants (Elvis O'Presley, for example) brings to mind Yeats's great rebuke to a baying mob of Dublin philistines in the Abbey Theatre: "You have disgraced yourselves — again". It's the 'again' that I love.
For more pics, see Brian's Flickr photostream.