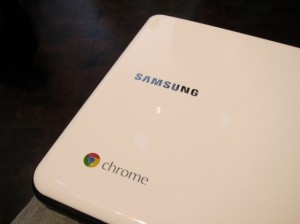 On June 15, Google launches its Chromebook netbooks. The Ubergizmo site has a useful preview of the Samsung version. Highlights include:
Thin (0.79-inch) case
12.1-inch display
HD webcam
8.5-hour battery life (for Samsung version; the Acer version has shorter battery life)
Onboard 60GB solid-state disk.

So far, so conventional. But now it diverges from the norm:
8-second boot-up time
1-second wake-up from sleep mode
Supports SD and USB mass storage
Gmail, Google calendar and Google Docs work offline ("and many third-party applications will do the same": Hmmm… The ones featured in the Google press conference didn't look too exciting).
Citric and VMware deals which will allow people to access their organisations' Windows applications remotely.
The most interesting revelation, however, had nothing to do with the hardware. Google announced a "Chromebooks for Business" deal which, for $28 per employee per month, organisations get:
Free Chromebooks, replaced/updated every three years
Web console (?)
Support
Warranty and replacement
There's also going to be a comparable deal for education – at $20/student per month.
This could be really interesting – especially as many organisations (including major UK newspapers and universities) have already gone over to Google Apps (Gmail and Docs especially).
Amazon.co.uk will be selling it
from June 15.