It's been an extraordinary day. I've been awake since 6am, and although I've been busy there hasn't been a moment when the presidential election has been out of my thoughts. This really is a hinge of history. The hopes of countless millions of people — in the US and across the world — rest on what happens in the voting booths of the US today. Of all the elections I can remember, the only two that come close in significance are the presidential election of 1960 when JFK won by a whisker, and the British General Election of 1997 when the stranglehold of Tory rule was finally broken. I have vivid memories of both contests.
In 1960 I was a precocious 14-year-old living in rural Ireland. Our household was strictly non-political, there was no television, and the radio news service was pretty rackety. But Kennedy's run for president was big news because he was (a) Catholic and (b) Irish. (We didn't know about his loathsome old man then. But we knew that his election would represent a radical break with the past. And on that count at least we were right.)
In 1997 I walked to the village hall near where we live in the UK and voted after dropping the kids at school. It was a glorious early summer day, and as I walked back I remember marvelling at the thought that all over the country millions of people were making the same fateful imprints on their ballot papers. And I remember feeling thankful that I lived in a democracy, however imperfect.
Elections like the one taking place today — which are about very stark choices — highlight how strange and intractable values are. I've been shocked to find that some people whom I have hitherto regard as civilised and intelligent are vociferous McCain supporters. I'm reminded of something Ken Tynan said many years ago after he'd been to see John Osborne's groundbreaking play Look Back in Anger. "I doubt", he wrote in the Observer, "if I could love anyone who did not wish to see Look Back in Anger." I have similar feelings about McCain/Palin enthusiasts.
I've been awestruck by the passion and commitment that the US election has generated on the Obama side. A good friend of mine has been working for the campaign as a volunteer for ages. This week she flew from her home in Seattle to Cincinatti in Ohio. Here's an excerpt from an email she sent the other day:
For the first three days, most of our canvassers were volunteers who had come from out of town to help. A delightful couple from Los Angeles, a Senate staffer from DC, a carload of 50 year old women from Kentucky. Pam, my wonderful and unflappable co-worker from San Antonio, and I canvassed with them and still had plenty of time to tally our results and report data to our Field Organizer. That all changed on Saturday. Packet pandemonium! Was 23BB still out? Who took 23N-1? We forgot to get his cell phone number! How do I record the data for Pass 2 when it looks just like Pass 1? We learned a lot. My Field Organizer (25 and tireless) told me Election Day reporting would have to be better. Words to that effect.

Today we are putting door hangers on all the doors on our walk lists. No knocking, no talking. Each door hanger has the precinct polling place printed on it. The challenge of the day will be to make sure the walk packet for 23H gets the right bundle of door hangers. A and E [my friend's daughters] got here late Saturday afternoon. They've decided I need a personal assistant and they're right. I'll take two. How lucky I am.

I got out for an hour or so of canvassing yesterday afternoon. It was summer with red and gold trees. These kids were playing football in the street. They followed me on their bikes, telling me where the doorbell was, who lived where. They asked for Obama buttons. There are none left. They said they talk about the election in school. They asked me if I work for Obama. I said I do. But really, I'm working for them.
And she attached this picture: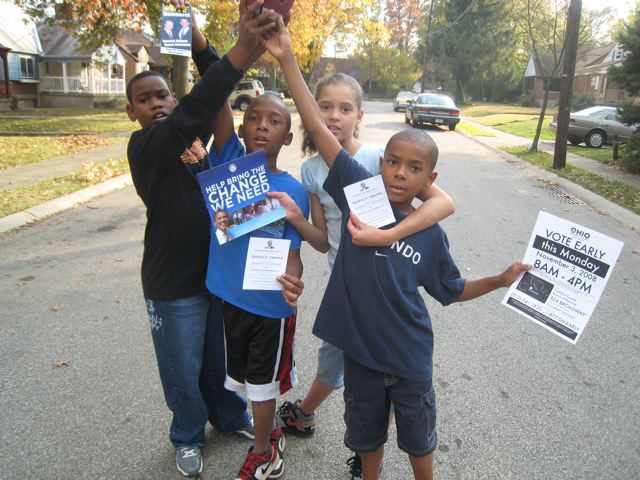 Impossible to imagine a British politician or party generating this kind of commitment. More's the pity.