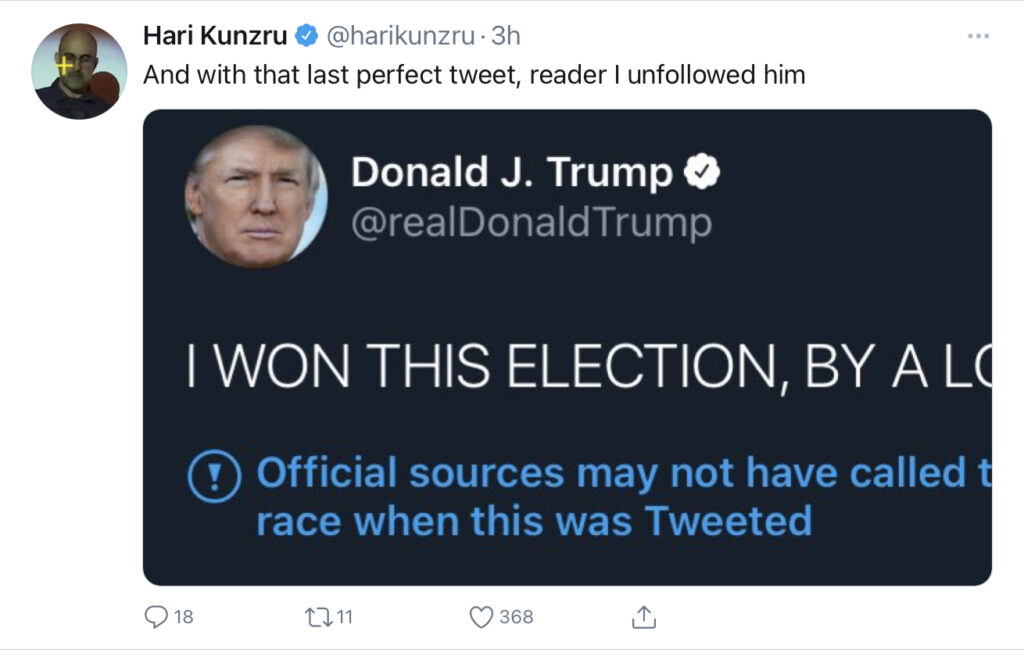 ---
Quote of the Day
"Faith may be defined briefly as an illogical belief in the occurrence of the improbable."
---
Musical alternative to the morning's radio news
Blackbird | Sharon Shannon | 2011
Nobody who's been to a Sharon Shannon concert will ever make the mistake of thinking that an accordion is merely a squeeze-box.
---
The sweet-bitter moment
Don't get me wrong: I'm delighted — and relieved — that Joe Biden won. But I'm also afraid that his Presidency might be just a brief interlude in an inexorable downhill slide towards autocracy because he'll be governing a polity that is fundamentally broken, and he will lack the levers needed to reverse the slide. It's the sheer narrowness of his win that's so alarming. 48m Americans voted for Trump. And this time they did not have the excuse that they didn't know what he was like, or what he stood for.
1 But first, the sweet side of all this. Joe Biden and I have two things in common. The first is that we both hail from the same town in Ireland — Ballina in Co Mayo although his connections go back some distance in time — to the Great Famine of the 1850s in fact. His great-great-great grandfather, Edward Blewitt, had been a surveyor who had worked on the Ordnance Survey and, during the extremes of the famine, was employed to run schemes for alleviating the plight of the poor in the district. But eventually, dismayed by the futility of the exercise, he emigrated to the US and set himself up as a land-surveyor in Scranton, Pennsylvania. He died there, 20 years after he had left Ballina. The rest is now history. (Biden was born in Scranton.)
I was born in Ballina in 1946, and lots of my extended family still live there and thereabouts. Rightly, this momentous event is largely unrecorded — unlike the birth, two years earlier, of Mary Bourke who — as Mary Robinson — became Ireland's first woman President (and who I met when Cambridge was the first university to give her an honorary degree after she became President. She and I had a very funny conversation about Ballina at a tea-party after the degree ceremony, but that's a story for another time.) So I look forward to the moment when those two Presidents — one former, the other new, finally get to meet.
The other thing we have in common is that we both love the poetry of Seamus Heaney. During the campaign, Biden remembered the appositeness of Heaney's great poem, The Cure at Troy. Here's a snatch of him reading from it:
2 Now the bitter side. Unless something unexpected happens — for example, the Democrats managing to scrape a majority together in the Senate — Biden will be completely hamstrung by Mitch McConnell. Not a single piece of significant legislation will make it onto the Statute Book. It will be like Obama all over again — although the mood music will be very different.
But the most worrying thing is the number of people who voted for Trump, and what they might represent for the future.
---
Robert Fisk (RIP): Meeting Osama bin Laden
A nice reminder of a great journalist:
One hot evening in late June 1996, the telephone on my desk in Beirut rang with one of the more extraordinary messages I was to receive as a foreign correspondent. "Mr Robert, a friend you met in Sudan wants to see you," said a voice in English but with an Arabic accent. At first I thought he meant another man, whose name I suggested. "No, no, Mr Robert, I mean the man you interviewed. Do you understand?" Yes, I understood. And where could I meet this man? "The place where he is now," came the reply. I knew that Bin Laden was rumoured to have returned to Afghanistan but there was no confirmation of this. So how do I reach him? I asked. "Go to Jalalabad – you will be contacted."

A month later. "CLACK-CLACK-CLACK." It was as if someone was attacking my head with an ice-pick. "CLACK-CLACK-CLACK-CLACK-CLACK-CLACK-CLACK." I sat up. Someone was banging a set of car keys against the window of my room in the Spinghar Hotel. "Misssster Robert," a voice whispered urgently. "Misssster Robert." He hissed the word "Mister." Yes, yes, I'm here. "Please come downstairs, there is someone to see you." It registered only slowly that the man must have climbed the ancient fire escape to reach the window of my room. I dressed, grabbed a coat – I had a feeling we might travel in the night – and almost forgot my old Nikon. I walked as calmly as I could past the reception desk and out into the early afternoon heat…
Great read.
---
Fox News to Trump: "You're fired!"
Nice column by Jack Shafer.
The fractures were there from the start. Trump insisted on wearing the pants in the family, and when supplication didn't flow from Fox News Channel he would make eyes at OAN and Newsmax, which rankled Murdoch. Trump also demands loyalty for the pleasure of his intimacies, and Murdoch couldn't abide. He has famously called Trump a "phony" and "fucking idiot," and as early as the summer of 2017 was not deterring his many journalistic outlets from sniping at Trump and his family. One of the biggest anti-Trump stories, about the president's mistresses, was broken by Murdoch's Wall Street Journal, and Fox's Chris Wallace bedeviled the president during the reelection campaign with a slashing interview.

The final cause for separation, if you want to call it that, came on Election Night, when Fox became the first to call Arizona for Joe Biden, the New York Times reported, prompting Jared Kushner to contact Rupert Murdoch and a Trump aide to demand a retraction. For the Trump team, this had to be a bigger betrayal than finding Rupert in bed with Bernie Sanders. As liberals blinked hard in astonishment and began discovering a sudden, unfamiliar respect for Fox over its projection, there wasn't much marriage left to save. Trump and Fox had only the details of the split to resolve.
Trump was useful to Murdoch and Fox for a while. Now he isn't.
---
The 'Crown Consultancy' idea: stop outsourcing thinking
From the FT…
Boris Johnson's government is quietly working on creating its own in-house consultancy arm — dubbed "Crown Consultancy" — to cut its dependence on high-charging private sector firms.

The idea, driven by efficiency minister Theodore Agnew and championed by Downing Street adviser Dominic Cummings, would bring bright civil servants and graduates together in a new division to improve delivering policies across Whitehall.

There's a lot of reliance on consultancies," said one official close to the project. "It would be sensible to look at what we can do internally, rather than externally."
There have long been concerns over the spiralling costs spent on consultants by the government. According to the research firm Tussell the UK government spent £2.6bn on just eight consultancies between 2016 and 2020. These were: the UK firms PwC, KPMG, Deloitte, EY and PA Consulting; the US firms McKinsey, Bain, and Boston Consulting Group. Once, when I was working on a small consultancy gig in Whitehall, I was in the same office as a group of 'consultants' from one of the big firms. They had been drafted in at short notice because one of the Department's junior ministers was pathologically unable to sign off any proposal unless he could cover his ass by having it vetted beforehand by one of the big consulting firms. They sent in a bunch of fresh-faced graduates who seemed to know very little about government. These kids beavered away for a week, mostly just interviewing the civil servants involved in the decision, and then wrote up the interviews into a 'report' (no doubt accompanied by a slide deck). They were billed at £2,500 per day, which in those days was real money. The whole thing was clearly an established kind of racket: the firms were security blankets for ministers — and, sometimes, for civil servants. For the firms, the government was the gift that kept on giving.
The FT piece has a nice quote, which rings true to me:
Lord Agnew, a former businessman now based in the Cabinet Office, last month claimed in a leaked letter that Whitehall had been "infantilised" by "an unacceptable" reliance on expensive consultants.
Precisely. This is just about the only thing on which Dominic Cummings and I agree.
---
The gig economy is here to stay. Now let's humanise it
This morning's Observer column.
the gig economy might provide a useful case study. At the moment, most of the challenges to platform-based enterprises such as Uber and Deliveroo have involved trying to shoehorn them into legal frameworks that were designed for a pre-platform age. This is a piecemeal approach that has so far produced erratic results. In February, for example, a French court ruled that a Deliveroo courier should be treated as an employee rather than a contractor. In September, Spain's supreme court made a similar ruling about another delivery startup, Glovo, after lower courts had made a series of contradictory rulings.

We can't go on like this. A better way of thinking about it would be to recognise that we're in a position analogous to that of Britain in the 1830s and 1840s when parliament passed the Factory Acts to regulate the conditions of novel kinds of employment as the Industrial Revolution roared ahead. The Factories Act of 1847, for example, colloquially known as the 10 Hours Act, met a long-standing demand by mill workers for a 10-hour day. Other legislation regulated the use of child labour and other practices.

We need that kind of comprehensive approach to the gig economy because, as other kinds of employment get automated away, it will be what provides employment for an increasing number of people (just as the factories of industrialising Britain provided jobs for people coming off the land)…
---
Other, possibly interesting, links
Books to read in lockdown. From the Irish Times Link
QAnon Followers Frustrated After Q Calls For Respecting Election Results, Uniting Behind Biden. Yes, you read that correctly. But remember, it's from The Onion. Link.
---
This blog is also available as a daily email. If you think this might suit you better, why not subscribe? One email a day, delivered to your inbox at 7am UK time. It's free, and there's a one-click unsubscribe if your decide that your inbox is full enough already!
---