Family Outing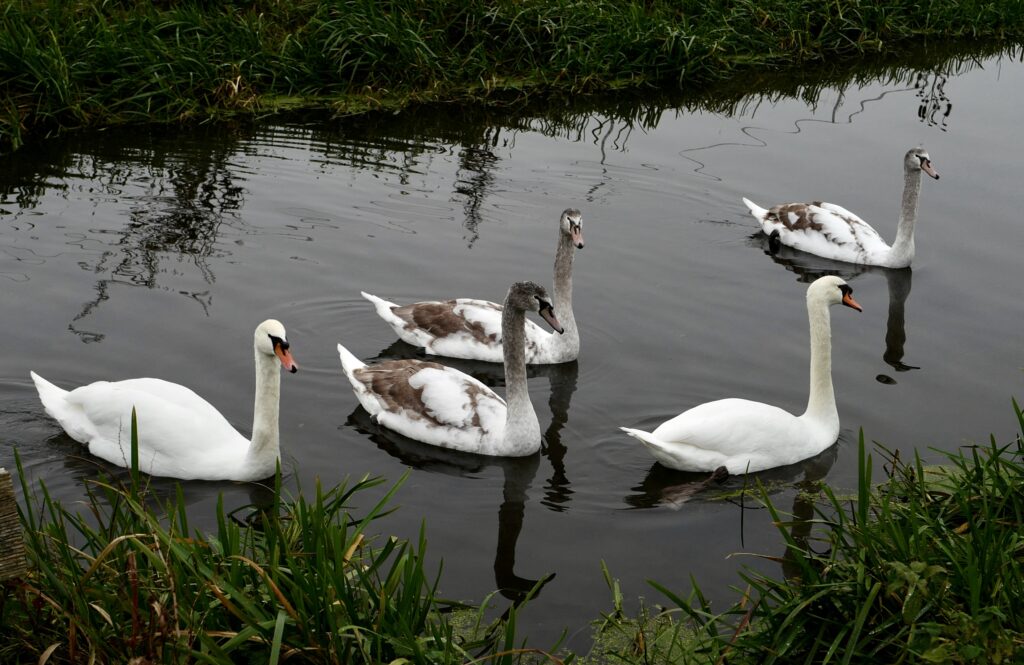 Seen on our morning walk today.
---
100 Not Out! — my lockdown diary — is out on Kindle. Link
---
Quote of the Day
"The members of our secret service have apparently spent so much time looking under the bed for Communists that they haven't had time to look in the bed."
Michael Foot, on the Profumo affair, 1963.
---
The unsuitable lockdown
Looking in the wardrobe this morning for a shirt I suddenly realised that I haven't worn a suit — or a jacket — for nine months. And I began to wonder if I will ever wear one again. I guess the answer is yes, but only if and when the University gets back to some kind of normality.
I always disliked wearing a suit until one of my colleagues who had been in the Navy suggested a way of dealing with the phobia. Think of it as your dress uniform, he said. After all, sometimes he'd had to put on his full uniform, medals, gold braid, scrambled egg cap, etc. But most of the time it had rested in his wardrobe in a moth-proof wrapper.
So to try and cheer myself up after my beloved Sue died in 2002 I decided to tackle the suit phobia and had one made by a very fancy London tailor. It cost an arm and a leg, but the uncanny thing was that when it was finished and I put it on it felt like something I had worn for years. And so I actually came to enjoy wearing it. It became my 'uniform', as it were. So I guess I will eventually get to wear it again occasionally — after I've got my vaccination certificate, perhaps.
Until then, residing in Zoomland, the dress code will continue to be sweaters and jeans.
Interestingly, few weeks ago David (Lord) Sainsbury, who is the Chancellor of the University, spoke at a Bennett Institute Webinar from his home. And he was in an open-necked shirt and a sweater. Bet he won't be dressed like that in person, though.
---
Musical alternative to the morning's radio news
Padraig McGovern & Peter Carberry | The road to town and other reels
---
Long view of the Day
Not a long read today but a long view. "A Yorkshire Lad in LA" — Edward Saywell's terrific lecture on the life and work of my favourite artist: David Hockney.
It's an hour and a half but worth every minute.
---
For the sake of democracy, social media giants must pay newspapers
My Observer column in this morning's paper:
One of the consequences of the rise of social media is that whatever public sphere we once had is now distorted and polluted by being forced through four narrow apertures called Google, YouTube, Facebook and Twitter, services in which almost everything that people see, read or hear is curated by algorithms designed solely to increase the profitability of their owners.

One sees the effects of this transformation of the public sphere at all levels, but one of the most disturbing is in the decline of local newspapers. In many regions of democratic states what goes on in the courts, council chambers, planning committees, chambers of commerce, trade union branches, community centres, sports clubs, churches and schools now goes unreported because local newspapers have gone bust or shrunk to shadows of their former selves. Citizens of most UK towns and cities now have much less information about what's happening in their localities than their grandparents did, no matter how assiduously they check their Facebook or Twitter feeds. And the quality of local democratic discourse has been accordingly impaired.

The tech companies are not wholly to blame for these changes of course. But they have played a significant role in undermining the institutions whose business model they vaporised. Looked at from that perspective, it seems wholly reasonable that societies should require social media companies to contribute to the support of news organisations that democracies require for their functioning and survival.
Do read the whole thing.
---
'Why did it take nine hours to go 130 miles in our new electric Porsche?'
Cautionary tale of a couple who have a beautiful new Porsche Taycan EV but discovered that they were at the mercy of the UK's ramshackle public charging network.
A couple from Kent have described how it took them more than nine hours to drive 130 miles home from Bournemouth as they struggled to find a working charger capable of producing enough power to their electric car.

Linda Barnes and her husband had to visit six charging stations as one after another they were either out of order, already had a queue or were the slow, older versions that would never be able to provide a fast enough charge in the time.

While the couple seem to have been "incredibly unlucky", according to the president of the AA, Edmund King, their case highlights some of the problems that need ironing out before electric car owners can rely on the UK's charging infrastructure.
When they finally got to a working fast charger at a motorway services station – via two more that were not operating – they were met with eight shiny Tesla chargers but discovered they were out of bounds because they are only available to the brand's owners. Fortunately there was another non-Tesla fast charger that was available at the station and they were finally able to get enough power to get home with only 11% battery power to spare.
The really surprising thing about this (to me, anyway) is that the Porsche has such a short range.
---
Other, hopefully interesting, links
It seems that the Fakhrizadeh assassination was carried out by remote control. Link

KFC Rolls Out Self-Driving 5G 'Chicken Trucks' in China. Allegedly the result of a partnership between a Chinese tech startup, Neolix, and Yum Brands, which owns KFC. *Link

In other news: our galaxy is being slowly 'Pulled' Apart by a neighbouring galaxy. The Milky Way is being slowly twisted and deformed by the gravitational force of a neighbouring satellite galaxy, the Large Magellanic Cloud. Link
---
This blog is also available as a daily email. If you think this might suit you better, why not subscribe? One email a day, delivered to your inbox at 7am UK time. It's free, and there's a one-click unsubscribe if your decide that your inbox is full enough already!
---