Keeping one's hat on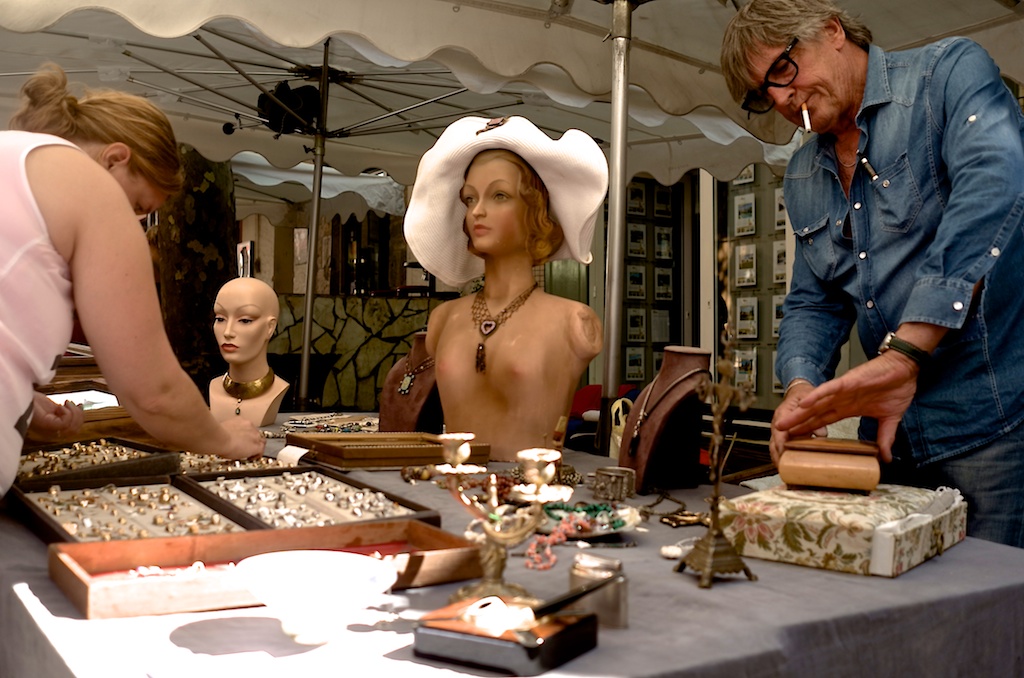 Seen in a Provencal market a few summers ago.
---
Quote of the Day
"It's a funny kind of month, October. For the really keen cricket fan, it's when you realise that your wife left you in May."
Golf widows, take heart: you are not alone.
---
Musical replacement for the morning's radio news
Ry Cooder & David Lindley. New Orleans Jazz & Heritage Festival
Whenever Cooder and Lindley get together, expect fireworks.
---
We need a new Walt Whitman to imagine a virtual public space
This morning's Observer column:
Pariser's new essay was prompted by reflecting on the Fort Greene Park in Brooklyn, where he lives, a 30-acre square of elms, winding paths, playgrounds and monuments. The park serves, he writes, "as an early morning romper room, midday meeting point, festival ground and farm stand. There are house music dance parties, soccer games during which you can hear cursing in at least five languages and, of course, the world famous Great Pumpkin Halloween Dog Costume contest." Most importantly, though, it allows very different people to gather and coexist in the same space. "When it's all working," he says, "Fort Greene Park can feel like an ode to pluralistic democracy itself."

The nicest thing about his essay is its historic sensibility. In 1846, Walt Whitman envisioned Fort Greene Park to serve that democratic purpose. New York City had no public parks at the time, only walled commercial pleasure gardens for the wealthy. Whitman, then editor of the Brooklyn Eagle, campaigned for a space that would accommodate everyone, especially the working-class immigrants crowded into shantytowns along nearby Myrtle Avenue. And he succeeded.

When the internet arrived, many of us thought it would provide a virtual space that would be like Whitman's concept, except on a global scale… Read on
---
The United States: An "Oligarchy With Unlimited Political Bribery"
In an interview reported in Rolling Stone, Jimmy Carter, the 39th President, described the US now as "an oligarchy with unlimited political bribery" resulting in "nominations for president or to elect the president."
It all goes back, he said to the 2010 judgment by the US Supreme Court in the Citizens United case to eliminate limits on campaign donations, a ruling that, in Carter's view, "violates the essence of what made America a great country in its political system."
He's right. According to the (rather good) Wikipedia entry for the judgment,
The Court held that the free speech clause of the First Amendment prohibits the government from restricting independent expenditures for political communications by corporations, including nonprofit corporations, labor unions, and other associations.

The case arose after Citizens United, a conservative non-profit organization, sought to air and advertise a film critical of Democratic presidential candidate Hillary Clinton shortly before the 2008 Democratic primary elections. This would have been a violation of the 2002 Bipartisan Campaign Reform Act, which prohibited any corporation or labor union from making an "electioneering communication" within 30 days of a primary or 60 days of an election, or making any expenditure advocating the election or defeat of a candidate at any time".
The ruling effectively freed organisations like corporations to spend unlimited amounts of money on electioneering communications and to directly campaign for the election or defeat of candidates. In practice it's what enabled the flood of billions of dollars from right-wing billionaires into US politics. It effectively perverts the First Amendment to give the right of free speech to corporations. As one of the dissenting justices, John Paul Stevens, argued, the ruling represented "a rejection of the common sense of the American people, who have recognized a need to prevent corporations from undermining self government."
Carter's dramatic way of describing the result of that epochal decision highlights what I was trying to say yesterday about the significance of controlling the Supreme Court. The Republican party in the US is doomed in the long run by demographic trends. It's tried to stem the tide and hold off the inevitable by massive local gerrymandering, voter suppression and other means, but in the long run the electoral game is up for them. Given the polarisation of the country, though, Congressional deadlock and inertia can be prolonged for a long time, which means that the importance of the Court in US governance will inevitably increase.
Mitch McConnell, the Majority Leader in the Senate, understands that very well — which is why he sanctimoniously refused Confirmation hearings for Obama's candidate in 2016 because it was the final year of his term — and also why he is now racing to confirm Trump's current nominee, thereby contradicting the 'principled' stand he took in 2016. McConnell is playing a long game. His intended outcome is that, even as the Republican party fades electorally, the US will continue for decades to be governed by conservative values — through the Supreme Court that he has fashioned with Trump's assistance.
The relationship between Trump and McConnell been a symbiotic one all along; but in the end Trump needs McConnell more than the other way round. Once he gets Barrett in place, McConnell has no further need for Trump. He's probably much more worried about losing control of the Senate, because if Biden wins but the Republicans keep the Senate, then it'll be like Obama all over again: a president full of ideas, but little power to make anything happen.
On the other hand, if Biden wins and the Democrats do get control the Senate, then things could get interesting — even for ye olde Supreme Court.
---
Mark Elliot's testimony to the House of Lords on the Internal Market Bill.
Mark Elliott is Professor of Public Law in Cambridge and a terrific blogger with over 30,000 readers. Recently, he gave evidence to the Constitution Committee, which has been holding hearings on the Johnson government's manifesto for breaking international law. Here's an extract from his evidence (with emphases in bold from me).
First, the Bill, if enacted in its current form, would supply Ministers with legal powers to make regulations in breach of the UK's binding obligations under the EU Withdrawal Agreement and the associated Northern Ireland Protocol. Unlike some of the examples, put forward by Sir Stephen, of other pieces of domestic legislation that have been found to breach international law, the Internal Market Bill is drafted with the clear and specific intent of doing so. I argued that this amounts to a significant distinguishing feature of the Bill and that it correspondingly gives rise to particularly profound rule of law-based concerns. I also argued that the fact that UK legislation may occasionally be found to have breached international law is nothing to the point, given that past, and generally incidental or unintended, wrongdoing is no justification whatever for further such wrongdoing. The wrongheadedness of the contrary view becomes immediately apparent when we recall that the UK Government is frequently found, in judicial review proceedings, to have breached domestic law: the fact that such breaches occur does not, however, give the Government licence to commit further such breaches or justify treating such breaches with equanimity. By the same token, prior examples of UK legislation that may have breached international law does not provide any justification for the enactment of further such legislation that has the clear and specific purpose of facilitating such a breach.

Second, I argued that the Bill is incompatible with the rule of law because it appears to attempt to exclude judicial review of ministerial regulations made in breach of the EU Withdrawal Agreement and the Northern Ireland Protocol. The oversight of government action, including the making of secondary legislation, by independent courts is an axiomatic feature of the rue of law. It follows that precluding judicial review is incompatible with the rule of law and is thus an assault on basic constitutional principle…
---
Colliding epidemics' fears spur campaign to ramp up flu vaccinations
From the Financial Times — probably behind a paywall, so this is the gist…
Efforts to increase influenza vaccination rates to prevent "colliding epidemics" are being hampered by a limited supply, as manufacturers struggle to meet demand.

Germany has ordered 26m flu vaccines ahead of the European winter, with health minister Jens Spahn saying the country had "never had so many". The UK government said it aimed to vaccinate 30m people this year, more than double the 2019 figure.

However, manufacturers say they have been unable to meet the increased demand at such short notice. Seqirus, one of the top three flu jab producers globally, along with Sanofi and GlaxoSmithKline, estimated that global production had only increased by 1-2 per cent.

"If we get an overlap of Sars-Cov-2 [the virus responsible for Covid-19] and influenza, that could be a disaster," said Rebecca Jane Cox, professor of medical virology at University of Bergen. "The question will be how hard the northern hemisphere is going to be hit by the flu now."
---
Other possibly interesting links…
Time to unscrew subscriptions — Doc Searls Weblog Doc is one of the Elder Statesmen of the Web and always good value. Oh — and if you follow the link, FUBAR means "Fucked Up Beyond All Recognition" — which is quite a good description of most online magazine subscription systems.

Computer game by Cambridge psychologists 'pre-bunks' COVID-19 conspiracies as part of the UK government's fight against fake news — Link. Basically, it's an attempt to cognitively inoculate kids against fake news.

The MySpace moral panic — First Monday. Peer-reviewed paper. Old story, but still interesting.
---
This blog is also available as a daily email. If you think this might suit you better, why not subscribe? One email a day, delivered to your inbox at 7am UK time. It's free, and there's a one-click unsubscribe if you decide that your inbox is full enough already!
---