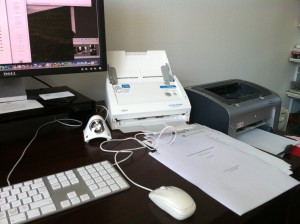 I'm an early adopter of gadgets, which means two things: on the one hand I'm poorer than I should be because I fritter cash on experimental gadgets; on the other hand, I have a hard-earned scepticism of the utility of gadgets. And what I've found is that few devices have the long-term utility of, say, the Swiss Army knife.
But here's a gadget that has really justified its existence: a Fujitsu ScanSnap scanner. It just swallows paper and converts it into instantly into pdf files. This one (the S510M) is currently swallowing the vast archive of transcripts, notes and other documents which went into the writing of my history of the Internet
. In the process the contents of about ten archive boxes of paper are being compressed into a folder on a hard disk (and, needless to say, into several copies of same folder on remote drives).
I got it originally because a colleague lost one of his Moleskine notebooks and realised that it was the one thing he possessed of which he didn't have a back-up copy. One way of backing up a paper notebook is to feed it to a scanner. But which scanner? It was at that point that we discovered the ScanSnap. It wasn't cheap, but it has more than justified its price. The one in the photograph has been running since 2009 and it's one of the best devices I ever bought. The current model is the S1500M
.