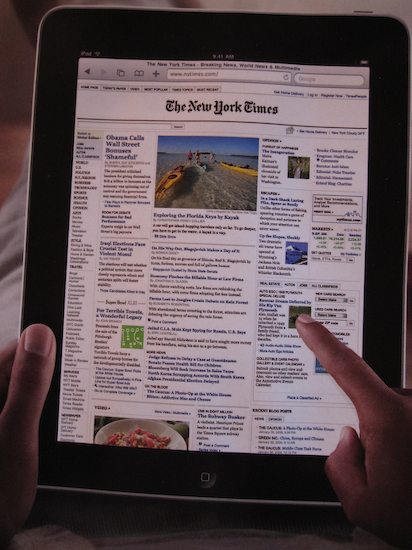 Hmmm… I've been wondering about this, ever since noticing that many of the publicity pics for the iPad (see above, from the back cover of the current New Yorker) feature the NYT. But Dan Gillmor nails it, as usual.
It's been more than a week since I asked a number of news organizations, chiefly the New York Times, to answer a few questions about their relationships with Apple. Specifically, I asked the Times to discuss what has become at least the appearance of a conflict of interest: Apple's incessant promotion of the newspaper in pictures of its new iPad and highlighting of the Times' plans to make the iPad a key platform for the news organization's journalism, combined with the paper's relentlessly positive coverage of the device in news columns.

In addition, I asked the Times, the Wall Street Journal and USA Today — following up on a February posting when I asked why news organizations were running into the arms of a control-freakish company — to respond to a simple question: Can Apple unilaterally disable their iPad apps if Apple decides, for any reason, that it doesn't like the content they're distributing? Apple has done this with many other companies' apps and holds absolute power over what appears and doesn't appear via its app system.

Who responded? No one. Not even a "No comment." This is disappointing if (sadly) unsurprising, but in light of other news this week it's downright wrong.