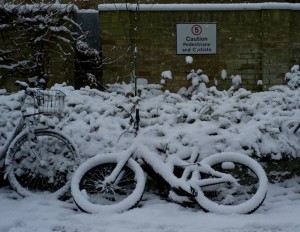 It's snowing — for the first time in years. The world is suddenly white — and quiet. Rush-hour traffic through the village has virtually disappeared. The children's schools are closed for the day. (Yes, it's Britain.) Looking out of the window late last night I was suddenly transported back to the 1970s, when a friend and I were driving back from Vienna and had left the city rather late — certainly too late to make it to Munich. As night came on it began to snow heavily and we left the autobahn and went looking for a village. We came on a small hamlet with an inn straight out of a fairy tale. Funny gothic lettering on the front, golden light spilling out through its windows. We parked and went in. It was warm, bright, hospitable. A few villagers were drinking and talking. We asked if we could have a room for the night, and an evening meal. Of course. We ate quietly (Weiner schnitzel, naturlich, washed down with beer) and turned in for the night, sleeping soundly under warm duvets covered in white covers.
In the morning, everything was eerily quiet. We had breakfast and then took our bags out to the car. The snow was up to the top of the tyres. But on the roads life went on. Business as usual (unlike Britain). We examined the map and found that we were near Berchtesgaden. "Let's go and see where Hitler's house was", said my companion. We set off. It had stopped snowing. The road became steeper. About half-way up we passed a huge building that looked a bit like a country club. A sign proclaimed it as a US Forces R&R centre. My friend (who had been a Vietnam war draft dodger and hated everything American) made a rude gesture and shouted some obscenities out of the window.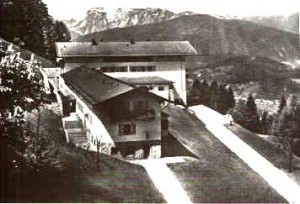 Eventually we reached Obersalzburg, the spot where the Berghof — Hitler's mountain retreat with the famous balcony — had stood. It was now just a cleared area with some remains of buildings — and a hut selling souvenirs. But the stupendous vista of the mountains remained. A party of middle-aged Germans arrived in a coach. They had a tour guide, who took them round the site, pausing from time to time at particular locations and speaking to them in a serious tone of voice. They listened intently. My companion opined that they were listening not just intently but reverently. He went very quiet. And all the way home — through Germany and past all the US bases that then littered the countryside — he never again uttered an anti-American sentiment.