The last Hollyhock of Summer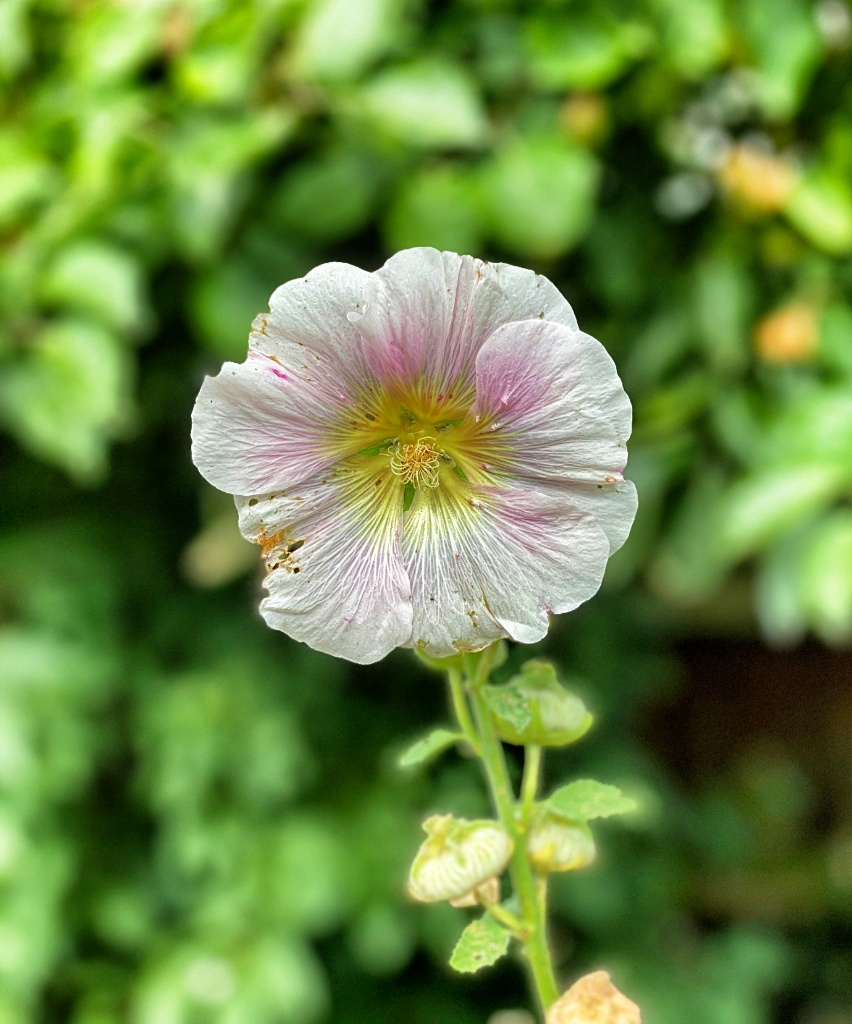 In the garden, this morning.
---
Quote of the Day
"If this is dying, then I don't think much of it."
Lytton Strachey's last words (reportedly). Possibly apocryphal and too good to check.
In that sense, a bit like Oscar Wilde's supposed last words: "Either that wallpaper goes, or I do".
---
Musical alternative to the morning's radio news
Norah Jones | Patience
Another one of her lockdown concerts from home.
---
The loss of public goods to tech companies
Good essay in Noema by Safiya Noble…
The world's largest tech companies have become propagators of deadly information, while they simultaneously profit from it. They have long treated the world as their private research lab while off-loading risk onto the public and refusing to be held accountable for their business practices.

the past 30 years, Silicon Valley has skimmed the cream from our public systems, while putting the stability and longevity of public goods at stake for the rest of us. Big Tech relies on federal tax subsidies and public grants from federal agencies to fund expensive research and uses entitlements to push low-income communities out of their neighborhoods as they expand their headquarters and geographic footprints.

Big Tech uses our roads, our airports, our post offices — and rather than help prop up the system to work in the interest of all, the industry eschews responsibility and creates housing and employment crises by relying on gig-workers and contractors, effectively reducing the number of workers in the tech workforce eligible for employer-based healthcare. Big Tech fails to hire African Americans in high-paying jobs, and it actively suppresses wages for women and other people of color, especially Black women, who continue to make significantly less than men. It benefits from talent nurtured in public school systems and cherry-picks researchers favorable to its interests, without investing in the public infrastructure that enables those skills to develop. What we get back is an ecosystem of workers who can't afford to live or pay rent, or experience homelessness, in wealthy tech corridors.
---
On Witness and Respair: A Personal Tragedy Followed by Pandemic
Extraordinary, deeply moving essay by novelist Jesmyn Ward on losing her husband to Covid.
Here's how it begins:
My Beloved died in January. He was a foot taller than me and had large, beautiful dark eyes and dexterous, kind hands. He fixed me breakfast and pots of loose-leaf tea every morning. He cried at both of our children's births, silently, tears glazing his face. Before I drove our children to school in the pale dawn light, he would put both hands on the top of his head and dance in the driveway to make the kids laugh. He was funny, quick-witted, and could inspire the kind of laughter that cramped my whole torso. Last fall, he decided it would be best for him and our family if he went back to school. His primary job in our household was to shore us up, to take care of the children, to be a househusband. He traveled with me often on business trips, carried our children in the back of lecture halls, watchful and quietly proud as I spoke to audiences, as I met readers and shook hands and signed books. He indulged my penchant for Christmas movies, for meandering trips through museums, even though he would have much preferred to be in a stadium somewhere, watching football. One of my favorite places in the world was beside him, under his warm arm, the color of deep, dark river water…
Read it. And understand what's happening to the United States.
---
Obituaries of David Graeber
In the Guardian:
Tom Penn, Graeber's editor at Penguin Random House, said the publishing house was "devastated" and called Graeber "a true radical, a pioneer in everything that he did".

"David's inspirational work has changed and shaped the way people understand the world. In his books, his constant, questing curiosity, his wry, sharp-eyed provoking of received nostrums shine through. So too, above all, does his unique ability to imagine a better world, borne out of his own deep and abiding humanity," Penn said. "We are deeply honoured to be his publisher, and we will all miss him: his kindness, his warmth, his wisdom, his friendship. His loss is incalculable, but his legacy is immense. His work and his spirit will live on."
New York Times obit is here
Washington Post obit is here
---
Why you should always take 5-star reviews on Amazon with a pinch of salt
Great piece of investigative reporting by the Financial Times:
Amazon has deleted approximately 20,000 product reviews, written by seven of its top 10 UK reviewers, following a Financial Times investigation into suspicious activity.

The FT found evidence the users were profiting from posting thousands of five-star ratings.

Those who had their reviews deleted included Justin Fryer, the number one-ranked reviewer on Amazon.co.uk, who in August alone reviewed £15,000 worth of products, from smartphones to electric scooters to gym equipment, giving his five-star approval on average once every four hours.

Overwhelmingly, those products were from little-known Chinese brands, who often offer to send reviewers products for free in return for positive posts. Mr Fryer then appears to have sold many of the goods on eBay, making nearly £20,000 since June
The most useful reviews are generally the ones that tell you what's wrong with a product.
---
This blog is also available as a daily email. If you think this might suit you better, why not subscribe? One email a day, delivered to your inbox at 7am UK time. It's free, and there's a one-click unsubscribe if your decide that your inbox is full enough already!
---