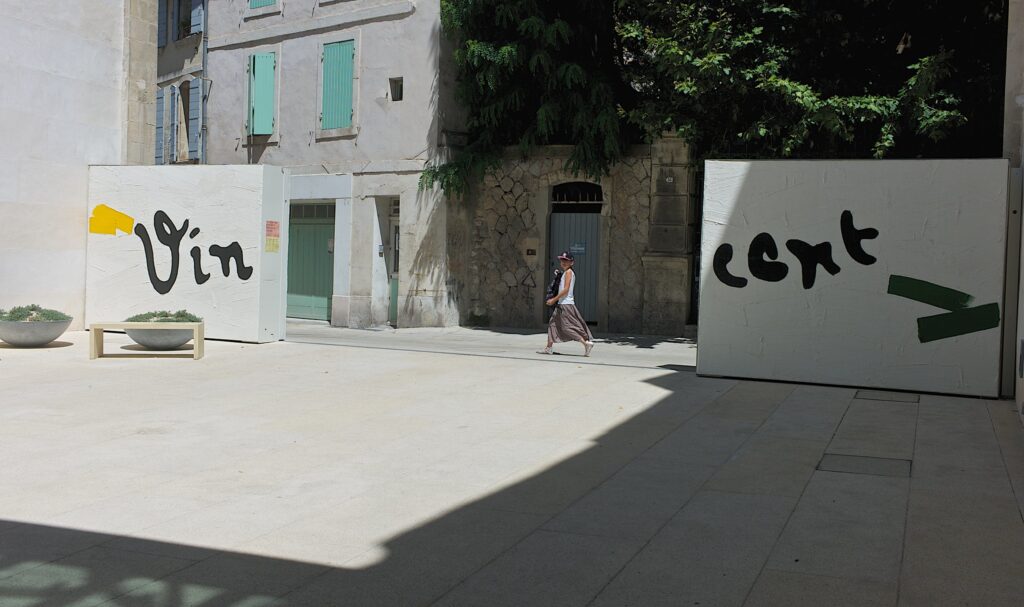 The open gates of the Van Gogh Foundation in Arles
---
Quote of the Day
"Well, it's about everything in particular, isn't it?
Muriel Spark, on Proust's À la recherche du temps perdu.
---
Musical alternative to the morning's radio news
Hope Sandoval & The Warm Inventions | The Peasant
She was new to me. Thanks to John Darch for the suggestion.
---
Cory Doctorow with Edward Snowden and William Gibson
Earlier this month, Cory Doctorow hosted two interesting book launches — one for the young readers' edition of Edward Snowden's memoir, Permanent Record, the other for the paperback edition of William Gibson's novel, Agency.
The videos of both events are now online — Snowden's here and Gibson's here.
They're about an hour long each, but I enjoyed both, not only because Snowden and Gibson are both fascinating individuals but also because Cory is a great interlocutor.
---
Uber: drivers are workers!
From The Guardian: This is big news. The UK supreme court yesterday dismissed Uber's appeal against an employment tribunal ruling that its drivers should be classed as workers with access to the minimum wage and paid holidays.
Six justices handed down an unanimous decision backing the October 2016 employment tribunal ruling that could land Uber with a big compensation pay out and lead to better terms for millions of workers in the gig economy.

Uber, like many delivery and courier companies, has argued that its drivers are independent self-employed "partners" not entitled to basic rights enjoyed by workers, which include the legally enforceable minimum hourly wage and a workplace pension.

But the supreme court said any attempt by organisations to draft artificial contracts intended to side-step basic employment protections were void and unenforceable.

The judges criticised the controversial contracts Uber asked their drivers to sign, saying they "can be seen to have as their object precluding a driver from claiming rights conferred on workers by the applicable legislation".

The court concluded that the drivers were workers because of Uber's level of control over them, including setting fares and not informing them of a passenger's destination until they were picked up.
The judgment says that Uber must consider drivers as workers from the time they log on to the app until they log off. It's important to remember that workers have more rights than 'independent 'contractors but fewer than employees, who are entitled to maternity pay and can challenge unfair dismissal, for example. But still, this is great news.
---
Inside Timnit Gebru's last days at Google | MIT Technology Review
Amazing and sobering interview with the black researcher who was co-leader of Google's Ethical AI team and was forced out because of a critique of the technology that she co-authored with an external researcher.
If you want to know what working inside one of these Silicon Valley firms is really like if you're not a young, white techbro then this is an eye-opener.
There was so much talk about diversity and inclusion, but so much hypocrisy. I'm one of 1.6% Black women at Google. In Google Research, it's not 1.6%—it's way lower. I was definitely the first Black woman to be a research scientist at Google. After me, we got two more Black women. That's, like, out of so many research scientists. Hundreds and hundreds. Three out of God knows how many.

So at some point I was just like, you know what? I don't even want to talk about diversity. It's just exhausting. They want to have meetings with you, they don't listen to you, and then they want to have meetings with you again. I've written a million documents about a million diversity-related things—about racial literacy and machine learning (ML), ML fairness initiatives, about retention of women, and the issues. So many documents and so many emails.

So it's just been one thing after another. There's not been a single vacation I took inside Google where I wasn't in the middle of some issue or another. It's just never been peace of mind. Imagine somebody's shooting at you with a gun and you're screaming. And instead of trying to stop the person who's shooting at you with a gun, they're trying to stop you from screaming. That's how it felt. It was just so painful to be in that position over and over and over again.
Very revealing. I can't understand why people still valorise these outfits.
There's an audio version of the interview here.
---
Other, hopefully interesting, links
A map of every building in the Netherlands showing its age. Astonishing. Link
Bookfeed.io — a simple tool that allows you to specify a list of authors, and generates an RSS feed with each author's most recently released book. Neat. And you don't have to be a schmuck advised by recommender algorithms. Link
---
This blog is also available as a daily email. If you think this might suit you better, why not subscribe? One email a day, delivered to your inbox at 7am UK time. It's free, and there's a one-click unsubscribe if you decide that your inbox is full enough already!
---