Tulip mania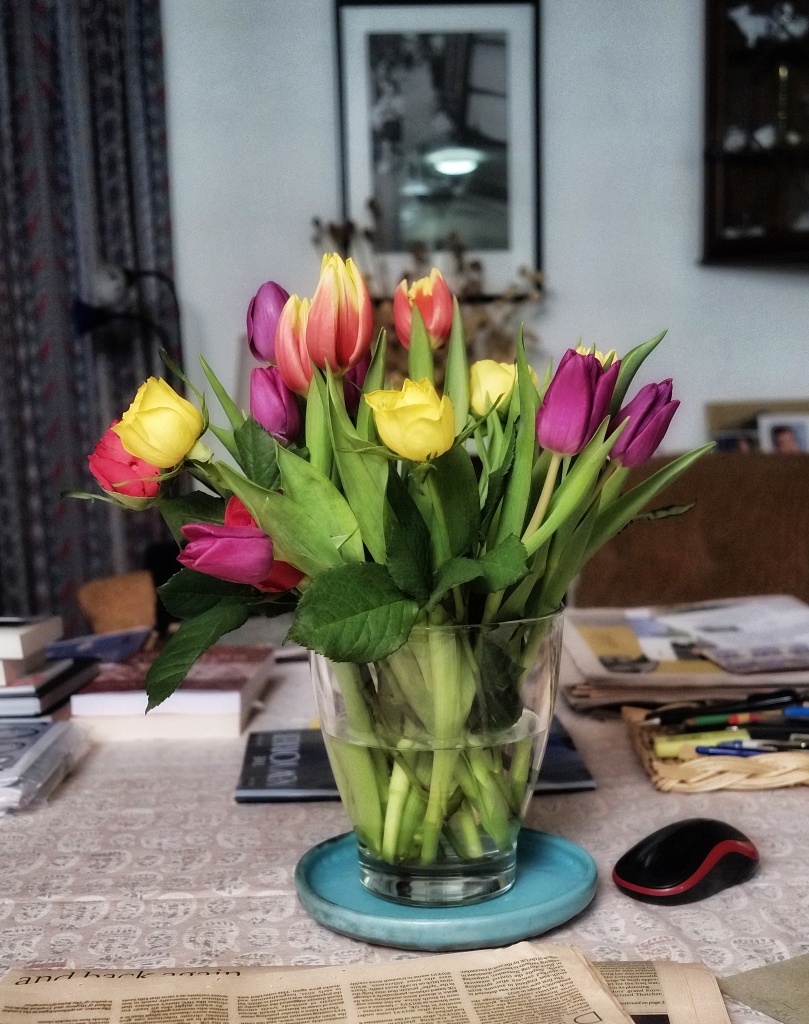 This was an experiment. Shot with an iPhone6 using the DxO add-on camera, which has the same sensor as my Sony RX100 IV.
---
Quote of the Day
"The principal task of civilisation, its actual raison d'etre, is to defend us against nature."
Sigmund Freud in his Introductory Lectures.
Yeah. And the virus shows that we're making a pig's ear of it.
---
Musical alternative to the morning's radio news
Eric Clapton & Mark Knopfler | Same old blues
---
The flight from WhatsApp
Not surprisingly, Signal has been staggering under the load of refugees from WhatsApp following Facebook's ultimatum about sharing their data with other companies in its group. According to data from Sensor Tower Signal was downloaded 8.8m times worldwide in the week after the WhatsApp changes were first announced on January 4. Compare that with 246,000 downloads the week before and you get some idea of the step-change. I guess the tweet — "Use Signal" — from Elon Musk on January 7 probably also added a spike.
In contrast, WhatsApp downloads during the period showed the reverse pattern — 9.7m downloads in the week after the announcement, compared with 11.3m before, a 14 per cent decrease.
This isn't a crisis for Facebook — yet. But it's a more serious challenge than the June 2020 advertising boycott. Evidence that Zuckerberg & Co are taking it seriously comes from announcements that Facebook has cancelled the February 8 deadline in its ultimatum to users. It now says that it will instead "go to people gradually to review the policy at their own pace before new business options are available on May 15." Ho, ho.
Signal is a very interesting outfit, incidentally, and not just because of its technology. It's a not-for-profit organisation, for one thing. Its software is open source — which means it can be independently assessed. And it's been created by interesting people. Brian Acton, for example, is one of the two co-founders of WhatsApp, which Facebook bought in 2014 for $19B. He pumped $50m of that into Signal, and no doubt there's a lot more where that came from. And Moxie Marlinspike, the CEO, is not only a cryptographer but also a hacker, a shipwright, and a licensed mariner. The New Yorker had a nice profile of him a while back.
---
Long Read of the Day
The American Abyss by Tim Snyder Link.
An historian of fascism and political atrocity on Trump, the mob and what comes next. Illustrated by some pretty impressive photography too..
---
Taming the beast
From Democracy: A Journal of Ideas… How do we return authoritarian true believers to civil society? There are, it says, short-term and long-term answers.
Confronting white domestic terrorism (for that's what a lot of this is) is the obvious short-term step. We'll see how the good the US is at that. Normally iot's only good at tackling external terrorists. Home-grown ones are a bit trickier.
The longer-term challenge is at least as difficult:
Desperate faith in Trump's demagoguery is only the most dramatic part of the problem. There are also America's perennial racism and tribalism, and, more recently, their expansion owing to widespread ressentiment — the curdled rage of individuals whose market-driven losses of security and social belonging and status I sketched here recently.

Trump's base may morph into something even uglier until we take their grievances seriously… They need jobs that pay enough to have a nice house and car, good health care and education, as they had for three decades after World War II. Today's unregulated capitalism isn't giving it to them. We need public-private partnerships that create jobs. People will stop calling that 'socialism' as soon as they get one of those jobs.
Not a good outlook IMHO.
---
Office Meeting 2.0
Lovely post on Quentin's blog this morning. Like me, he's not a fan of Microsoft Teams. But as Teams is what's used by his lab for its weekly all-hands meeting, he has to use it. Since almost everyone at the meeting stays muted unless it's their turn to speak, he decided to 'attend' on his phone while out walking his dog in the rain. Which seemed to work out fine. At the end of the meeting, though,
as people were saying goodbye, I turned on my camera to reveal that I was in fact wrapped up and squelching through the mud in pursuit of my spaniel, something nobody had been aware of up to that point. And for me, it had been a thoroughly enjoyable meeting. Just imagine what it would be like in sunshine!

Anyway, strongly recommended, if you have the option. Combine your meetings with your daily exercise. Go and watch the rabbits. I promise you it'll be a more pleasant experience than sitting in your average office meeting room.

And remember, there's no such thing as bad weather, only inappropriate clothing.
---
Internet giants should be treated as public utilities
From Quartz :
Whether you are, like Facebook and Twitter, creating the social media tools for people to publish hateful messages, or, like Google and Apple, allowing an app that contains those tools to exist on your company's devices, or, like Amazon, Microsoft Azure, or Google Cloud Platform, supplying the invisible backbone for the companies behind the tools, you cannot claim neutrality.

These firms have demonstrated that they can and will draw lines around who is allowed to be one of their clients, something that's completely within their rights to do as private firms.
Yeah. But if they're infrastructure shouldn't they be regulated as such?
---
This blog is also available as a daily email. If you think this might suit you better, why not subscribe? One email a day, delivered to your inbox at 7am UK time. It's free, and there's a one-click unsubscribe if you decide that your inbox is full enough already! 
---