Waving, not drowning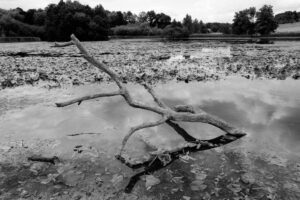 Click on the image to see a larger size.
---
Today's musical replacement for the morning's radio news
Jan Lisiecki: Chopin's Nocturne in C sharp Minor (1830) at his 2013 Proms debut.
---
I Tried to Live Without the Tech Giants. It Was Impossible
One of the standard dismissive tropes of the tech companies is the airy claim that if you don't like what a particular company is doing then you can always move to another service which is "just a click away".
In January and February last year Kashmir Hill spent six weeks blocking Amazon, Facebook, Google, Microsoft, and Apple from getting her money, data, and attention, using a custom-built VPN. Her aim was to see if one could have a normal life without using their services. It was an amazing — and valuable — piece of work.
Following Wednesday's House Subcommittee interrogation of four of the Big Tech bosses, Kashmir wrote a reprise of her experiment for readers of The New York Times. It's a good read. And you can guess what she found out.
Critics of the big tech companies are often told, "If you don't like the company, don't use its products." My takeaway from the experiment was that it's not possible to do that. It's not just the products and services branded with the big tech giant's name. It's that these companies control a thicket of more obscure products and services that are hard to untangle from tools we rely on for everything we do, from work to getting from point A to point B.
One of the things Kashmir discovered, for example, is that nearly everything on the Web uses Amazon's cloud services. So even when you think you're not interacting with Amazon, it turns out that you are.
She found two kinds of reaction to her findings.
Some people said that it proved just how essential these companies are to the American economy and how useful they are to consumers, meaning regulators shouldn't interfere with them. Others, like Representative Jerrold Nadler, Democrat of New York and ex officio member of the House's antitrust committee, said at the time that the experiment was proof of their monopolistic power.

"By virtue of controlling essential infrastructure, these companies appear to have the ability to control access to markets," Mr. Nadler said. "In some basic ways, the problem is not unlike what we faced 130 years ago, when railroads transformed American life — both enabling farmers and producers to access new markets, but also creating a key chokehold that the railroad monopolies could exploit."
This is why in addition to old-style antitrust laws, we need news ones what are attuned to these new realities.
---
Jeff Bezos's personal statement to the House Judiciary Subcommittee's hearing last Wednesday
No matter what you think about Amazon or Bezos, this is a remarkable piece of storytelling. Here's how it begins…
My mom, Jackie, had me when she was a 17-year-old high school student in Albuquerque, New Mexico. Being pregnant in high school was not popular in Albuquerque in 1964. It was difficult for her. When they tried to kick her out of school, my grandfather went to bat for her. After some negotiation, the principal said, "OK, she can stay and finish high school, but she can't do any extracurricular activities, and she can't have a locker." My grandfather took the deal, and my mother finished high school, though she wasn't allowed to walk across the stage with her classmates to get her diploma. Determined to keep up with her education, she enrolled in night school, picking classes led by professors who would let her bring an infant to class. She would show up with two duffel bags—one full of textbooks, and one packed with diapers, bottles, and anything that would keep me interested and quiet for a few minutes.

My dad's name is Miguel. He adopted me when I was four years old. He was 16 when he came to the United States from Cuba as part of Operation Pedro Pan, shortly after Castro took over. My dad arrived in America alone. His parents felt he'd be safer here. His mom imagined America would be cold, so she made him a jacket sewn entirely out of cleaning cloths, the only material they had on hand. We still have that jacket; it hangs in my parents' dining room. My dad spent two weeks at Camp Matecumbe, a refugee center in Florida, before being moved to a Catholic mission in Wilmington, Delaware. He was lucky to get to the mission, but even so, he didn't speak English and didn't have an easy path. What he did have was a lot of grit and determination. He received a scholarship to college in Albuquerque, which is where he met my mom. You get different gifts in life, and one of my great gifts is my mom and dad. They have been incredible role models for me and my siblings our entire lives.

You learn different things from your grandparents than you do from your parents, and I had the opportunity to spend my summers from ages four to 16 on my grandparents' ranch in Texas. My grandfather was a civil servant and a rancher—he worked on space technology and missile-defense systems in the 1950s and '60s for the Atomic Energy Commission—and he was self-reliant and resourceful. When you're in the middle of nowhere, you don't pick up a phone and call somebody when something breaks. You fix it yourself. As a kid, I got to see him solve many seemingly unsolvable problems himself, whether he was restoring a broken-down Caterpillar bulldozer or doing his own veterinary work. He taught me that you can take on hard problems. When you have a setback, you get back up and try again. You can invent your way to a better place.

I took these lessons to heart as a teenager, and became a garage inventor. I invented an automatic gate closer out of cement-filled tires, a solar cooker out of an umbrella and tinfoil, and alarms made from baking pans to entrap my siblings…
Tugs your heart-strings, doesn't it? Well, maybe not. But still: he came over as the most articulate of the four moguls.
---
Tom Loosemore's 'Internet-era ways of working'
Yesterday I blogged about something that I'd found on Tom Loosemore's blog without giving a link to the blog. Which was a regrettable oversight — as a reader kindly pointed out to me — because Tom is always worth reading. So here's the link.
This then set me thinking about other stuff he's written, and I suddenly remembered a guide to intelligent ways of working that he'd written two years ago.
Here's a early version of it that was seen pinned to a doorway, possibly somewhere in Whitehall.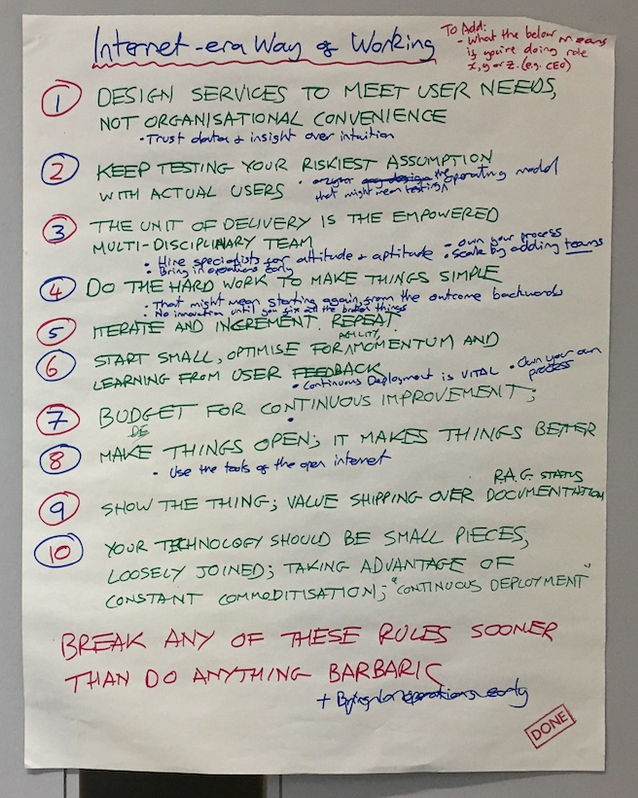 The updated version is here
---
Don't cower
Really good column by Josh Marshall.
I've been saying for months – along with so many others – that this Fall will be an ordeal of democracy. Perhaps one of the greatest threats our Republic has ever faced from internal enemies. But the truth is that the values and reflexes that make liberals and Democrats support things that will make society more just and humane lead them to react to moments like these with outrage and trembling more than mockery and power.

I can only suggest people not fall back into themselves.

All of this comes from Trump's weakness rather than strength. A sinking ship. The answer in any trial of strength or right is to maintain the initiative rather than cower. Every reporter working a beat today should be asking Republican elected officials … asking isn't even the right word – giving Republican elected officials their one chance to denounce and disassociate themselves from the President's words. They have one chance. Tomorrow won't cut it. If they want to go down with the President's sinking ship, get their answer and lock them in.
Yep!
---
We need to talk about ventilation
Characteristically thorough coverage by Zeynep Tufecki of the question of aerosol transmission of the virus.
Long read, but worth it if you're interested in the issue.
---
This blog is also available as a daily email. If you think this might suit you better, why not subscribe? One email a day, delivered to your inbox at 7am UK time. It's free, and there's a one-click unsubscribe if you decide that your inbox is full enough already!
---